Iran Warns of New 'War' as It Boosts Ties With Syria, Iraq and Lebanon
Iran's supreme leader warned top officials Wednesday that their country was facing threats of espionage and subversion from foreign foes who sought to undermine the Islamic Republic and its increasingly large sphere of influence in the Middle East.
Ayatollah Ali Khamenei told Iranian Ministry of Intelligence officials to be ready to fight an "intelligence war" over public opinion and the integrity of the country's ruling ideology that required both offensive and defensive strategies to win. Without naming any specific foes, Khamenei praised his spies for thwarting the plots of "the intelligence systems of the opposition" and recommended forming a united front at a time when tensions were rising with the U.S., Israel and Saudi Arabia.
Related: Does Trump Have a Syria Plan? U.S. Needs Russia and Iran to End the War
"We are now placed in the middle of this great, big battlefield; one side of it being the System of the Islamic Revolution; the other side is the huge, powerful front of the enemies," Khamenei said, according to his official website. "We have to resist during this war, against the plans of the adverse front; to overcome the enemy, we have to develop offensive strategies besides defensive ones, so that a strategical blueprint on playing field is laid out by our intelligence services."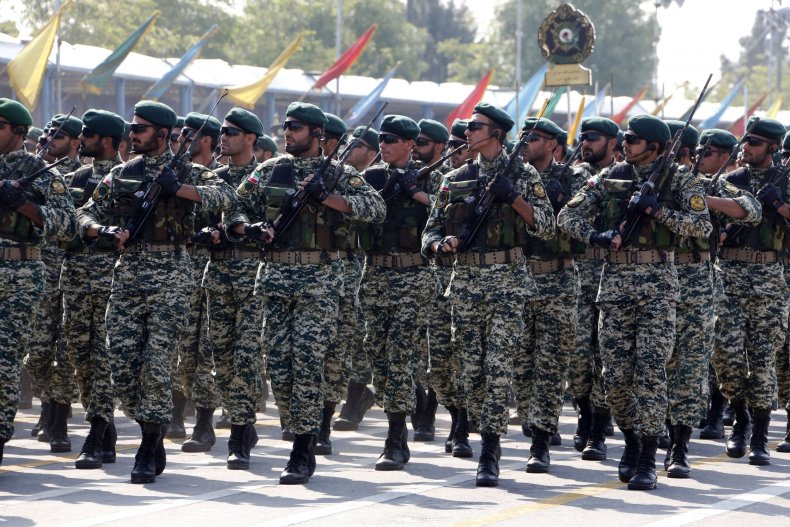 The Iranian Foreign Ministry came out strongly Tuesday against Israeli airstrikes that killed Iranian personnel on a Syrian air base last week, warning that "Tel Aviv will be punished for its aggressive action." The attack was followed by a trilateral U.S., French and U.K. cruise missile strike Friday on three Syrian government research centers allegedly involved in a chemical weapons attack in rebel territory the previous weekend. Iran is a staunch ally of Syrian President Bashar al-Assad and, along with Russia, has helped him overcome a seven-year uprising supported by the West, Turkey and Gulf Arab states.
The U.S. and Iran were both supporting efforts to battle the Islamic State militant group (ISIS), but the former saw a political future in Syria without Assad. As the Syrian leader claimed victories nationwide and the U.S.-led effort to battle ISIS faltered, however, Iran has increasingly invested in the war-torn nation. Alaeddin Boroujerdi, the head of the national security and foreign policy commission in Iran's parliament, said Monday that he would soon visit Syria in the wake of the Western attack, which he said was "was carried out with the aim to boost the terrorists' morale," according to the semi-official Mehr News Agency.
Iran has also shored up its relations with neighboring Iraq, where a 2003 U.S. invasion installed a Shiite Muslim government much friendlier to Iran and spurred a Sunni Muslim insurgency that ultimately helped to form ISIS. The U.S. and Iran both supported the Iraqi military, while a U.S.-led coalition provided air support and Iran established a powerful collective of militias known as the Popular Mobilization Forces. With ISIS largely defeated, these paramilitary fighters were made official members of the country's armed forces and they have threatened to expel the U.S. military by force.
Iranian Defense Minister Amir Hatami arrived Wednesday in Baghdad for a two-day visit he said was mainly aimed at "enhancing defense and military cooperation between Iran and Iraq," according to The National. The visit came as Iraqi Prime Minister Haider al-Abadi carefully balanced the interests of Iran, Saudi Arabia and the U.S. ahead of next month's elections.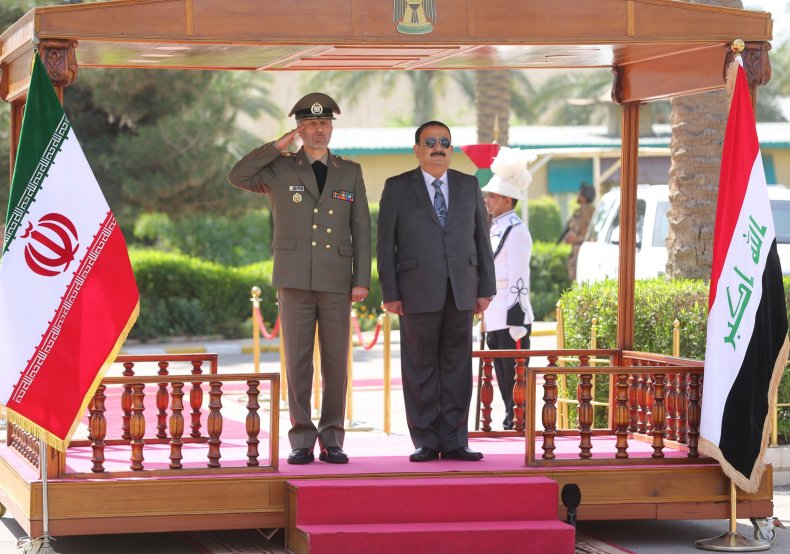 Lebanon was also set to hold elections next month, its first legislative vote in nine years. Iran grew influential in Lebanon after it helped to establish the Shiite Muslim Hezbollah movement that played a main role in resisting two Israeli incursions. Hezbollah, considered a terrorist organization by the U.S. and some of its allies, comprised the second-largest political party in the ruling March 8 alliance and has been deployed in heavy numbers to battle Syrian rebels and jihadis in both Syria and Lebanon, whose regular armed forces receive U.S. support.
Leading Lebanese newspaper Al-Nahar, which is closer to the opposition March 14 bloc, reported Wednesday that Qassem Soleimani, head of the elite Iranian Revolutionary Guards' expeditionary Quds Force, visited the southern suburbs of Beirut earlier this month to meet with Hezbollah Secretary-General Hassan Nasrallah.
President Donald Trump has attempted to roll back the diplomatic efforts of his predecessor, who established a landmark nuclear deal with Iran in 2015. International reviews have shown Iran to be in compliance with the deal and its other signatories—China, France, Germany, Russia and the U.K.—have all urged Trump not to abandon the deal as a deadline approached next month. The White House has argued, however, the deal gave Iran too much in the way of sanctions relief and did not adequately prevent it from funding U.S.-designated terrorist groups, developing ballistic missiles and ultimately pursuing nuclear weapons.