Iran Welcomes U.S. Sanctions Waiver as 'Good' But 'Not Enough' Yet for Deal
Iran has welcomed the United States' decision to grant international waivers on sanctions against the Islamic Republic's nuclear program, but said more steps would be necessary to achieve a mutual return to their 2015 nuclear deal.
A State Department spokesperson told Newsweek on Friday that President Joe Biden's administration had "decided to restore a sanctions waiver to enable third party participation in nuclear non-proliferation and safety projects in Iran due to growing non-proliferation concerns, in particular with respect to increasing stockpiles of enriched uranium in Iran."
The move followed last month's eighth round of indirect negotiations between the U.S. and Iran alongside other parties to the nuclear deal known as the Joint Comprehensive Plan of Action (JPCOA) in the Austrian capital of Vienna. Former President Donald Trump left the deal in 2018 and, though his administration offered similar waivers for two years after the exit, he would go on to impose tough economic restrictions against Tehran, which has significantly increased uranium enrichment.
The Biden administration has sought a return to the deal after what the State Department spokesperson called a "reckless decision to leave the JCPOA" on the part of the Trump administration.
Reached for comment on the latest development, the Iranian Foreign Ministry shared with Newsweek on Saturday remarks from Iranian Foreign Minister Hossein Amir-Abdollahian.
"Goodwill in practice, in our view, is something tangible happening on the ground," Amir-Abdollahian said. "Lifting of some sanctions is in itself an objective and real translation of the goodwill that Americans are talking about. What happens on paper is good, but not enough."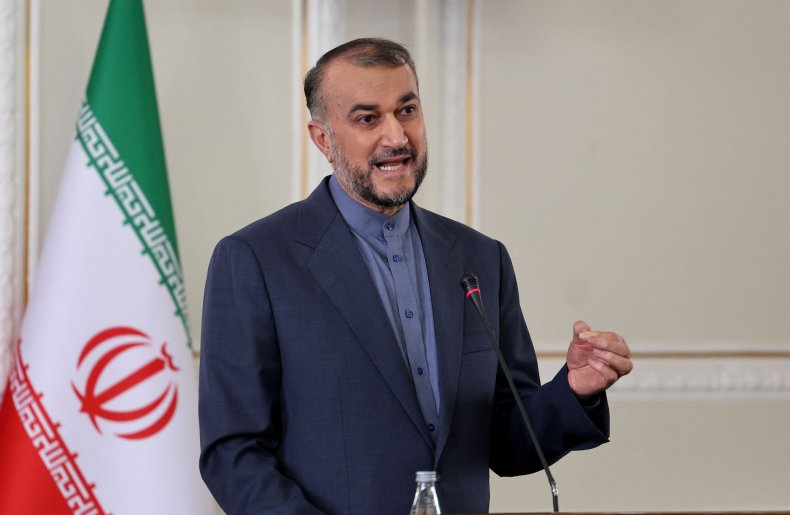 Both Washington and Tehran have acknowledged that the latest round of talks resulted in progress, but the State Department spokesperson with whom Newsweek spoke on Thursday said the latest move should be received as a sign that a broader agreement was imminent.
"This is not a signal that we are about to reach an understanding on a mutual return to full implementation of the JCPOA," the State Department spokesperson said.
Rather, the decision was made to facilitate dialogue with other countries looking to conduct activities in Iran without triggering U.S. sanctions.
"Absent this sanctions waiver, detailed technical discussions with third parties regarding disposition of stockpiles and other activities of nonproliferation value cannot take place," the State Department spokesperson said.
Such technical discussions "are necessary in the final weeks of JCPOA talks, and the waiver itself would be essential to ensuring Iran's swift compliance with its nuclear commitments."
"If talks do not result in a return to the nuclear agreement, such technical discussions could still contribute to achieving our non-proliferation goals," the State Department spokesperson said.
As for timing, the State Department spokesperson noted that "we are issuing the waiver now for a simple reason: it will enable some of our international partners to have more detailed technical discussions to enable cooperation that we view as being in our non-proliferation interests."
The State Department spokesperson also emphasized that the waiver should was not a sign that the Biden administration had relented on its own demands for Iran to reduce its nuclear activities as negotiations continue.
"To be clear: this is not a concession to Iran," the State Department spokesperson said. "The nuclear non-proliferation and safety projects enabled by this waiver are in our vital national interest as well as the interest of the region and the world—and will continue to be regardless of the outcome of talks in Vienna."
"The waiver was issued as a matter of policy discretion with these objectives in mind, and not pursuant to a commitment or as part of a quid pro quo," the State Department spokesperson added.
The State Department spokesperson's comments were then reiterated to Newsweek on Saturday by a second, senior State Department official.