Iran Will Face 'Consequences' After Accepting 'Full Responsibility' For Plane Downing, Says Canadian Foreign Affairs Minister
Accepting "full responsibility" for the downing of the Ukrainian jetliner PS752 will also mean Iran will have to accept the "consequences" of its actions, Canadian Foreign Affairs Minister François-Philippe Champagne vowed on Thursday.
Champagne made the comments during a press conference at Canada House in London following a meeting with fellow foreign affairs leaders from Britain, Ukraine, Sweden and Afghanistan.
The five countries have formed an International Coordination and Response Group for victims of Flight PS752 and were meeting to discuss how to hold Iran accountable for the incident that claimed 167 lives.
"We are here to pursue closure, accountability, transparency and justice for the victims," Champagne told reporters. "The Ukrainian, Swedish, Afghan, British, Canadian, as well as Iranian."
If Iran accepts "full responsibility" for the downing of Flight PS752, "when you accept full responsibility, there's consequences for that," Champagne said.
What those consequences might be is something grieving countries are still working to determine, Champagne said. He added that ultimately those decisions can only be made along the way, as grieving nations continue to work to cooperate with Iran.
Integral to accepting "full responsibility" will be Iran's acceptance of its obligation to compensate the families and loved ones of those who died in the plane's downing, Champagne said.
"The international community is watching. We expect and demand full cooperation...on every step," Champagne said.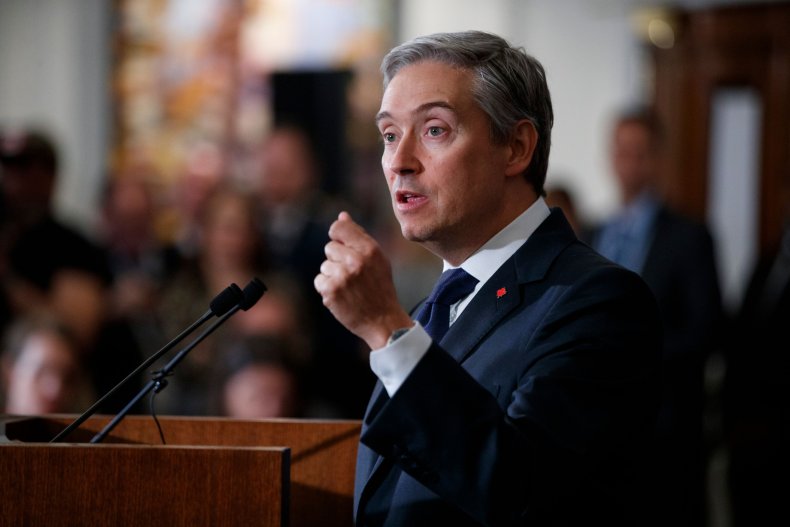 On Saturday, Iran admitted that its military had been responsible for shooting down Ukraine International Airlines Flight 752 shortly after the jetliner departed from the Imam Khomeini International Airport in Tehran last Tuesday.
The country had been at its "highest level of readiness" at the time after having launched a missile attack on bases in Iraq in retaliation for the U.S. assassination of Iran's Islamic Revolutionary Guard Corps General Qassem Soleimani.
The Ukrainian jetliner had been mistaken for a potential threat and was shot down, killing all 176 passengers and crew members on board.
While Champagne said there are still "many, many questions" that grieving countries want answered, right now, "what the world is asking today is [for] full accountability and full transparency and full cooperation by Iran.
"Today is not the day for blame," he said. "Today is the day for answers."
The Canadian foreign affairs minister said the five countries had agreed on a "framework for cooperation" for holding Iran responsible for the tragedy.
The framework, Champagne said, hinged on five key elements that would guide engagement with Iranian authorities going forward. Among those five elements were the demand for full and unhindered access to and within Iran to provide consular services, cooperation on the victim identification process, a thorough, independent and transparent international investigation involving the participation of grieving nations and that Iran assume full responsibility for the downing of the flight.
The coalition also demanded accountability for those responsible for the plane's downing through an independent criminal investigation, which would be followed by impartial judicial proceedings which will be expected to follow international standards of due process and human rights.