Iranian Patrol Boat Attempts to Blind U.S. Navy Ships in Strait of Hormuz
United States Central Command (CENTCOM) has said that an Iranian patrol boat tried to blind U.S. Navy ships in the Strait of Hormuz during a tense encounter amid ongoing unrest in the Islamic republic.
CENTCOM said that the expeditionary sea base platform ship USS Lewis B. Puller (ESB 3) and guided-missile destroyer USS The Sullivans (DDG 68) were in international waters on Monday when an Islamic Revolutionary Guard Corps (IRGC) Navy patrol boat approached.
The Iranian vessel "attempted to blind the bridge by shining a spotlight," and got within 150 yards of the American ships, which was "dangerously close, particularly at night."
To de-escalate the situation, the U.S. ships used non-lethal lasers and warned the Iranian vessel. The U.S. ships eventually proceeded on their way but CENTCOM said that the Iranian vessel had "violated international standards of professional and safe maritime behavior."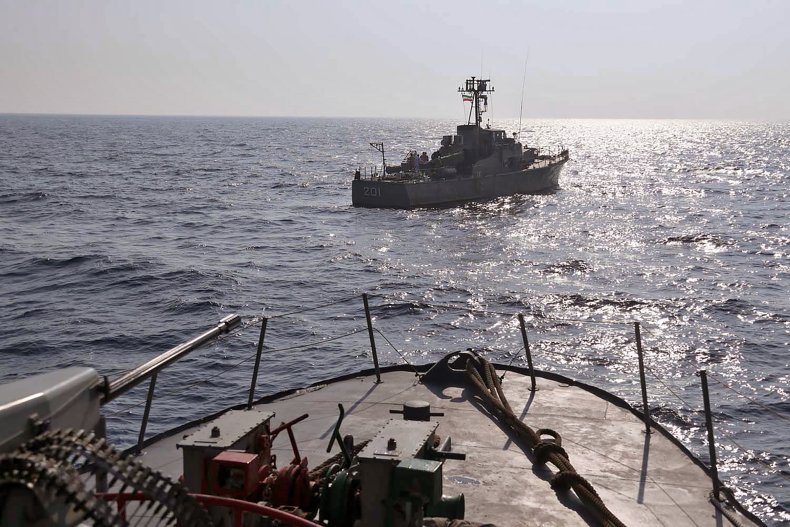 Col. Joe Buccino, CENTCOM spokesperson, described the action as "indicative of Iran's destabilizing activity across the Middle East."
Newsweek has contacted the Iranian foreign ministry for comment.
IRGC vessels have occasionally attempted to harass U.S. Navy and Coast Guard ships operating in the region, but the latest incident follows U.S. condemnation of Tehran's crackdown on anti-regime protests.
Unrest throughout the country is in its third month, sparked by the death in police custody of 22-year-old Mahsa Amini, who was arrested for allegedly violating the Islamic Republic's strict dress code. Demonstrations have since escalated to call for the downfall of Iran's clerical rulers.
The U.S. has also criticized Tehran for providing armed drones and missiles to Moscow, which Russian forces have used in Ukraine.
Last week, USS Lewis B. Puller seized 50 tons of ammunition and rocket propellant that had been smuggled on a fishing vessel in the Gulf of Oman bound for Yemen, whose Houthi rebels Tehran backs in the country's civil war.
Among the items found on board were 1 million rounds of 7.62mm ammunition, 25,000 rounds of 12.7mm ammunition and 7,000 proximity fuses for rockets.
On November 8, personnel from USS The Sullivans and the Coast Guard cutter John Scheuerman boarded a fishing vessel which the 5th Fleet said had more than 170 tons of potentially explosive chemicals on board and was bound for Yemen.
The commander of all US Navy forces in the Middle East, Vice Adm. Brad Cooper told the Pentagon in October that while Iran is a military concern for the U.S. in the region, the rate of encounters at sea were "steady." He said that "nearly all" interactions with Iranian vessels were "safe and professional."