After a trial that lasted just five minutes, Iranian authorities sentenced human rights activist Narges Mohammadi to more than eight years in prison and 70 lashes, according to her husband.
Mohammadi was arrested in November after she went to a memorial for a victim of one of the nationwide protests in 2019, the Associated Press reported. Taghi Rahmani, Mohammadi's husband who lives in Paris, tweeted on Sunday that she received the sentence under accusations of "spying for Saudi Arabia."
Rahmani also said Mohammadi had received a two-year ban on "communication," and she had not been in contact with him or their family to give further details on the trial and sentencing, according to a statement from the Center for Human Rights in Iran (CHRI).
This is not the first time Mohammadi has been jailed for her activism. The human rights center wrote she had spent 2009 to 2013 and 2015 to 2020 behind bars. The National reported that before her 2021 imprisonment, Mohammadi had been working with loved ones of those who allegedly were killed in the 2019 protests.
"Narges Mohammadi is only one of many individuals behind bars in Iran because of their peaceful dissent and the willingness of a judiciary to do the bidding of a brutal and unlawful security state," Hadi Ghaemi, executive director of the CHRI, said in the statement.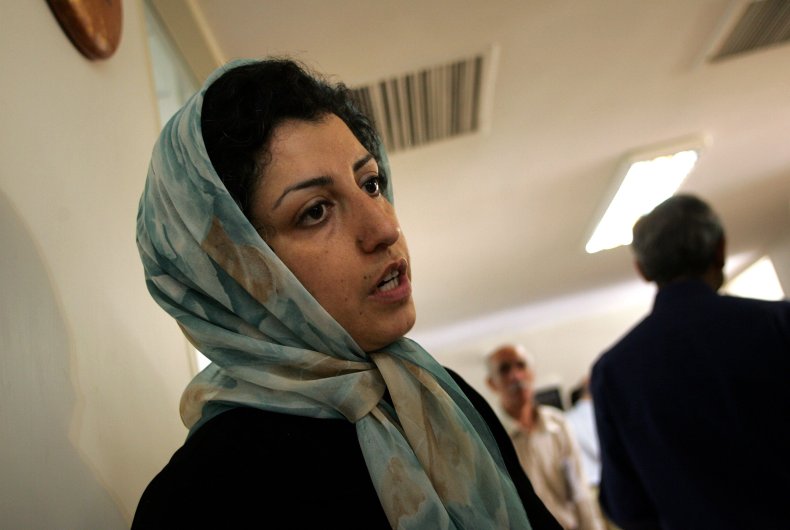 The organization's statement called Mohammadi a "particular thorn in the authorities' side" for refusing to back down from her activism even from within prison. It said she wrote a letter describing the "horrific intolerable restrictions and assaults" she was experiencing while imprisoned and organized a sit-in at Evin Prison's Women's Ward to protest Iranian forces killing protesters in 2019 and the execution of wrestler Navid Afkari.
The CHRI called on world governments and the United Nations to condemn the "unlawful imprisonments" of Mohammadi and fellow activists arrested in Iran and "call for their immediate end."
Last month, Twitter users launched a campaign against the activist's initial detainment, when she reportedly was held in solitary confinement for 42 days, Iran Internationalsaid.
The British-Iranian news station added that in March of last year, the chairman of Amnesty International Norway said two members of the country's parliament had nominated Mohammadi for the Nobel Peace Prize.
"One by one, the Iranian authorities are trying to silence the voices of dissent in Iran, through imprisonment, torture and even death," Ghaemi said. "The Iranian government fears these brave individuals because they speak truth to power and their voices carry great authority in Iranian society."