Iranian American Lt. Governor Says His Own Friends Were Detained at the U.S. Border—And CBP Is Not Telling the Full Story
Had he not been an active member of his state's Iranian American community for years, Washington's Lt. Governor Cyrus Habib says he may never have grasped the full extent of what happened at the Blaine-Peace Arch border station last weekend.
Being a trusted member and representative of the community, however, Habib, the first Iranian American to be elected to statewide office, told Newsweek that he received word of the situation unfolding at the U.S.-Mexico border station the same way many in the local Iranian American community did: from friends that he cared about.
On Saturday, Habib said he started receiving worrying text messages from fellow Iranian Americans, whom he had known for years, saying they or their family members had been stopped at the Peace Arch border crossing and questioned about their connections to Iran. Some, he said, were delayed for hours, with one group claiming to be held for more than 10 hours.
"It's important to say that the way that we learned about these folks being held at the border was by receiving actual text messages and emails from people I know personally," he said.
While Habib would have taken any complaints that came to his office seriously, the fact that he had heard similar stories from acquaintance after acquaintance made the situation even more alarming when he learned that the U.S. Customs and Border Protection (CBP) agency was denying it happened.
In a statement responding to initial reports of the alleged detentions, CBP told Newsweek: "Social media posts that CBP is detaining Iranian-Americans and refusing their entry into the U.S. because of their country of origin are false."
"Reports that [the Department of Homeland Security]/CBP has issued a related directive are also false," it said.
The agency said it had been operating with an enhanced posture at its ports of entry to safeguard national security and protect Americans amid high tensions between the U.S. and Iran.
CBP noted that processing times did increase on Saturday, but it said they only rose to an average of two hours, with some travelers experiencing wait times of up to four hours due to increased volume and reduced staff during the holiday season.
As National Iranian American Council (NIAC) spokesperson Mana Mostatabi noted in a recent interview with Newsweek, a number of Iranian Americans had crossed the border into Vancouver, British Columbia, on Saturday to attend a music show featuring Persian pop duo Masih & Arash Ap.
As a result, she said, "there were a lot of folks of Iranian heritage coming across the border at this point."
However, even if there were delays due to an influx of people, Habib and others have said, that does not explain why so many of those being held would have been exclusively Iranian American or why they would have been questioned on their backgrounds and ties to Iran.
When it came to light that at least 60 cases had been identified by the Washington state chapter of the Council on American Islamic Relations and Habib's office, CBP referred Newsweek to its initial statement. Then, later, when Habib accused CBP of "gaslighting" Iranian Americans with the blanket denial, despite dozens of people accusing the agency of holding them up for hours and questioning them on their ties to Iran, the agency made clear it would not be updating its statement.
Now, the DHS's civil rights office has opened an investigation into the matter, according to Rep. Pramila Jayapal, who has vowed to get answers on what happened at the Peace Arch crossing on Saturday.
In a statement on Twitter, Jayapal thanked one U.S. citizen, Negah Hekmati, for coming forward and "sharing your story with me, my office, the country and the world."
In an opinion piece for The Washington Post, Hekmati detailed how her family had often crossed the border between the U.S. and Canada. Last weekend, when they traveled to Vancouver for a party on Saturday evening, had felt no different until they received a call from a friend warning that his wife, who was born in Iran, and their children had been detained and questioned at the Peace Arch border crossing that afternoon.
While they suspected the incident was related to tensions following the U.S. military strike that killed Iranian military leader Qassem Soleimani, Hekmati said her family was not overly concerned.
However, when they entered the building, she said her family encountered around 50 to 60 people, all Iranian, sitting on benches and the floor. Some said they had been waiting there for 10 hours.
When Hekmati's family was asked to come forward, she said they were asked "endless questions."
"'Where were you born? Where did you go to high school? To college? Did your father serve in the military? Are you on Facebook, Instagram? What are your account names? Do any other family members live in the United States? What are their names?'"
After the intense questioning, Hekmati said her family was forced to return to the sitting area for another four hours, waiting to be told what to do until they were finally permitted to leave.
Habib told Newsweek he is still baffled by how CBP could deny Hekmati's experience, and the dozens of others like it, ever happened.
In addition to feeling like federal immigration authorities are "gaslighting" the Iranian American community, Habib said that he feels, ultimately, the agency's alleged actions and its blanket denial of them "is a violation."
"It does feel like a violation because, for those of us who are new Americans, our parents came here, which was the case for me and others who went through the long intensive process of becoming a naturalized citizen, and the promise is that when you go through the process, you get the passport and you are a U.S. citizen. That's it, now we're all equal," he said.
"That promise," Habib added, "is not only understood and felt culturally, but it's also written in the Constitution."
The lieutenant governor said he believed that people who are not shocked by the stories surrounding Saturday's alleged events could be "making this mistake where they think, well, because it's at the border, this is where immigration happens, so why wouldn't people be stopped and questioned."
But, Habib said, "when I come to the United States, I'm not immigrating here. I'm coming home," he said. "This is my home."
"It's true that I'm crossing the state border...but, I don't need permission to come in. I deserve to be let in because this is my country."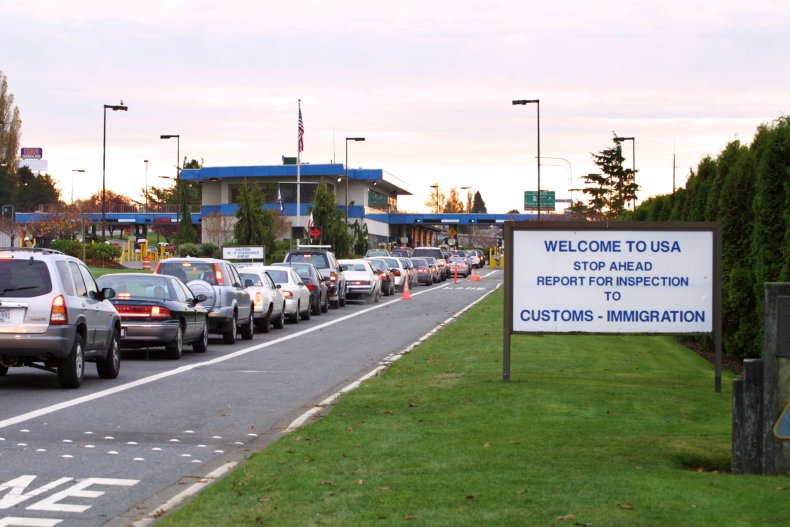 Habib said that, for him, the aftermath of Saturday's events has really shown him why Americans need diverse representation, with Habib being at the forefront of raising attention to the issue.
"You see the value of having diverse elected officials, because as an Iranian American, I'm someone who these folks felt they could come to, who they knew in the community before I was elected," he said.
"They know me, they know they can trust me and they know that I can understand because I have also gone to pop concerts in Vancouver and come back an Iranian American. It's quite possible that I would have been with them going to that same concert," he said.