Iranian Artist Brings Eerie Dreamscapes to the U.S.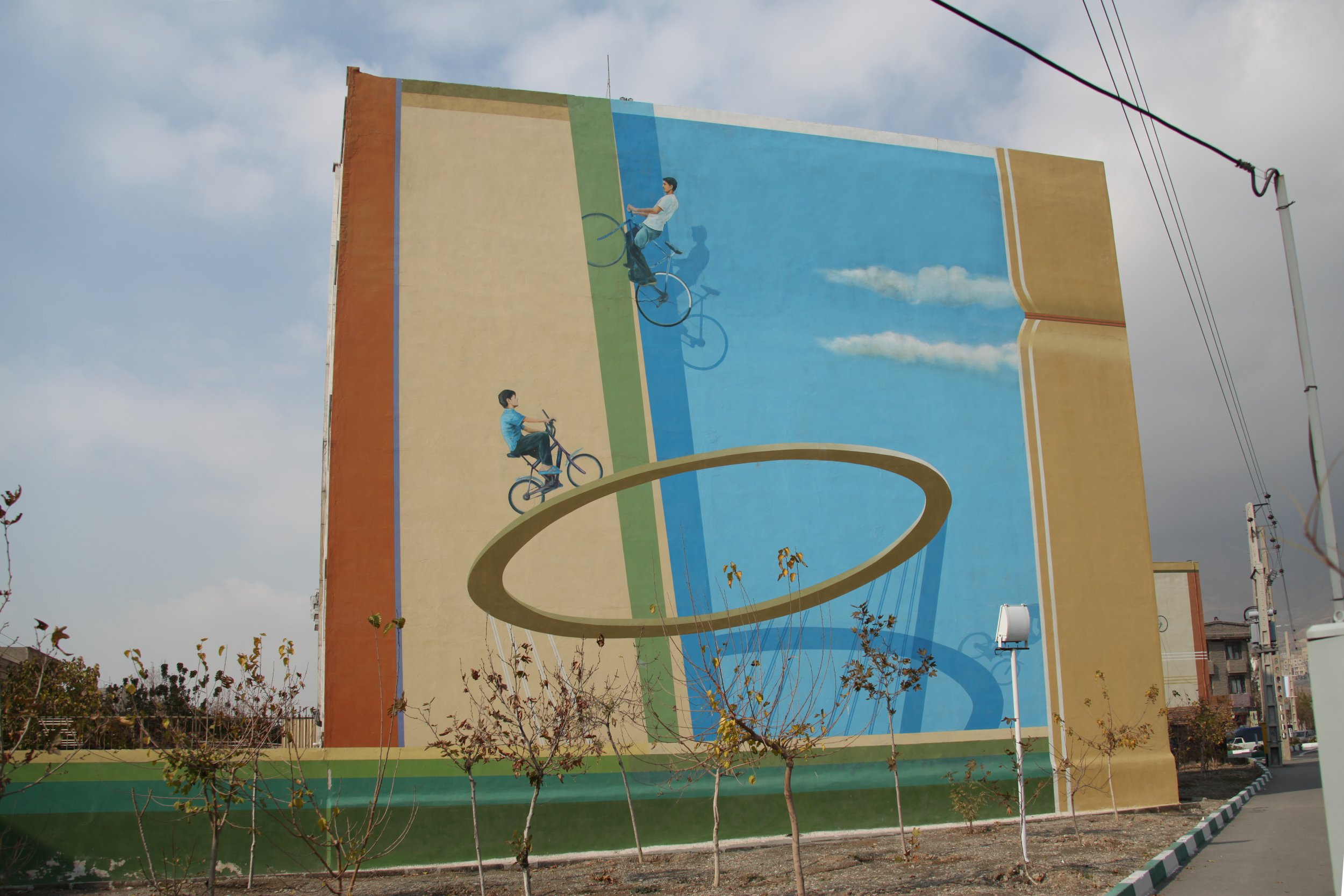 A little over a year has passed since the signing of the historic Iran deal. Diplomatic and economic relations between the United States and Iran are slowly warming up, in the process initiating collaborations in various spheres of social and political life.
Adding their voices to the mix, Iranian artists and other cultural producers are beginning to share their visions of a new future.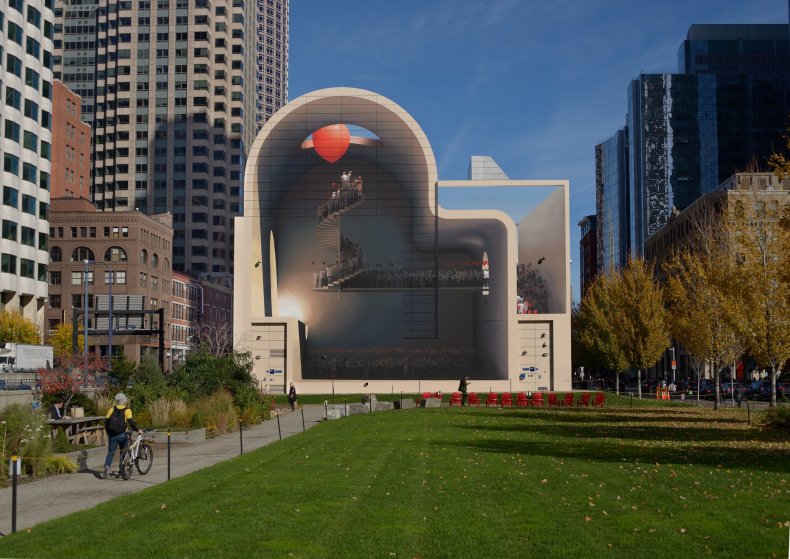 Among them is Iranian artist Mehdi Ghadyanloo, who just spent two weeks single-handedly painting his Spaces of Hope mural on an enormous, 70-by-76-foot wall in Boston's Dewey Square Park, above. Invited by the Rose Kennedy Greenway Conservancy, Ghadyanloo is the first artist officially commissioned to produce public art in both Iran and America since the 1979 Iranian Revolution.
On the walls of Tehran, Boston and other cities, he consistently creates playful—yet eerie—dreamscapes that invite passers-by into beauty and awe.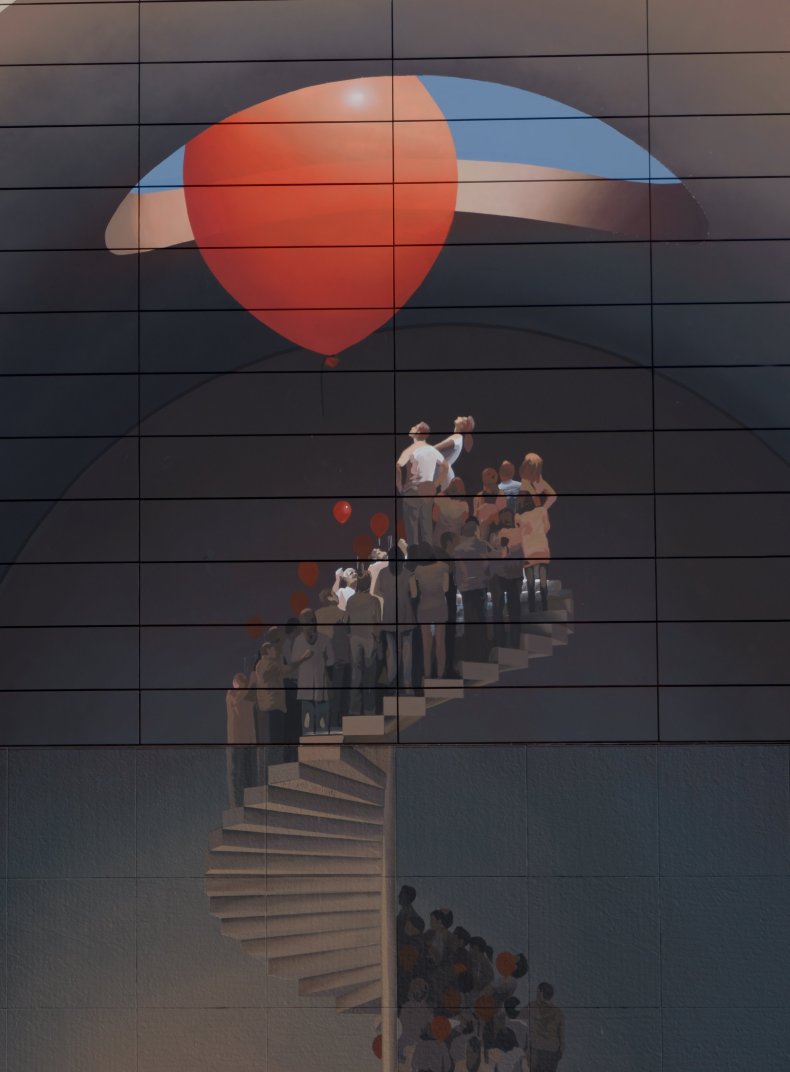 Inspired by David Harvey's utopian book by the same title, Spaces of Hope depicts individuals walking through and up a series of platforms and staircases that eventually spirals—like a helix—toward an opening in the dome created by the building's curved wall. There, at the very top, a large red balloon hovers in wait, suspended in midair as light streams in through the oculus above (above).
Like the other sun-filled apertures in the composition, this opening to the sky serves to bathe an otherwise somber scene in radiance. Per the artist's account, the mural commemorates the small wishes—which take the shape of fragile balloons on the verge of popping at any given moment—that individuals carry throughout their lives.
The rhythm of these wish-balloons carried by humans in procession echoes the hustle and bustle of the nearby metro stop while also offering a visual eulogy for the victims of the 2013 Boston Marathon bombings. Festive yet mournful, and open-ended in meaning, Ghadyanloo's mural celebrates both sorrow and joy as it raises questions about what looms ahead.
This sense of suspension captures a larger human condition. It forms part of an unfinished story, its visual sensation prompted by trompe l'oeil oculi and staircases.
Ghadyanloo grew up during the Iran-Iraq War in a village outside of Tehran, where he used small ladders to climb up rustic houses. Moving the ladders from one place to the next allowed him multiple vistas. This ever-shifting vantage point recalls the work of European Surrealist and conceptual artists who came before him, most especially the Belgian painter René Magritte, who challenged viewers' sense of reality through similarly witty images, and Dutch graphic artist M. C. Escher, whose crisscrossing steps likewise transcend a single-point perspective.
A global artist inspired by European modernism and minimalist architecture, Ghadyanloo cannot be classified merely as an "Iranian" artist or a painter working strictly within the tradition of "Islamic" art. Instead, he defies national, religious and territorial boundaries, challenging us to transcend widely circulated but facile dichotomies and clichés.
Spaces of Hope is the first mural that Ghadyanloo has completed in more than five years. From 2004 to 2011 he was commissioned by Tehran's Bureau of Beautification to cover over one hundred large-scale walls in the city, an extraordinary feat that led some journalists to dub him "Iran's Banksy."
Although the nickname "Iran's Banksy" has had the positive effect of drawing global viewers to his oeuvre, it reduces him to an Iranian avatar of the British street artist. Moreover, unlike Banksy, Ghadyanloo remains emphatically apolitical, his compositions often light-hearted in their themes and gravity-defying in their spatial elements (above).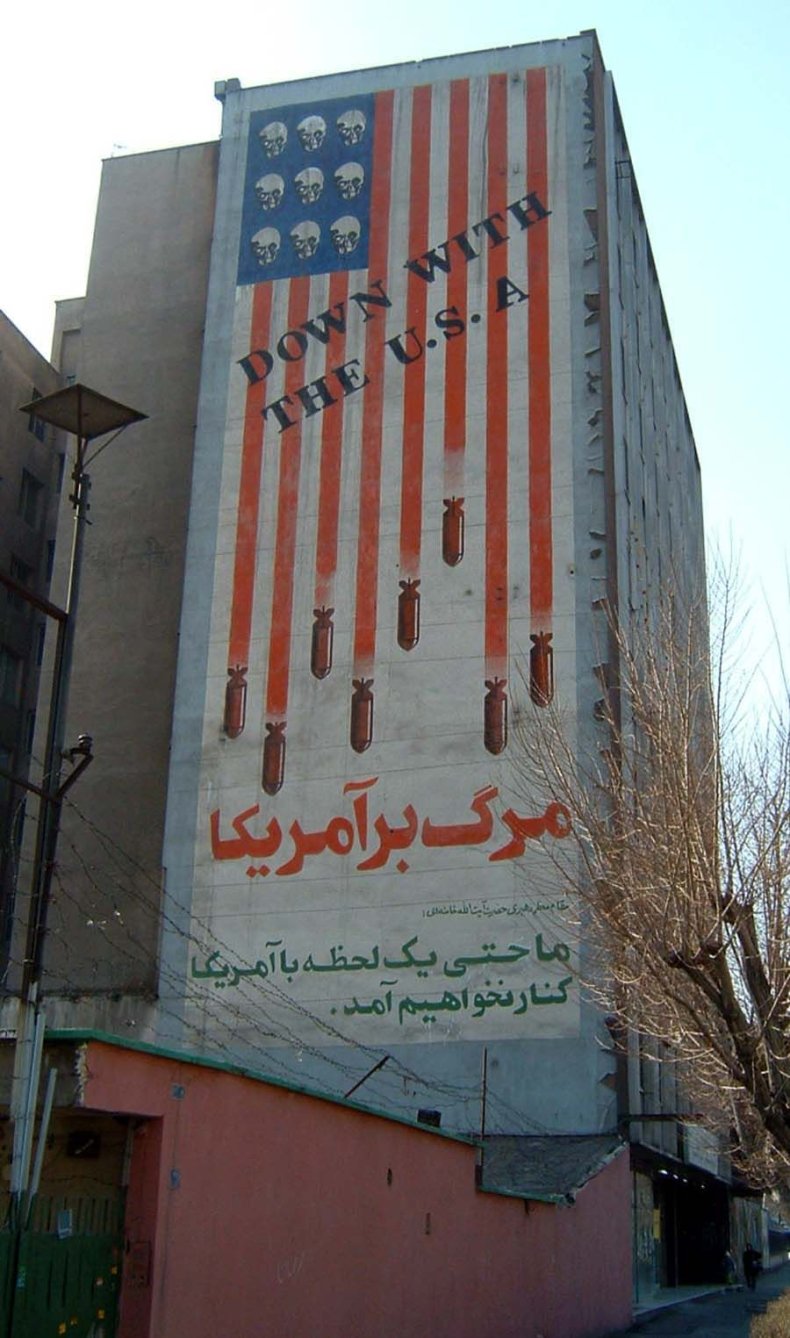 His works thus usher in a non-ideological aesthetic turn in Iranian public art, which proves a far cry from the more stringent anti-American and pro-martyrdom imagery of the 1980s and 1990s (above). Ghadyanloo's murals transcend revolution and war, and thus echo the interests and anxieties of Iran's younger generation.
In effect, they act as pictorial ponderings about what the future holds and also provide "temporary painkillers" in Tehran's oversaturated urban landscape.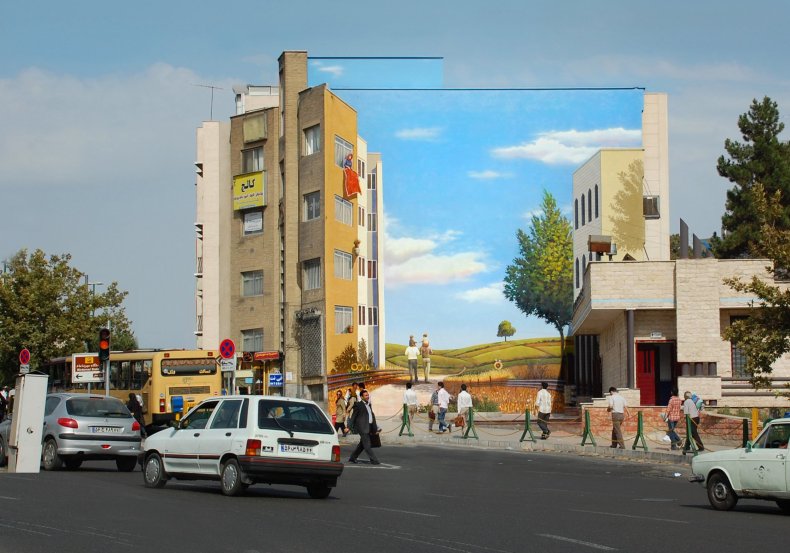 Some of Ghadyanloo's murals in Iran's capital city also address environmental and quality-of-life concerns, including promoting the use of bicycles over cars. For instance, his mural Freshness , located on the busy Vanak roundabout in central Tehran, depicts a verdant landscape and blue sky that appear to burst through the concrete wall that carries their pigments (above).
Here, two men carry children on their shoulders as they amble past fields dotted with sunflowers. In the distance, Ghadyanloo included a single tree, a detail excerpted from Iranian filmmaker Abbas Kiarostami's "Where is the Friend's House?"
Known for his poetic scenes and panoramic long shots, Kiarostami employs cinematic techniques that find a close parallel in Ghadyanloo's use of visual allegory and abstraction. Both artist and cinematographer praise uncertainty and rurality through non-literal forms of expression, which in some cases allow for the circumvention of censorship.
Ghadyanloo's visual call back to nature also reflects a particularly pressing concern for Tehran, a megalopolis that suffers from unchecked urban sprawl and extreme levels of pollution. As he emphasizes, Freshness and other murals like it are intended to make the "city more beautiful and bearable for people tired of gray walls and an uncertain future." This green message in mural form thus aims to provide respite and comfort in the face of daily fatigue and anxiety.
In his role as a public servant, Ghadyanloo sees his task as providing joy, beauty and a bit of relief to city dwellers inhabiting the world, from Tehran to Boston. However, his more recent paintings on canvas—which are made for more circumscribed display in galleries and museums—reveal the artist's darker and more foreboding view of our shared human condition.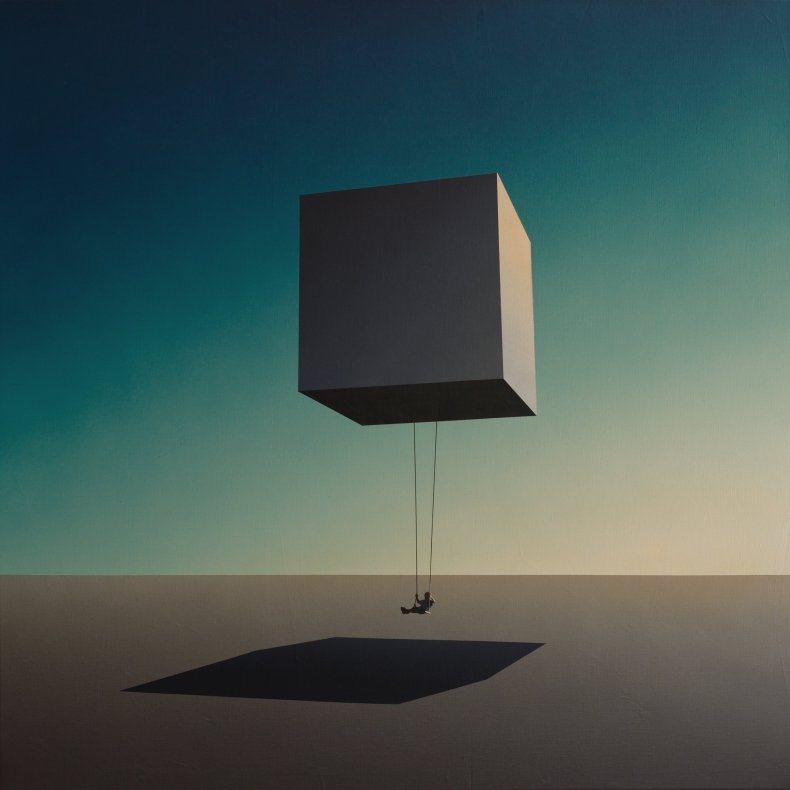 A number of these works convey a looming sense of fear and loss via a range of portent visual signs, such as sinkholes in the sea and floating geometric shapes that uphold—and yet menace—young children playing below (above).
In the end, Ghadyanloo's speculative environments prove as alluring as they are uncanny, all the while as his spaces of hope beget new places of in-between.
Some of Mehdi Ghadyanloo's work can be seen until January 29, 2017, in the exhibition "Stateless: Artists Respond to the Refugee Crisis" and he will paint another mural at the University of Michigan, Ann Arbor, during the third week of November 2016.