Iranian Cartoonist Behind Iconic Image After Paris Attacks Imprisoned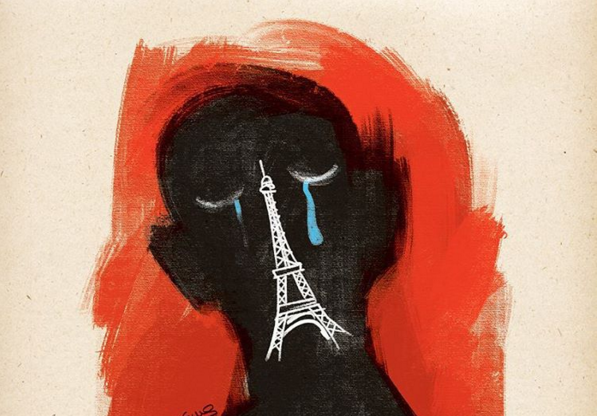 The cartoonist behind one of the symbolic images that have emerged in the wake of the Paris attacks last week has been arrested in Iran, according to Reuters.
Hadi Heidari created the cartoon of a black face on a red background, with tears streaming out its closed eyes and the Eiffel Tower standing in for a nose and downturned mouth. The image represents collective grief over the attacks, which killed 129 people last Friday. On Heidari's Instagram page, he used the caption "France Cried" for the image, which was uploaded four days ago.
Heidari was arrested on Monday at the offices of The Shahrvand, the daily newspaper where he works, and sent to Tehran's Evin Prison to complete a suspended jail sentence, his lawyer told Reuters. Two years ago, he was sentenced to one year in jail over cartoons he drew. Iran put five Iranian journalists in jail earlier this month; the Iranian Revolutionary Guards said earlier this month that forces arrested members of an "infiltration network" linked to "hostile Western countries." Two Iranian poets were sentenced to flogging and lengthy prison sentences earlier this month.
The International Campaign for Human Rights in Iran, an independent human rights group, said two of Heidari's co-workers confirmed that "a young man came with a warrant. He showed Hadi the warrant, and they took him quietly." The reasons for Heidari's arrest remain unknown, although he was arrested in 2009 after encouraging the release of political prisoners, The New York Times reports, and was arrested again in December 2010 for creating "propaganda against the state."
Heidari's cartoon has been shared alongside the now iconic drawing by French designer Jean Jullien of the Eiffel Tower inside a circle, creating a peace sign, that has become a symbol of solidarity with France and the victims of the attacks. Heidari also created a cartoon to represent the twin suicide bombings in Beirut last week that killed 44 people, by drawing a blood-stained Lebanese flag with birds flying from the green tree at the flag's center.
Responsibility for the Paris and Beirut attacks has been claimed by the Islamic State militant group (ISIS). Iran has condemned both attacks.