Iranian-Christian Immigrant Rails Against 'Garbage' 'Woke' Ideology at School Board Meeting
An Iranian-Christian immigrant father on Tuesday slammed the Loudoun County Public Schools (LCPS) board for introducing ideologies to students. He urged teachers to abide by school curriculum rather than "shoving their garbage ideology down kids' throats."
"Dear disgraced board members, you think you're woke, but let me wake you up a little bit more," Dimis Christophe—as identified by LCPS—was seen saying in a video tweeted by Parents Against Critical Theory (PACT).
"We [his family] are the minority of the minorities in this country [the U.S.]. Our ancestors and people survived massacres of the Turks and ISIS," he said.
On Wednesday, the LCPS passed Policy 8040 by a vote of 7-2. The policy, called Rights of Transgender and Gender-Expansive Students, sparked debates and anger among parents earlier this year. The school initially allowed members of the public to debates but changed its policy because of rising tensions.
Policy 8040 will require teachers to use the students' preferred pronouns and allow "gender-expansive and transgender students" to take part in sports and other activities "in a manner consistent with the student's gender identity."
"You want to push that garbage [pronouns] down my kids' throats, I will make you call my kids 'king' and 'queen,' that's how to address my sons and my daughter, and you look at me [and] call me 'master.' Do you want that pronoun to be in your mouth when you look at me?" Christophe asked the board, according to the video.
The school board policy also states that transgender students are allowed to use school facilities that correspond to their "consistently asserted gender identity."
The father accused the "social justice so-called teachers" of forcing their ideologies on students. He added that teachers should do their jobs and teach them courses such as math, science, biology and literature.
"These are our children, not yours," Christophe told the board.
But Wayde B. Byard, public information officer at LCPS, told Newsweek in an email that the school board has said "repeatedly" that LCPS doesn't force any ideology on students or staff.
"In particular, we do not have Critical Race Theory as part of our curriculum," he said.
Additionally, he questioned how LCPS' ideologies could help children succeed as the school board pushes forward with these policies. But LCPS said that it is prioritizing students' success.
"LCPS' number one priority is to foster the success of all students and ensure they feel safe, secure, accepted, and ready to learn at school," LCPS said in a statement.
But PACT's founder Scott Mineo disagreed with the school board's statement. Mineo told Newsweek in an email that the school board "could CARE LESS" when considering those opposing the policy.
"LCPS has 30 Non-Binary students out of 81,000 students and only 7 supporters showed up last night to support the passing of the policy," he said.
In June, a fight broke out during a Loudoun County School Board meeting that included a discussion of Critical Race Theory and transgender students. At least one man was apprehended by the police.
The Ashburn, Virginia-based school subsequently agreed to allow members of the public into the debates on condition they signed up for comment, before eventually switching to virtual comments only last week.
The new policy has split public opinion that included voices of supporters who are optimistic about its impact.
"I think that they have spent years fighting through these issues and fighting through the discrimination, the harassment, the bullying, and this is going to be an opportunity for them to rise up out of that and into a school year that is going to fully embrace them," Chris Candice Tuck, president of Equality Loudoun, was quoted as saying by Fox News.
Middle school teacher Andrea Weiskopf told the school board that children needed an ally, and LGBTQ children even more so.
"If you call yourself an LGBTQ ally but you don't believe trans girls are girls, then you are not an ally to children," she said.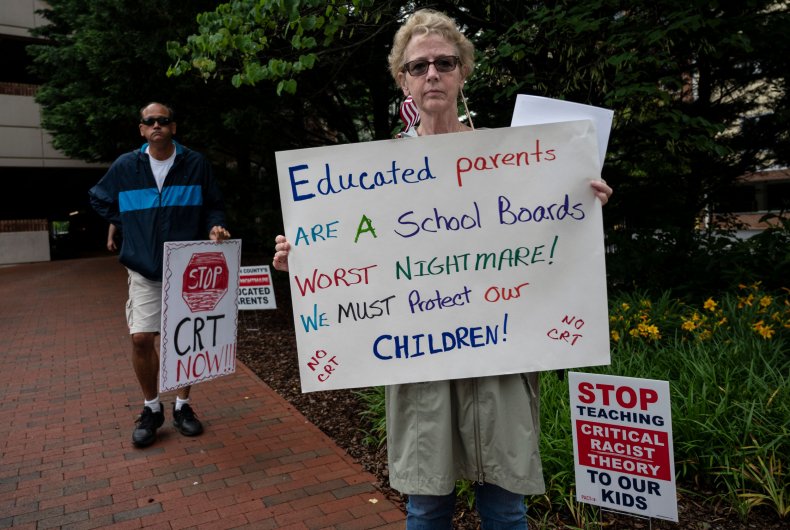 Updated 08/12/2021, 5:07 p.m. ET: This story has been updated to include comments from Wayde B. Byard, the public information officer at Loudon County Public Schools, and PACT's founder Scott Mineo.