Iranian Father of Two Assassinated By Basij Militia, Harrowing Video Shows
Video broadcast on British television has shown what appears to be the targeted shooting of a man by Iran's Islamic Revolutionary Guard Corps (IRGC).
Sky News said its report showed CCTV footage taken on the afternoon of October 27 of two vehicles pulling up to Motaleb Saeed-Pirou in the city of Baneh, in Iran's north-western Kurdistan province.
The video shows the 40-year-old father of two standing by his car when he sees a white Toyota Hi-Lux, which Sky News said is commonly used by the Revolutionary Guards. A man aims his gun at Saeed-Pirou's car while two others in plain clothes jump out and surround his vehicle.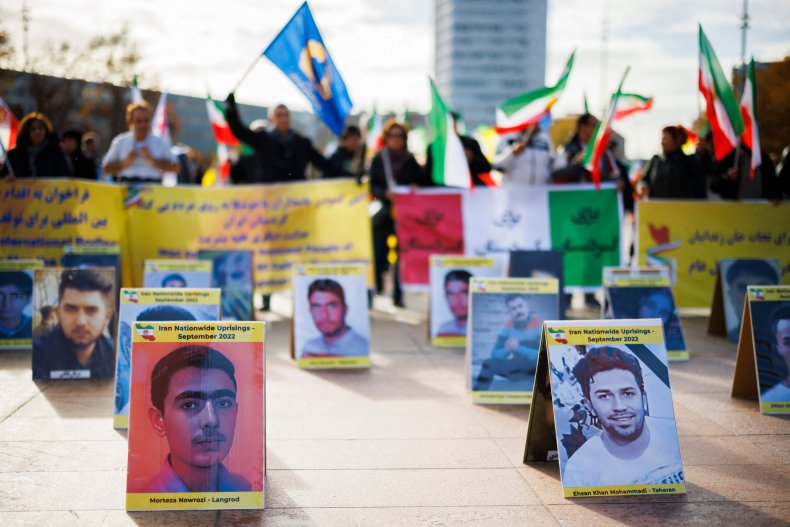 Sky News reported that armed men in a second vehicle that pulled up behind the first one were likely a mixture of IRGC and the Basij militia, which "seems to confirm that the men in the white truck are also regime forces."
The Basij paramilitary force can mobilize up to 600,000 volunteers and is an auxiliary force under the control of the IRGC that enforces internal security and state control.
One man smashes into Saeed-Pirou's car. As he tries to drive away, he is shot at through the front and back windows.
Saeed-Pirou drove the short distance to his home with serious injuries. He was pulled from his vehicle by a neighbor, only to die soon afterwards.
Sky News reported that the attackers' "chaotic actions" suggested that the group had not been on orders to kill Saeed-Pirou, whose family said he was not politically active and not involved in protests that have swept the country.
However, Saeid Golkar, author of Captive Society: The Basiji Militia and Social Control in Iran, told Sky News that the Iranian forces were likely to have been sent to the neighborhood in response to demonstrations "to send a message that we are going to punish you."
The network reported Iranian authorities said the death had been caused by "unknown armed individuals." Newsweek has contacted Iran's foreign ministry for comment.
Rights groups have said that more than 300 people have died during unrest in the Islamic Republic, which was first sparked by the death of Mahsa Amini on September 16, who was accused of improperly wearing a hijab.
The demonstrations have transformed into a movement seeking the end to the clerical leadership in the Islamic republic under Ayatollah Ali Khamenei.
An emergency session of the UN Human Rights Council was held in Geneva on Thursday to discuss Iran's crackdown against the demonstrations.
UN human rights chief Volker Turk said that "the unnecessary and disproportionate use of force must come to an end."
Omid Memarian, senior Iran analyst at the organization Democracy for the Arab World Now (DAWN), told Newsweek on Wednesday that Tehran "has chosen to use extreme levels of violence to scare people from joining the protests by maximizing the costs and harm.
"The regime has not fully comprehended the different nature of the recent protests from previous protests," he added.