Iranian Forces Blow Up 'U.S. Capitol' in New Video Clip as Nuclear Deal Negotiations Continue
Amid continued talks about a revived nuclear agreement between Washington and Tehran, Iran released a video clip on Sunday depicting fake attack of its military blowing up the U.S. Capitol.
The video came out on state-controlled Iranian television before the nation's supreme leader, Ali Khamenei, gave a speech on Sunday, according to The Washington Free Beacon. In his talk, Khamenei praised the Islamic Revolutionary Guards Corps (IRGC), who have carried out operations against the U.S. and whose leader, Qassem Soleimani, was killed by a drone strike by the Trump administration.
The footage of the fake attack also came out the same day Iran's President Hassan Rouhani declared the U.S. had lost its "economic war" against his country, saying that sanctions against Tehran are at the "brink of extermination," his rhetoric painting a grim picture for the prospect of the two nations reaching a mutual agreement on a revived Iran nuclear deal.
Republican Senator Pat Toomey of Pennsylvania responded via a tweet to the video of the fake attack, as well as another video leaked last week of Iranian Foreign Minister Javad Zarif giving a bleak diagnosis for his country's relations with the U.S.
"Last week, Iran's chief diplomat allegedly admitted the IRGC calls the shots in Tehran," Toomey wrote in a tweet.
Toomey added: "Now, Iran releases a fake video of the [Islamic Revolutionary Guard Corps] blowing up our Capitol. The Biden admin's priority should be ensuring Iran cannot carry out such an attack, not capitulating by removing sanctions."
In the leaked tape of the conversation, Zarif said that Tehran will never reach consensus with Washington or retract its extreme views, the Beacon reported.
"I believe Iran and the U.S. will never be friends as long as the Islamic republic preserves its identity," Zarif said on the tape exclusively obtained by the Beacon. "Never will our issues with America be resolved."
Both the imagery of the fake attack and Zarif's leaked comments come as Biden is facing increased pressure from lawmakers like Toomey to deliver on a campaign promise to rejoin the Joint Comprehensive Plant of Action (JCPOA), or the Iran nuclear deal, which was completed under former President Barack Obama.
Trump withdrew from the deal in 2018 and introduced new sanctions on Tehran, despite objections from European allies. Iran began violating the deal after Trump's withdrawal, and has since expanded its nuclear program far beyond the limits approved by the JCPOA.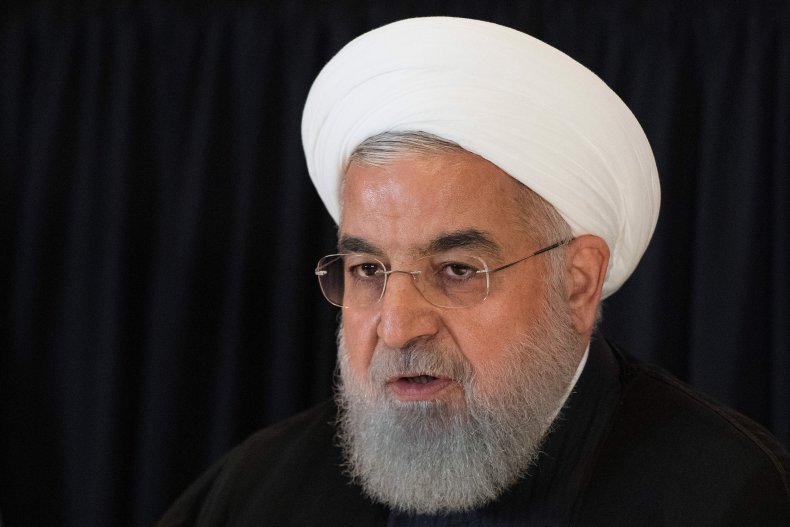 Now, Iranian and Americans officials are negotiating indirectly regarding the terms of a revived JCPOA, and sanctions have been a focal point of these talks. Iran says it will not step back its nuclear activities until Biden lifts all Trump-era sanctions, but the White House refuses to repeal these economic measures until Iran has fully complied with the JCPOA's terms.
"There's still a fair distance to travel to close the remaining gaps, and those gaps are over what sanctions the United States and other countries will roll back," Biden's National Security Adviser Jake Sullivan said to ABC News' This Week. "They are over what nuclear restrictions Iran will accept on its program to ensure that they can never get a nuclear weapon."
In his speech on Sunday, Khamenei echoed Zarif's sentiment and voiced support for the IRGC's ongoing efforts in the region to target U.S. and Western forces: "The Americans have been for years deeply saddened by the Islamic republic's influence [in the region], and they were angry with General Soleimani for this reason and martyred him for this reason."
Newsweek has reached out to the White House for comment.