Iranian General Qassem Soleimani's Daughter Calls Trump 'Crazy' At Eulogy: 'Don't Think That Everything is Over'
The daughter of the Iranian general killed last week by an American drone strike called President Donald Trump "crazy" and warned the United States to be wary of retaliation.
At Monday's funeral of Major General Qassem Soleimani, his daughter Zeinab Soleimani delivered a eulogy in which, according to The Independent, she referred to the killing of her father as a "martyrdom" and cautioned Trump to not "think that everything is over."
According to The New York Times, Soleimani leveled even more vitriol at the president and at Israel, the United States' closest ally in the Middle East.
"You crazy Trump, the symbol of ignorance, the slave of Zionists, don't think that the killing of my father will finish everything," she said.
Newsweek contacted the White House for comment on Zeinab Soleimani's remarks about Trump but did not receive a reply before publication.
As the Times reported, the funeral in Tehran reportedly drew millions of mourners, and cameras caught the supreme leader, Ayatollah Ali Khamenei, weeping over the deceased general, with whom he was said to be close.
Early last Friday, on Trump's orders, a U.S. drone strike killed Soleimani, a top general said to have been second in power only to Khamenei. The strike took place at the international airport in Iraq's capital, Baghdad.
In remarks delivered Friday at Mar-a-Lago, his Florida estate, the president justified the strike by saying that troops under Soleimani's command had already killed many American service members and civilians in Iraq and were planning to kill more.
"Soleimani was plotting imminent and sinister attacks on American diplomats and military personnel, but we caught him in the act and terminated him," Trump said. "Under my leadership, America's policy is unambiguous: To terrorists who harm or intend to harm any American, we will find you; we will eliminate you."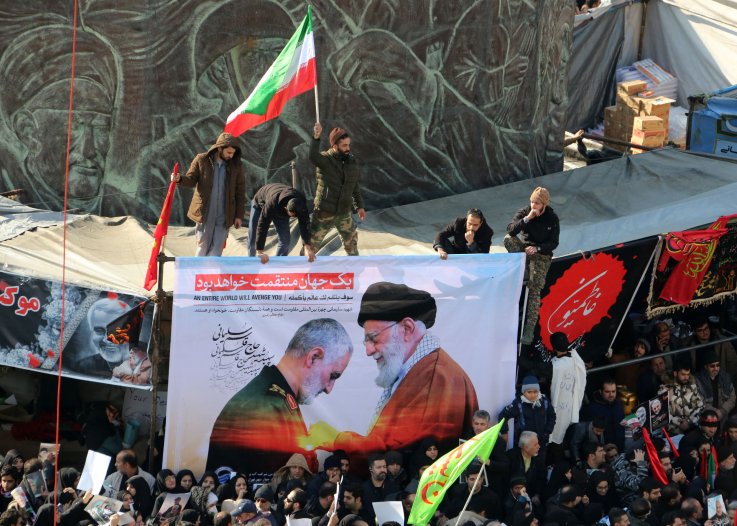 However, critics of the president and the strike have charged that it has unnecessarily elevated tensions between the U.S. and Iran, which were already high after a strike in late December against Iran-backed Iraqi militias that killed 24 people.
In response, Iran has declared that it will no longer abide by the 2015 nuclear deal, under which it had promised to limit the amount of uranium it harvests, as well as its research on nuclear weapons.
Trump, for his part, has threatened Iran with more violence if the country retaliates for the killing of Soleimani. In a Saturday tweet, he wrote that the U.S. has already targeted 52 sites in Iran, some of which are "at a very high level & important to Iran & the Iranian culture."
He added, "The USA wants no more threats!"
Iranian General Qassem Soleimani's Daughter Calls Trump 'Crazy' At Eulogy: 'Don't Think That Everything is Over' | World