Iranian General Says America 'Has Started the War' and Trump Is a 'Veritable Gangster'
General Hossein Dehghan, a top military adviser to Iran's Supreme Leader Ayatollah Ayatollah Khamenei, said that the U.S. "has started the war," attacking President Donald Trump as "a veritable gangster and a gambler."
Dehghan, who previously served in the Islamic Revolutionary Guard Corps (IRGC) Air Force and as Iran's Minister of Defense, made the remarks in an interview with CNN on Sunday morning. His comments came in response to the U.S. strike that killed Iran's IRGC Quds Force commander Qassem Soleimani in a vehicle near the Baghdad airport after he arrived in Iraq early Friday. The military adviser told CNN that his country would respond by striking U.S. military targets.
"The response for sure will be military and against military sites," he said, arguing that Trump should understand this retaliation and not escalate further.
"It was America that has started the war. Therefore, they should accept appropriate reactions to their actions. The only thing that can end this period of war is for the Americans to receive a blow that is equal to the blow they have inflicted," Dehghan said. "Afterward they should not seek a new cycle."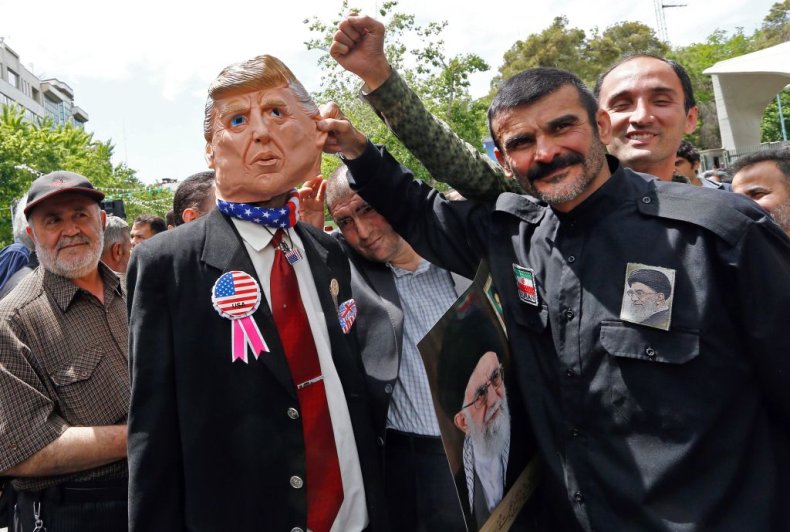 On Saturday, Trump warned Iran via Twitter against striking any American targets, saying that his administration had compiled a list of 52 locations in Iran that it would attack in response. The president's tweets faced backlash from some U.S. lawmakers, who noted that he specifically mentioned sites important to "Iranian culture," which they argued would constitute a "war crime."
"[Trump] doesn't know international law. He doesn't recognize U.N. resolutions either. Basically, he is a veritable gangster and a gambler. He is no politician he has no mental stability," Dehghan said in response to Trump's threat.
Holly Dagres, nonresident fellow at Atlantic Council and editor of IranSource, told Newsweek it was difficult to know what actions would be taken by Iran moving forward.
"It's really hard to predict what the retaliation might look like, despite all the statements being made. One thing to remember is that Iran is calculating, rational state and not suicidal," she said. "They traditionally play by the rules of asymmetrical warfare."
Dagres also noted that the funeral for Soleimani in Tehran on Sunday was incredibly large.
"Based off the footage I've been seeing out of Iran," she said, "IRGC Quds Force Commander Qassem Soleimani's funeral may turn out to be the largest since Ayatollah Ruhollah Khomeini, the founder of the Islamic Republic, in 1989."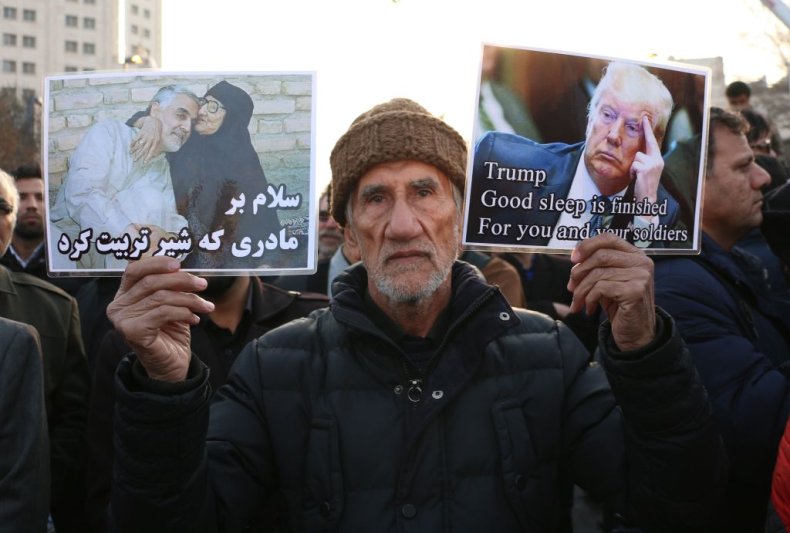 According to reports, tens of thousands attended the funeral with many analysts noting that the killing of Soleimani has largely united the Iranian people in opposition to the U.S., irregardless of widespread criticism of their own government. Secretary of State Mike Pompeo has called on Iranians to take a stand against their government, but Dagres said that's likely far from most people's minds at the moment.
"The reality is that if you're an Iranian inside of Iran right now, you're worried about if a war is about to start," she said. "The last thing the Iranian people are thinking about right now is what Secretary of State Mike Pompeo has to say—unless it's related to an escalation."
The killing of Soleimani was widely viewed as a major escalation, and was strongly criticized by many Democratic lawmakers and presidential candidates, who slammed Trump's decision, warning that the move could lead to a war with Iran.
While tensions have been high between Tehran and Washington for decades, the situation temporarily improved under the administration of President Barack Obama with the 2015 Joint Comprehensive Plan of Action, commonly referred to as the Iran nuclear deal. Trump, who long opposed the international treaty, which offered Iran sanctions relief and economic investment in exchange for curbing its nuclear program, withdrew from the agreement in May 2018. Conflict has brewed between Iran and the U.S. since then, culminating in the attack killing Soleimani.