Iranian Kamikaze Drones Shot Down by Ukraine Air Defense Systems: Officials
The Ukrainian Air Force is claiming victory after it says it destroyed eight Iranian-made "kamikaze" Shahed-136 drones launched by Russia in its latest air strike on Ukraine.
The Air Force Command of Ukraine's Armed Forces said in a Facebook post Monday night that Ukrainian fighter jets shot down six of the drones and two more were taken out by ground forces using anti-aircraft guns. The intercepted attacks are the latest in a string of recent air strikes launched by Russia against Ukraine. They come as Ukraine has increased pressure on Iran to stop providing weapons to Russia.
The drone attack was thwarted by the Central Air Force Command, which includes the capital city Kyiv and the surrounding administrative district, reports The Kyiv Independent. Ukraine's Air Force also reported that earlier in the afternoon it had shot down two Kalibr cruise missiles launched from the Black Sea. Newsweek was unable to independently verify the claims.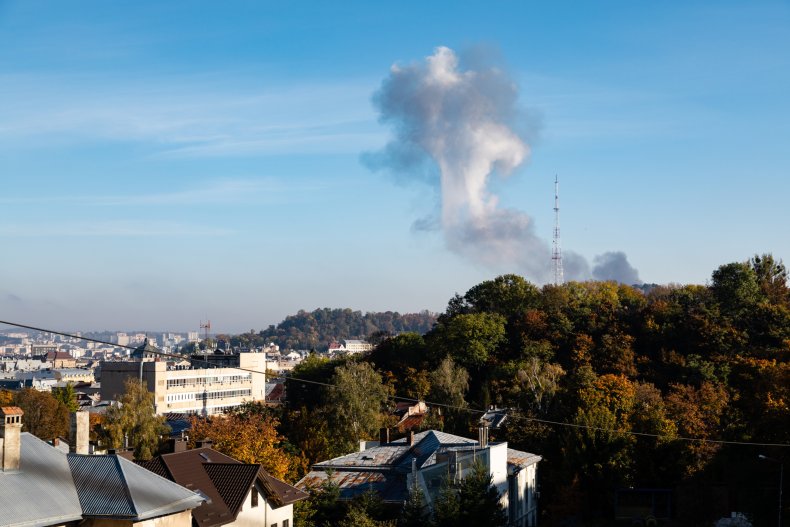 Ukrainian authorities earlier on Monday said at least four people were killed and 18 residents were rescued from a damaged building after Russia launched more than two dozen drones on Ukraine's most populated city. Russia has recently begun using Shahed-136 drones, which can evade radar detection and crash into targets after circling them in the sky.
Following the attack on Kyiv, Iran's Foreign Ministry again denied Tehran was providing military support to Moscow, posting to Twitter on Monday morning a declaration "that it is siding with no side in the Russia-Ukraine war."
The Ukrainian Foreign Ministry said in a statement released Monday afternoon that Iran was helping Russia "carry out terrorist acts against the civilian population and critical infrastructure of Ukraine" by providing combat drones.
"We call on Tehran to immediately stop supplying Russia with any weapons," the statement said. "Otherwise, Iran and its leadership will bear the strictest responsibility, including within the framework of international legal proceedings addressing Russia's crimes against Ukraine."
The ministry said that over the last week alone Russia had launched more than 100 of the Iranian-made drones on Ukraine's residential areas, power stations, sewage treatment plants, bridge and playgrounds. The strikes have killed or wounded dozens of people and impacted a third of Ukraine's energy infrastructure, according to the ministry.
Ukraine's Foreign Minister Dmytro Kuleba said on Twitter Monday that he may be the first top diplomat to address the European Union's (EU) Foreign Affairs Council from a bomb shelter. Kuleba said he asked the EU to help bolster Ukraine's air defense capabilities and additional ammunition. He also called on the EU to impose sanctions on Iran as well as Russia.
Newsweek reached out to the Russian Ministry of Defense for comment.