Iranian News Agency Tweets Picture of Trump Golfing Under Bomber Shadow: 'Revenge Is Inevitable'
Tasnim News Agency, an Iranian media outlet, tweeted a graphic Thursday showing former President Donald Trump golfing under the shadow of a bomber.
In January 2020, Trump announced that the U.S. had terminated Iranian General Qassem Soleimani via drone strike at a Baghdad airport. Trump had described Soleimani as a threat to overseas U.S. forces. Iran threatened retaliation over Soleimani's killing.
Tasnim tweeted the image with a caption that translates to "Revenge is inevitable."
Roughly translated, the text inside the graphic says, "Revenge must be taken on those who ordered the murder of General Soleimani as well as those who did it. And this revenge will certainly be taken at the right time; although, as a dear one said, 'Soleimani's shoe is more valuable than the head of his murderer.'" Tasnim's post was also retweeted Thursday by Ali Khameini, the Supreme Leader of Iran.
Trump left the White House on Wednesday after one term in office to take up residence at his Mar-a-Lago resort in Palm Beach, Florida. Mar-a-Lago is located, according to its website, 5 minutes away from the Trump International Golf Club.
A private news outlet, Tasnim describes itself on its website as defending "the Islamic Revolution against negative media propaganda campaign and providing our readers with realities on the ground about Iran and Islam."
Tasnim reported on Thursday that Soleimani's daughter, Zeinab Soleimani, tweeted Wednesday that Trump ordered the attack on her father with "the perverse hope that you will be seen as some sort of hero" but left the White House "defeated, isolated and broken."
Newsweek reached out to the U.S. Department of Defense for comment.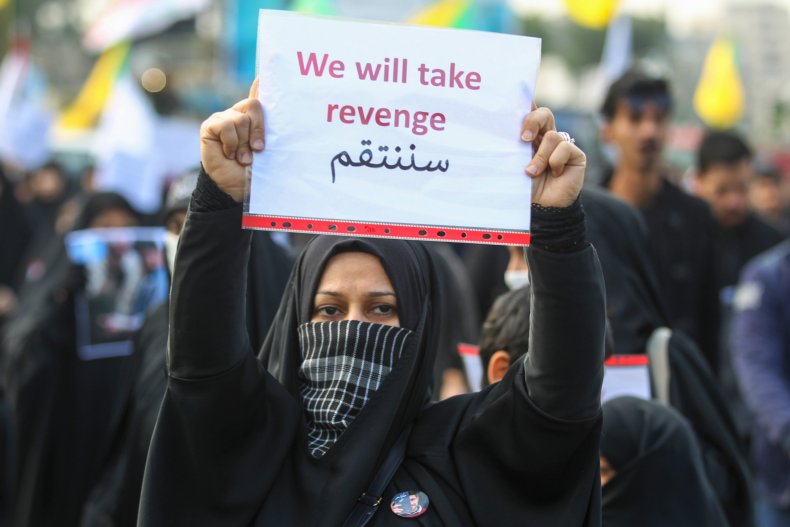 Iranian foreign minister Javad Zarif lambasted the outgoing Trump administration in a Wednesday tweet for causing Soleimani's death.
"Trump, [former U.S. Secretary of State Mike] Pompeo & Co. are relegated to the dustbin of history in disgrace," Zarif wrote. "But the memories of Gen Soleimani & the 1000s murdered, maimed & starved of food & meds by Trump's state—& economic—terrorism & crimes against humanity, will shine on."
"Perhaps new folks in DC have learned," Zarif added, referring to the administration of President Joe Biden.
In December, Trump blamed Iran for rocket attacks against the U.S. Embassy in Iraq.
"Some friendly health advice to Iran," Trump wrote in a since-deleted tweet, "if one American is killed, I will hold Iran responsible. Think it over."
On Tuesday, Iran issued sanctions against Trump and some members of his outgoing administration, including then-Secretary of State Mike Pompeo and former national security adviser John Bolton. Those named on Iran's sanction list are subject to a travel ban as well as freezing any financial holdings based in Iran.
Iran's foreign ministry claimed that, after Trump withdrew from the 2015 nuclear deal, Trump had levied sanctions against Iran that equated to "terrorism."
"Unilateral sanctions—and unilateral bullying—are egregious violations of fundamental international rights enshrined in the United Nations charter," said Iranian foreign ministry spokesman Saeed Khatibzadeh in a Tuesday statement. "Based on this, Iran maintains the right to take necessary measures to counter the U.S.'s internationally violating acts in all regards."