The Iranian Odyssey of NEWSWEEK's Maziar Bahari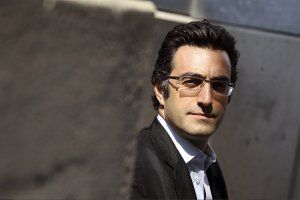 In the early-morning hours of June 21, 2009, Iranian security officers swept the city of Tehran, arresting at least 20 bloggers, journalists, and opposition figures. Among them was NEWSWEEK reporter Maziar Bahari, then 41, who had covered Iran for the magazine for more than a decade. Bahari was home asleep at 7 a.m. when four security officers showed up at the Tehran apartment he shared with his mother. They took off their shoes before entering the apartment and declined his mother's offer of tea. Neither they nor their cars were marked, but they did show a piece of paper they claimed was a warrant. They seized Bahari's laptop and several videotapes, then left with him, assuring his mother with a smile that he would be their guest.
Bahari has long been a recognized public figure in Iran, and beyond. He was born in Tehran, but moved to Canada in 1988 to study film and political science. He graduated with a degree in communications from Concordia University in Montreal, and made his first films in Canada before returning to Iran in 1998. From there he pursued his career as a documentary filmmaker, playwright, and journalist, contributing to NEWSWEEK and making more than 10 films. His movie Along Came a Spider, about a serial killer who was murdering prostitutes in the holy city of Mashhad, was the first Iranian documentary to be aired on HBO. His success was not limited to the professional realm; he and his British-Italian wife, Paola Gourley, maintained homes in London and Toronto, and were expecting their first child.
Iranian authorities didn't get it. Days later, Bahari was in custody, without charge. He had been picked up by the intelligence division of the Islamic Revolutionary Guard Corps, or IRGC, which reports directly to Supreme Leader Ali Khamenei. It is this division that opposition figures believe rigged the election and led the crackdown on protesters. For 118 days, Bahari sat in a 20-square-foot cell in Evin Prison, enduring frequent interrogations and torture. His captors grilled him on his associations with Western journalists, including Jason Jones. During one session they popped a copy of The Daily Show into a DVD player and insisted that Bahari had told the producers whom to interview. They accused him of working with various spy agencies and masterminding coverage of the election by "the agents of the Western media in Iran." He was forced to appear in a show trial in August and confess to involvement in a "color revolution." His interrogators told him he had been forgotten.
By fall, international pressure mounted for his release. In addition to frequent calls by NEWSWEEK, The New York Times published an editorial and Secretary of State Hillary Clinton pressed his cause. He was released on Oct. 17 on $300,000 bail, just in time to return home to London for the birth of his daughter. After his release, he published the account of his experiences in Evin in a NEWSWEEK cover story, "118 Days in Hell". Since then, he has received the Overseas Press Club award for human-rights reporting and the SPJ Deadline Club award for magazine feature reporting. In March he was sentenced in absentia to 13 years and six months in prison and 74 lashes for crimes such as unlawful assembly, propagandizing against the system, and insulting the Supreme Leader and the president.