Iran Oil Tanker Leaves 10-Mile Long Flaming Slick, 'No Hope' of Saving Crew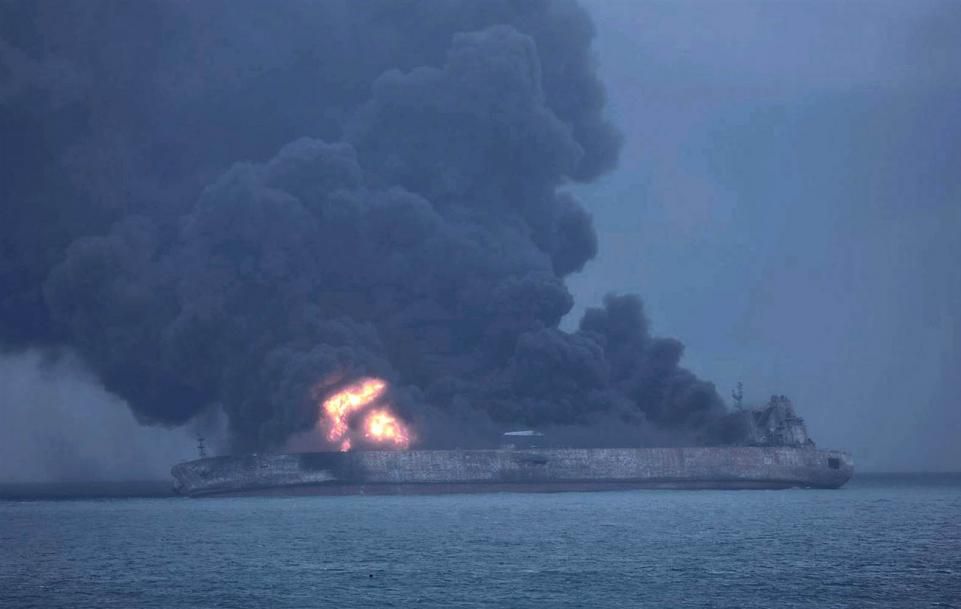 A burning Iranian oil tanker that exploded and sank off China on Sunday has left a 10-mile long flaming oil slick, according to local media, while an Iranian official has admitted that there was no hope of finding survivors.
The tanker, named Sanchi, had been adrift and ablaze after crashing into the freighter CF Crystal on January 6. Strong winds had pushed it away from the Chinese coast, where the incident happened, and into Japan's exclusive economic zone (EEZ).
A total of 30 Iranian sailors and two Bangladeshis were on the tanker at the time. Chinese salvage teams have so far recovered three bodies from the tanker, leaving a further 29 crew members presumed dead.
Iranian state TV quoted Mahmoud Rastad, the chief of the maritime agency, as saying: "There is no hope of finding survivors."
President Hassan Rouhani also expressed his condolences to families who are mourning their relatives and called for an investigation to be launched into the tragedy.
Oil was spread over an area 8.1 miles long and 6.9 miles wide, the Japan Coast Guard said in a statement, although the slick was shrinking as patrol boats battled to contain the spill.
The Coast Guard said the fire on the surface was put out at around 9.00 p.m. EST on Sunday, although according to other authorities and Chinese state TV CCTV black smoke continued to billow from the site for several more hours.
A clean-up effort has begun and rescue teams have called a halt to the large-scale search for survivors, reducing it to "normal" operations, CCTV said.
The blazing vessel, which was carrying 136,000 tonnes—almost one million barrels—of condensate, an ultra-light, highly flammable crude oil, sank on Sunday after several explosions weakened the hull.
The Shanghai Maritime Bureau, under China's Ministry of Transport, said shortly before 3 a.m. EST on Monday that there was no more heavy smoke at the scene.
The sinking marks the biggest tanker spill since 1991, when 260,000 tonnes of oil leaked off the Angolan coast.