Iranian President Insults Trump, Says 'Tradesman' Is Unqualified for International Diplomacy
Iranian President Hassan Rouhani has delivered a series of stinging insults to President Donald Trump, dismissing him as a "tradesman" with none of the experience necessary to deal with international treaties.
Speaking as French President Emmanuel Macron visited the U.S. to encourage support for the Joint Comprehensive Plan of Action (JCPOA), Rouhani said Western nations have no right to dictate a new agreement, the BBC reported.
He reserved his insulting remarks for Trump—a longtime critic of the JCPOA. "You don't have any background in politics. You don't have any background in law. You don't have any background on international treaties," Rouhani said. "How can a tradesman, a merchant, a building constructor, a tower constructor make judgments about international affairs?"
The JCPOA agreed to lift international sanctions on Iran in exchange for a curb on the country's nuclear program until 2025. It requires the U.S. to waive sanctions every 120 days as long as Iran is adhering to the agreement. The next sanctions waiver deadline is May 12, but Trump has repeatedly threatened to withdraw from what he has described as "the worst ever" agreement.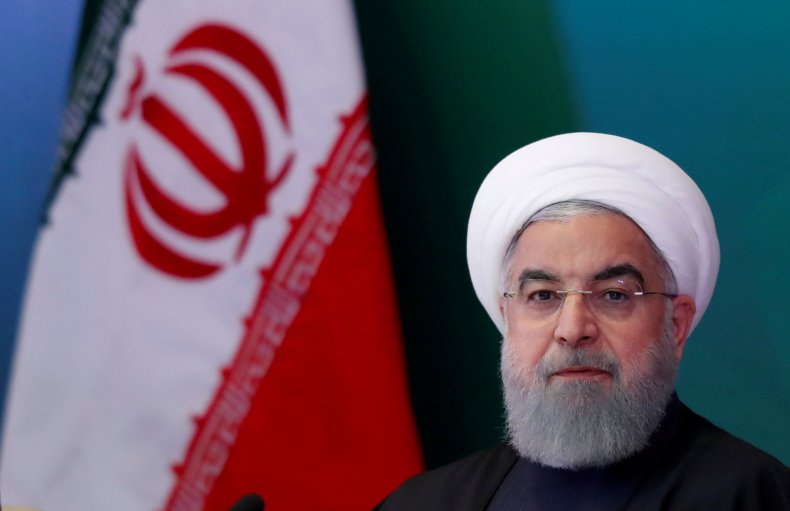 Trump has been critical of "terrible flaws" in the plan, including its exclusion of Iran's ballistic missile research program. On Tuesday, Trump said it was "insane" that the JCPOA did not stop weapons development or address Iran's expanding influence into Yemen, Syria, Iraq and Lebanon.
Speaking alongside Macron on Tuesday, Trump said the JCPOA should never have been negotiated and warned, "If Iran threatens us in any way, they will pay a price like few countries have ever paid."
All other signatories to the deal—Russia, China, Germany, U.K. and France—have said they want it upheld. Without it, Iran may pursue nuclear weapons and potentially spark a regional atomic arms race with Saudi Arabia, further destabilizing the Middle East.
Much of Macron's visit will be spent trying to soothe Trump's opposition to the agreement. The two presidents have reportedly discussed renegotiating the deal to block Iranian nuclear activity beyond 2025, put limits on its missile development and curb its growing influence.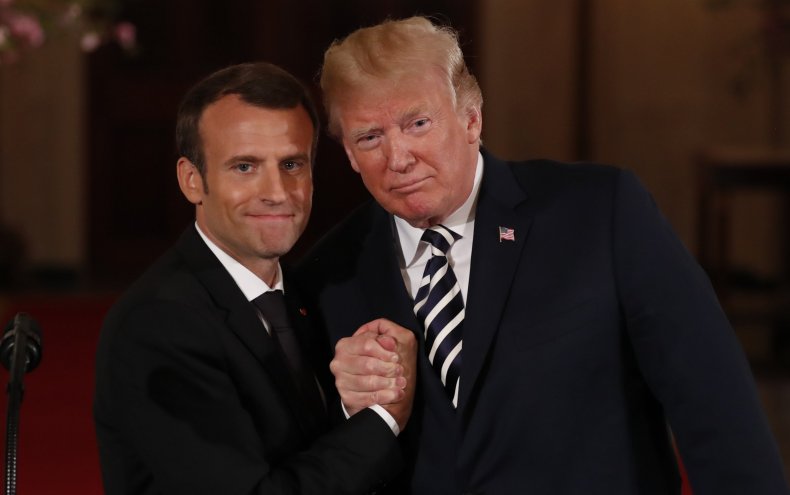 But Rouhani was dismissive of the suggestion, saying: "They say that with the certain leader of a European country we want to make a decision about a seven-sided agreement. For what? With what right?"
Iran has repeatedly said it will not consider a deal that includes its ballistic missiles. Earlier this month Rouhani vowed: "We will produce any weapons necessary to defend our country in such a volatile region. But we will not use our weapons against our neighbors."
Tough talk has been coming out of Tehran as the waiver deadline approaches. Rouhani said Trump "will regret it" if the U.S. withdraws from the deal, and threatened a "response stronger than what they imagine and they would see that within a week." At the start of March, a spokesman for Iran's Atomic Energy Organization claimed Tehran could restart its nuclear program within 48 hours if the deal fell through.
Rouhani has said that the deal will not necessarily collapse without U.S. support, and that Iran is preparing for all eventualities. "The new U.S. president—who has big claims and many ups and downs in his words and actions—has been trying for 15 months to break the JCPOA," he said in a televised speech on April 9. "But the structure of the JCPOA is so strong that it has not been shaken by such quakes."
Iranian President Insults Trump, Says 'Tradesman' Is Unqualified for International Diplomacy | World