Iranian President Visits Europe to Rally Nuclear Deal Support
Iranian President Hassan Rouhani embarked Monday on a trip to Europe to bolster assurances that Europe would continue to support the 2015 nuclear deal despite the U.S. withdrawal.
Rouhani will stay in Bern, Switzerland, for two days before traveling to Vienna. The Iranian president will meet with Swiss Federal President Alain Berset and top Austrian officials during his trip, the state-run Islamic Republic News Agency reported. Iranian Foreign Minister Mohammad Javad Zarif will also speak with Swiss government officials.
Rouhani's trip follows shifting international relations that have seen rifts emerge between the U.S. and Europe on a number of topics, such as trade policy, the Paris climate agreement and the Iran nuclear deal. Since the U.S. withdrew from the accord in early May, Iranian leaders have pushed to take measures that ensure the agreement's survival and compensate for reinstated U.S. sanctions.
The trip will be an "opportunity to talk about the future of the agreement," Rouhani said before leaving Iran, Agence France-Presse reported.
The 2015 Joint Comprehensive Plan of Action (JCPOA) was the culmination of more than a decade of diplomacy. Two months ago, President Donald Trump announced the U.S. would withdraw from the landmark treaty and once again impose sanctions, which had been removed under the agreement's terms, on Iran. The president also said he would levy sanctions against states that conduct business with Iran.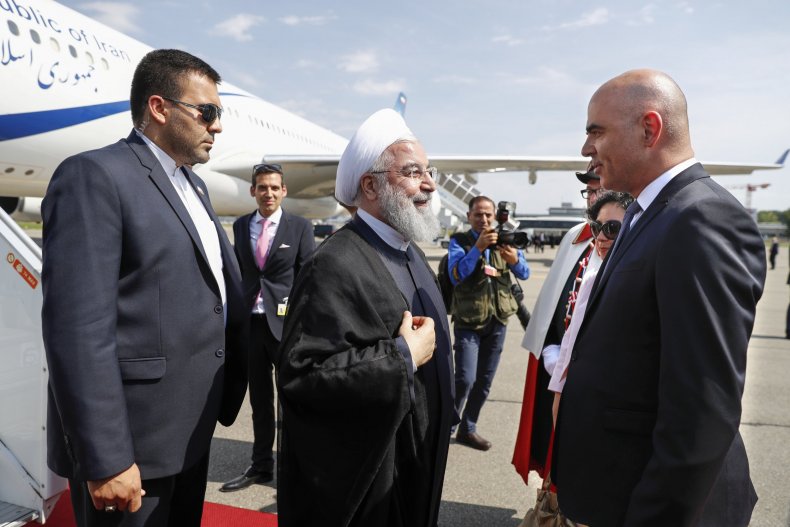 The unilateral U.S. withdrawal prompted a backlash from both Iran and European allies.
European and EU leaders have repeatedly expressed their continued support for the JCPOA. "The EU will remain committed to the continued full and effective implementation of the nuclear deal," the EU's top diplomat, Federica Mogherini, said after U.S. exit.
"We fully trust the work, competence and autonomy of the International Atomic Energy Agency that has published 10 reports certifying that Iran has fully complied with its commitments," Mogherini added. "The lifting of nuclear-related sanctions is an essential part of the agreement. The EU has repeatedly stressed that the lifting of nuclear-related sanctions has a positive impact not only on trade and economic relations with Iran, but also mainly, [it has] crucial benefits for the Iranian people."
Trump has repeatedly criticized the Iran nuclear deal, calling it "one of the worst and most one-sided transactions the United States has ever entered into." He said he wants to renegotiate the JCPOA to impose stricter restrictions on Iran's ballistic missile program and its "menacing activities" in the Middle East, but both EU and Iranian leaders have said they are not willing to alter the deal's terms.
Experts and global leaders worry that the agreement's annulment would endanger global peace by allowing Tehran to develop nuclear weapons and catalyzing a nuclear arms race across the region.