Iranians Losing Faith in Biden and the West, Have Hope for Raisi and the East: Poll
Most Iranians view U.S. President Joe Biden's policies toward their nation as being rooted in hostility, while majorities also had hope that their new political leader, President Ebrahim Raisi, would fulfill come through with key campaign promises, according to a recent poll.
With this came a broader geopolitical shift of support away from the West and looking toward the East.
The survey, conducted by the University of Maryland's Center for International and Security Studies at Maryland in conjunction with the independent Toronto-based IranPoll and published Monday, asked 1,001 Iranians their views on a range of subjects including national security, the economy and foreign policy from August 30 through September 9.
Among the notable results was a clear disappointment in Biden, who many had hoped would quickly reverse the stringent measures against Iran that were adopted by his predecessor, former President Donald Trump.
February's poll showed nearly 58 percent of Iranians surveyed had felt Biden would likely return to the nuclear deal endorsed alongside other major powers when he was vice president in 2015, which was scrapped three years later by Trump. The share of those who feel the U.S. and Iran would lilely overcome their differences to reenter the deal has dropped in the most recent survey to a slim majority of 50.5 percent.
Even if the U.S. did reenter, only 37 percent believe it was likely that the U.S. "will live up to its obligations under the nuclear agreement."
Washington and Tehran have struggled to find common ground after six rounds of indirect talks in Vienna as, meanwhile, Trump-era sanctions remain in place, and tensions between the two powers remain high across the Middle East. Against this backdrop, the perception of Biden as "hostile" has grown among Iranians, the survey showed.
Asked to rate Biden's policies rated from a 0 of "completely hostile to a 10 of "completely" friendly, 67 percent of respondents provided a score in the 0-4 range, more than half of which, 33.5 percent, chose 0. The second most popular answer was 5, "neither friendly nor hostile," with 26.1 percent, while all scores above this were minimal.
As for Raisi, however, Iranians had faith he would successfully navigate the country through its ongoing woes.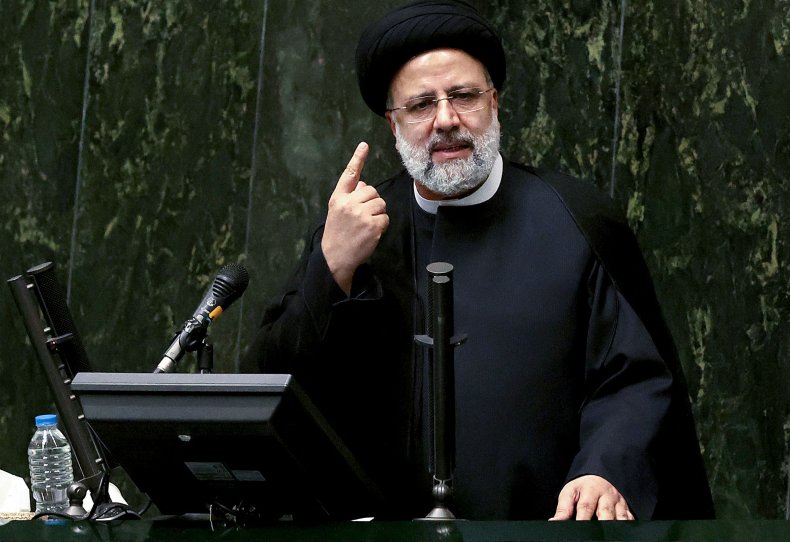 While sanctions remain a major issue for Iranians, the issue ranks relatively low at just 6 percent when Iranians were asked to identify "the single most important issue and challenge that our country faces that President Raisi should try to address." Above it were inflation and high prices at 22.7 percent, poverty and poor living conditions for the people at 19 percent, COVID-19-related issues at 13.8 percent and unemployment at 12.8 percent.
The survey also questioned Iranians on their confidence in Raisi's ability to address some of the most pressing issues. Among them, confidence in Raisi's ability to significantly lower inflation stood at some 72.8 percent, significantly lower unemployment at 67.3 percent and control the coronavirus pandemic at 83.8 percent.
Just over three-quarters of Iranians who responded felt that, in general, "President Raisi will fulfill his promises."
His favorability was slightly higher at 78 percent, making him more popular than any other figure mentioned in the poll, including Parliament Speaker Mohammad Bagher Ghalibaf, former Foreign Minister Mohammad Javad Zarif, former President Mohammad Khatami, Tehran Mayor Alireza Zakani, former Supreme National Security Council Secretary Saeed Jalili, former Parliament Speaker Ali Larijani and former President Hassan Rouhani, who is Raisi's predecessor and ranked last.
Among the other key goals Raisi set during the campaign trail was expanding Iran's diplomatic ties. In this endeavor, 77 percent of respondents expressed confidence that Raisi would be successful.
This project, however, has focused less on Western powers and more on others in Asia, spanning the Middle East and other major powers on the continent. This was reflected in where citizens felt diplomacy should be prioritized as well, with a majority of 54.1 percent saying "Iran should try more to strengthen its relations with Asian countries" such as Russia, China, and India, and 39.1 percent saying the same for "European countries" like Germany, France and the United Kingdom.
Last year, Iran entered into a 25-year strategic cooperation agreement with China. The deal was met with reservations among a number of Iranians, but a majority of 58.9 percent said the arrangement would "be in Iran's interests," though a slim majority of 51.9 percent would be opposed to giving China exclusive rights to Iran's oil sector.
Iran has also set out to expand on a strategic cooperation deal with Russia and on Wednesday top military officials from both countries reached a naval cooperation agreement with hopes of more joint exercises at sea.
Views of China and Russia among Iranians were mostly positive, at 57.4 percent and 56.1 percent favorability respectively. Views of the U.S. were extremely low at 85.3 percent unfavorability.
In another move cementing Iran's embrace of the East, the country has begun the process of joining the Shanghai Cooperation Organization, a coalition that includes China, India, Kazakhstan, Kyrgyzstan, Pakistan, Russia, Tajikistan and Uzbekistan. Raisi himself traveled to the Tajik capital of Dushanbe last month to attend a high-level meeting at which it was agreed to upgrade Tehran's status from observer to full member.
Raisi touted the potential for the Shanghai Cooperation Organization to serve as an avenue in improving Iran's economy as well, especially through trade, during a meet with national exporters on Thursday. And here he also said Iran has turned sanctions into an opportunity to develop domestic industries.
"We have great capacities for production and the export of goods and services in the country, and a good market is in front of producers and exporters," Raisi said. "By using these opportunities, we can shape a bright future for the country."
The survey was conducted in September 2021, soon after Raisi took office as Iran's 8th President. It has a margin of error of +/- 3.1 percent and was conducted using IranPoll's standard nationally representative probabilistic sampling as detailed here: www.IranPoll.com/method.