Iran's Ahmadinejad Throws Stones in Lebanon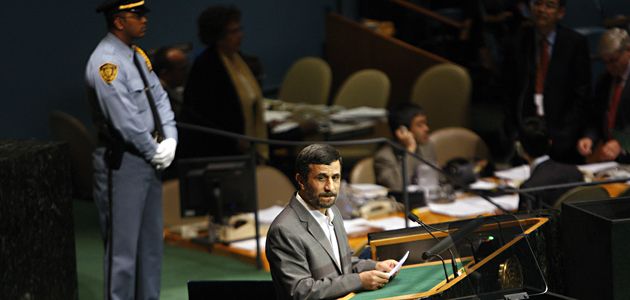 In New York at the United Nations last month, Iranian President Mahmoud Ahmadinejad spouted his usual conspiratorial vitriol, announcing that the U.S. government may have carried out the 9/11 attacks. Now he's bringing the road show to Lebanon. An official two-day state visit next week, the first since he was elected president in 2005, has Lebanon's fractured political parties up in arms. It would be controversial enough if Ahmadinejad were just going to do a round of meet-and-greets in Beirut, but he's reportedly planning to head south and visit the Fatima Gate, one of the border posts with Israel.
Ahmadinejad's press adviser refused to confirm the details of his itinerary. But Manouchehr Mottaki, the country's foreign minister, recently said that it would be normal for Ahmadinejad to visit South Lebanon because of the reconstruction projects that his government funded there after the 2006 war with Israel. So what does Ahmadinejad plan to do there?
Unlike in the U.S., where his inflammatory provocations are now met with an exasperated shrug, in southern Lebanon, Ahmadinejad has the potential to actually spark a fury. There are reports in the Arabic press that he may throw a few rocks over the border into Israel as a symbolic gesture. Tensions between Tehran and Tel Aviv are at an all-time high over Iran's nuclear program, and just two months ago, Lebanese soldiers clashed with the Israeli Defense Forces at the same border. "Ahmadinejad, through this visit, is saying that Beirut is under Iranian influence and that Lebanon is an Iranian base on the Mediterranean," Fares Soueid, a coordinator for the March 14 Alliance, a coalition of political parties often critical of Iranian and Syrian influence in the country, told Agence France-Presse. "The message is that Iran is at the border with Israel."
But Ahmadinejad is not only stoking tensions with Israel: the controversial visit comes at a pivotal moment in Lebanese politics. In the past month, tensions have reached a boiling point over the Special Tribunal for Lebanon, which is investigating the murder of former prime minister Rafik Hariri. Leaks from the tribunal's proceedings have hinted that Hizbullah operatives may be indicted for the murder; a handful of the party's members were recently summoned for questioning. U.S. officials have long accused Iran of being a sponsor of Hizbullah.
Ahmadinejad has criticized the tribunal in the past, and some Lebanese observers see his visit as part of a broader push, led by Hizbullah, to discredit and perhaps dissolve the tribunal. Hizbullah leader Seyed Hassan Nasrallah has blasted the tribunal as an "Israeli project" and claimed that the investigation has become politicized because of Israeli and American pressure. The group's members have even threatened to block funding for the tribunal in cabinet meetings where a government budget vote is looming.
Squared off against Hizbullah are Prime Minister Saad Hariri and a handful of his political allies. They've vowed to push the tribunal as far as it needs to go to uncover the details of the assassination. The tribunal issue hits not only Lebanon's political fault lines but its sectarian fault lines as well: Hizbullah supporters are primarily Shiite, and Hariri's supporters are primarily Sunni. The two partisan groups clashed in fierce street battles in May 2008. Ahmadinejad's government is thought to have donated millions of dollars to Hizbullah since 2005, something that has surely not gone unnoticed by Lebanon's Sunni community.
Ahmadinejad's visit in the middle of this tense standoff, observers worry, could push one side or the other over the edge. And the Iranian president, once again, will be exactly where he wants to be: in the spotlight.