Iran's Antisemitism Isn't Only About Israel | Opinion
As the Biden administration resumes its efforts to persuade Iran to rejoin the 2015 nuclear deal, it is worth remembering the Iranian regime's commitment to antisemitism.
The regime has tried to hide this commitment, claiming that its calls of "Death to Israel" don't mean "Death to the Jews."
"The disappearance of Israel does not mean the disappearance of the Jewish people, because we have nothing against [Jews]," said Iranian Supreme Leader Ayatollah Ali Khamenei in 2019. "Wiping out Israel means that the Palestinian people, including Muslims, Christians and Jews, should be able to determine their fate and get rid of thugs such as [then-prime minister Benjamin] Netanyahu."
The lady doth protest too much.
Anti-Zionism is antisemitism, and the Iranian regime's singular focus on denying the Jewish people their right to self-determination in the Jewish homeland is Jew-hatred, plain and simple.
One of America's most prominent universities shamefully regurgitated Khamenei's talking point. "The theocratic [Iranian] regime is neither irrationally messianic nor antisemitic in its hard power calculations," read a page on Johns Hopkins University's School of Advanced and International Studies. It was deleted following condemnation on social media by many Iran observers, including this author.
Distorted images of the Iranian regime are by no means unique to the American academy. While the rest of Iran's Jewish community stays below the radar, one young rabbi—Rabbi Yehuda Gerami—has taken to calling himself the "chief rabbi" of Iran and posting his activities on social media. Gerami, who was educated in the U.S. before returning to Iran, is infamous for condemning Israel and making a "condolence visit to the family of Qasem Soleimani," following the Trump administration's elimination of the terror mastermind, according to Ynet.
During his rather strange tour of the United States this month, Gerami claimed that the Jews in Iran are thriving. "Even if someone is caught with wine on the street, if he says that he is Jewish and shows his Jewish identity card, there are no problems," he told Ami Magazine, seemingly with a straight face.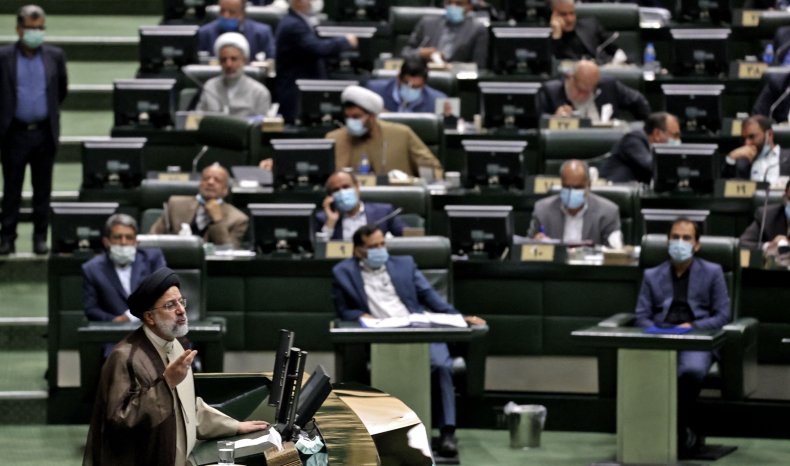 Try as some might to paint the Iranian regime as a rational or even tolerant actor, senior regime figures have a habit of exposing their virulent antisemitism. Iranian vice president for economic affairs Mohsen Rezaee last month threatened to take hostage the Jewish community of Iran: "The Israeli government knows very well that if it makes a mistake, the regime will treat the 10,000 Jews living in Iran differently."
This is an obvious threat to Jews—not in Israel, but in Iran, which has been home to Jews for over 2,500 years, pre-dating the Islamic conquest of Persia.
Ever since Ayatollah Khomeini's Islamic Revolution of 1979, Jews have not been treated as equal members of Iranian society. Some have been executed by the regime for no "crime" other than being Jewish.
Prominent businessman Habib Elghanian, who was elected chairman of the Iranian Jewish community in 1959, was arrested just over a month after the revolution. After going to the United States on business in the fall of 1978—when the revolution was well underway—and despite being advised by friends and family to stay abroad, Elghanian returned to his beloved Iran.
Elghanian was subjected to a show trial that lasted just 20 minutes. A tribunal convicted him of being a "Zionist spy" and a "corrupter on Earth." He was executed on May 9, 1979.
Elghanian's execution led to a mass emigration of Jews from Iran. Prior to 1979, approximately 100,000 Jews lived in Iran. Today, there are less than 10,000 remaining—many of them elderly. As a community they are doing their best to survive under constant surveillance from a government staffed by violent antisemites.
Most recently, we saw Iran's new president, Ebrahim Raisi, appoint to his cabinet Ahmad Vahidi and Mohsen Rezai, both of whom have been on Interpol's red alert list since 2007 for their roles in the 1994 bombing of a Jewish community center in Buenos Aires. The attack, which killed 85 people and injured more than 300 others, was the deadliest antisemitic attack in the Americas since WWII.
The Iranian regime is now the world's leading state sponsor of antisemitic terrorism. Its leaders institute discriminatory laws against the local Jewish population, deny the Holocaust took place and host Holocaust "cartoon competitions," threaten to "eliminate Israel" and fund and equip terror proxies Hamas, Hezbollah and Palestinian Islamic Jihad to make those threats real.
The brazen promotion of notorious Jew-killers such as Vahidi and Rezai blatantly reveals that the regime's threats are in fact not "just" directed at Israel, but at all Jews, everywhere.
Ellie Cohanim is the former U.S. deputy special envoy to monitor and combat anti-Semitism and a Senior Fellow at Center for Security Policy. She is a native of Iran. Follow her on Twitter: @elliecohanim.
The views expressed in this article are the witer's own.