Iran's Bushehr Port Fire Sets 7 Ships Ablaze After String of Recent Explosions
A fire broke out on Wednesday in Iran's Bushehr port, setting at least seven ships ablaze, amid a string of recent fires and explosions across the country.
The fire at the Bushehr port was first reported by the Tasnim news agency, which also noted that there have been no reports of casualties following the fire.
According to a photo published by the Islamic Republic News Agency (IRNA), clouds of dense black smoke filled the air around the port. Reuters reported that state broadcaster Islamic Republic of Iran Broadcasting (IRIB) showed fighters tackling clouds of smoke at a shipyard at the southern port on the Gulf.
"An extensive fire has engulfed Delvar Kashti Bushehr boat factory," IRIB said, according to The Times of Israel.
The cause of the fire at the Bushehr port was unknown, but it came during a series of several explosions and fires across Iran.
On July 2, there was an explosion at Iran's Natanz nuclear facility, and a week prior, on June 26, another large blast was felt in Tehran, which was apparently caused by an explosion at the Parchin military facility, according to The Times of Israel. According to Reuters, Iranian authorities said the incident at the military facility was caused by a leak in a gas storage facility, either inside or outside of the base.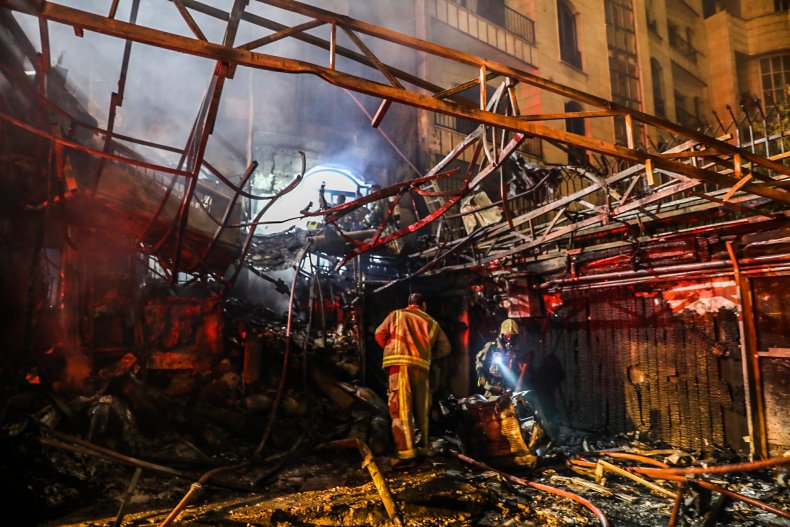 One day after the fire at the Natanz nuclear facility, Iran's top security body said that the cause of the fire had been determined but would be announced at a later time.
On June 30, there was another explosion at a medical clinic in the northern area of Tehran, which was also caused by a gas leak, according to an Iranian official.
BBC also noted several similar incidents, with a fire on Monday at an industrial zone in the city of Mashhad, which officials said was caused by gas storage tanks catching fire. Additionally, on Saturday, Tehran's fire department reported another explosion in the basement of an apartment building, as several gas cylinders exploded. Nineteen people were killed in the explosion, according to Reuters.
According to Reuters, an article published by the state news agency IRNA, suggested that the explosions could be possibly caused by sabotage by enemies, such as the U.S. and Israel, but did not directly accuse either of the countries.
On July 5, Israel's defense minister said that the country was not "necessarily" behind the explosions in Iran.
Newsweek reached out to Iran's foreign ministry for comment but did not receive a response in time for publication.