Iran's New Fighter Jet Is a Copy of a U.S. Plane From the 1960s, Military Experts Say
Shortly after Iran unveiled what it claimed was its first domestically manufactured fighter jet, military experts said the jet might be little more than a re-purposed U.S. aircraft from the 1960s.
On Tuesday, Iran's state-run media aired footage of the country's President Hassan Rouhani sitting in the fighter jet, dubbed the Kowsar, as it was first presented to the public. Speaking to state television, Rouhani said the military should be prepared with "discipline, faith, motivation, and weapons," so that no one would dare attack the country, CNN reported. The program claimed that Iranian military experts had designed the fourth generation jet.
Military experts, however, quickly cast doubt on this assertion. At least one military analyst took to Twitter and claimed that the Iranian model was based on a U.S. prototype, tweeting photographs of the two aircraft side by side. Another later told CNBC that the jet could be an upgrade of a model created originally in the 1960s.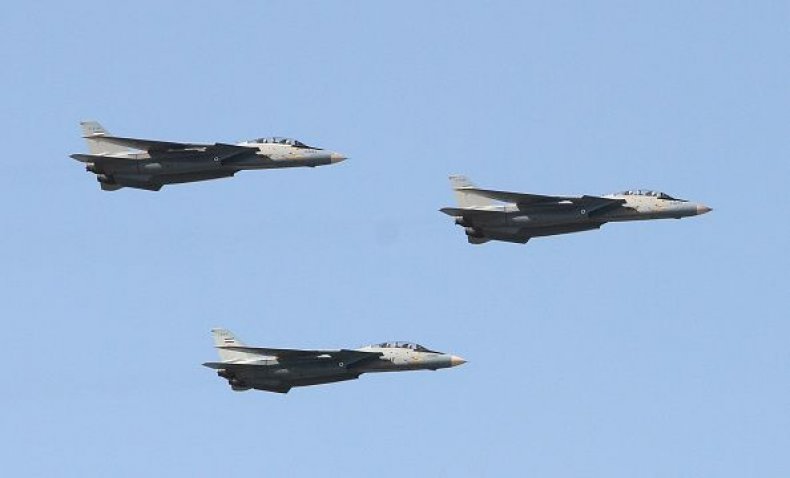 Iran chose to unveil its new fighter jet at a time when tensions are ratcheting up between the country and several important adversaries, the U.S., Saudi Arabia, and Israel. The U.S. recently abandoned a landmark diplomatic agreement with the Iran that had agreed to lift international sanctions in exchange for curbs on Iran's nuclear program. Washington now says it will pressure its European allies to stop doing business with the country immediately.
The State Department, meanwhile, has said it plans to pressure Iran to complete a list of 12 demands, including calling an end to the country's ballistic missile program. The U.S. wants Iran to stop supporting terrorist groups around the Middle East, including Hezbollah and Hamas, and end any military support for the Houthi rebels in Yemen. Israel and Saudi Arabia both support Washington's demands, and both the U.S. and Israel are lobbying for Iranian-linked troops to leave Syria.
Some officials have suggested that the U.S. and Israel are striking a deal with Russia that would see Iranian backed troops pushed out of Syria entirely. On Wednesday, President Donald Trump's national security adviser John Bolton said that Russian President Vladimir Putin would be happy to see Iran leave Syria, The Washington Post reported.
On Wednesday, an Iranian cleric responded to Bolton's comments by threatening to hit both U.S. and Israeli targets in the Middle East.
"The price of a war with Iran is very high for America," Ahmad Khatami told worshippers in Tehran, Reuters reported.
"They know if they harm this country and this state in the slightest way the United States and its main ally in the region, the Zionist regime [Israel], would be targeted," he said.