Iran's Proxies Are Bombing Civilians With Illegal Ballistic Missiles, Says Nikki Haley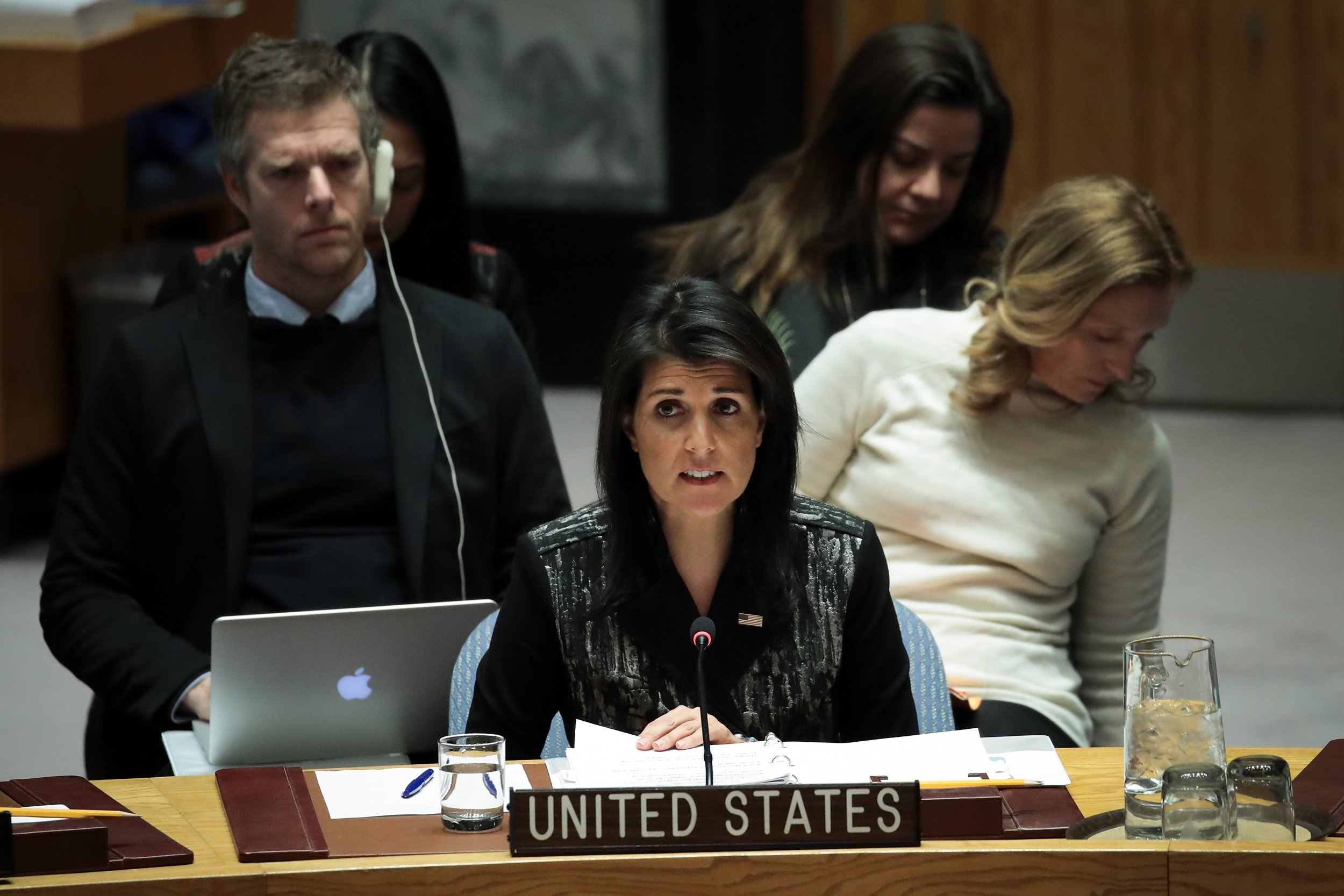 The Islamic Republic of Iran has illegally shipped ballistic missiles to regional proxies that have in turn targeted civilians, the U.S. Ambassador to the U.N. Nikki Haley said.
Haley made the remarks to the U.N. Security Council Thursday in a scathing broadside against Iran during a discussion on nuclear proliferation. Both Haley and President Donald Trump have been deeply critical of a 2015 nuclear deal between the U.S., Iran and world powers, which lifted economic sanctions in exchange for Tehran agreeing to scrap its nuclear weapons program.
Related: Iran's Secret Missile Shipments in Yemen Confirmed by U.N.
"[Iran] provides ballistic missiles in violation of U.N. arms embargoes. Its proxies launch them at civilian targets, as we saw when Houthi militias in Yemen fired an Iranian-supplied missile at an airport in Riyadh," Haley said, calling the regime in Tehran "the leading cause of instability in an unstable part of the world."
The U.S. has led calls implicating Iran in an November ballistic missile attack by Houthi rebels in Yemen on Saudi Arabia. A leaked United Nations report has since shown that the security council in part agrees with the United States's position. It has said weapons originating from Iran made their way to Yemen, violating a U.N. embargo. However, the United Nations said the Iranian-made weapons could have been supplied by a third party.
Under the 2015 nuclear deal, nations were called upon to intervene to stop arms transfers or transfers of related material from Iran or Iranian nationals.
Haley also tied Iran's regional proxy wars to recent unrest in the country. "When the Iranian people protest their money being diverted to terrorists, the regime arrests them and kills them. It silences their voices and lies about their motivations," she said.
Popular protests erupted across Iran at the end of December but cooled in the face of a government crackdown and counterdemonstrations at the start of the new year. Haley called for a U.N. Security Council meeting on the protests after 21 people were killed and hundreds arrested in the rallies.
Iran's ambassador to the United Nations accused the U.S. of bullying over the issue, saying it was a "discredit for the Security Council" to discuss a purely domestic matter, the Associated Press reported.