Iran's state TV reported on Friday that its Revolutionary Guard has unveiled its new drone, named "Gaza," during a period of high tensions between Israel and the Palestinians.
According the the report, the drone can carry up to 13 bombs over 1,200 miles and has a flight duration of 35 hours, the Associated Press reported.
General Hossein Salami, chief of the Revolutionary Guard, said that "we called it Gaza so that God willing it can be an eternal honor for those who are resisting the Zionist invasion."
For more reporting from the Associated Press, see below.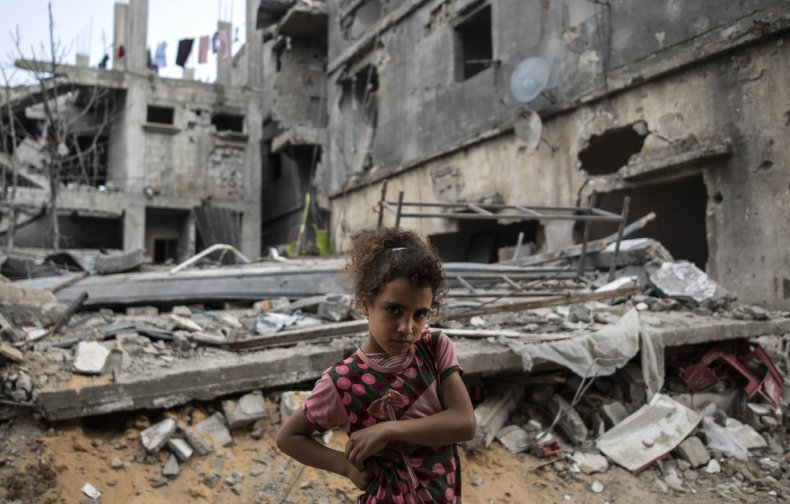 TV also said in addition to military surveillance, combat, reconnaissance missions, the Gaza drone can monitor forests, help rescue operations and providing assistance in natural disasters such as floods and earthquakes.
Iran does not recognize Israel and supports anti-Israeli militant groups like Palestinian Hamas and Lebanese's Hezbollah.
Thursday, there was also news of a cease-fire in Gaza.
Israel and Hamas fought an 11-day war, their fourth since the Islamic militant group seized power in Gaza from rival Palestinian forces in 2007.
Turkey welcomed the cease-fire in Gaza but is also calling for a two-state solution to ensure a permanent end to the conflict.
A Turkish Foreign Ministry statement on Friday said Turkey expects the international community, and especially the U.N. Security Council, "to act in order to bring a complete end to the persecution" of Palestinians.
The ministry said: "In order to prevent the recurrence of the pain and tears in Palestine, it is necessary to ensure that Israel is made accountable internationally for its crimes and lifts the inhumane blockade imposed on Gaza."
The statement also called for an end to the "Israeli occupation" of Palestinian territories in order to achieve a lasting, fair and comprehensive solution, and added that Turkey would continue to support the Palestinians' "just cause."
Japanese Foreign Minister Toshimitsu Motegi also welcomed the cease-fire and expressed "respect" for mediation efforts by the United States, Egypt and other countries.
He also stressed the need for all involved parties to continue their efforts toward achieving a two-state solution in the Middle East that will bring peace to the region.
Also Friday, hundreds of people in Tokyo, many of them from Muslim countries, gathered outside the Israeli Embassy for a pro-Palestinian rally where people chanted "who is the terrorist?" and "Israel is the terrorist." Some Japanese residents also joined the protest.
The cease-fire has allowed international organizations to assess the damage in Israel and Gaza and begin providing necessary aid.
The World Health Organization has tallied "significant trauma needs" in Palestinian areas, where at least 243 people have been killed during 11 days of fighting between Palestinians and Israelis.
WHO spokeswoman Margaret Harris said a total of 8,538 people had been injured across Palestinian areas during the violence, and 30 health facilities in Gaza had been damaged—with one clinic fully destroyed and another sustaining significant damage. She said damage to infrastructure was impeding the access of ambulances.
The comments to a U.N. briefing in Geneva came as humanitarian aid workers assessed the fallout from the latest fighting between Hamas militant fighters and Israeli forces.
Fabrizio Carboni, regional director for the Near and Middle East at the International Committee of the Red Cross, estimated there were "several hundred" pieces of unexploded ordnance strewn about in Gaza and said medical supplies were a pressing need.
Matthias Schmale, Gaza director for UNRWA, the U.N. aid agency for Palestinian refugees, cited a "window" of several hours on Friday during which aid and supplies could be brought in through the Kerem Shalom crossing point into Gaza. Speaking by video from Gaza City, he noted that a central laboratory that carries out testing for COVID-19 had been "made dysfunctional by a massive bomb explosion."
Alluding to a cease-fire that took effect overnight, he said it "feels like a fragile cease-fire" and lamented the "unbearable and unacceptable cost this has had for the civilian population. And I know that applies to people in Israel, too."
Norway's foreign minister says her country is "very concerned" about the high casualty rates in Gaza, the suffering of the civilian population and the "great devastation."
Norwegian Foreign Minister Ine Eriksen Søreide made the comments as her country announced stepping up humanitarian aid to Gaza by 30 million kroner ($3.6 million).
That comes on top of 71 million kroner ($8.5 million) in humanitarian aid to the Palestinians that the Scandinavian country has given so far in 2021. The money will be channeled through the United Nations and humanitarian organizations.
In a separate statement, Jan Egeland, head of the Norwegian Refugee Council, said "now that the guns have finally gone silent, let us not mistake this calm for normality."
Egeland said that leaders in the U.S., Europe and the Arab world should "push Israel and the Palestinians to work out a way that will end this unsustainable injustice."
Updated 05/21/2021, 10:30 a.m. ET: This story has been updated with additional context.