Iran's State Media Are Trolling Trump About Border Separations
Iranian protests often feature burning American flags, propaganda posters lamenting the crimes of the "Great Satan" and chants of "Death to America." But with the ongoing immigration scandal rocking the U.S., Iran's leaders have been given a free propaganda win.
Iranian television channel Press TV—affiliated with the state-run Islamic Republic of Iran Broadcasting agency—has been tweeting photos of the facilities, where unaccompanied migrant children are being held, as proof of America's disregard for human rights.
One Press TV tweet—in which President Donald Trump was tagged—shows images from inside one of the detention centers with the caption "Separated refugee children kept 'in cages' in Texas." The channel's Twitter feed includes numerous stories about the controversial facilities, including one article that compares them to Nazi concentration camps.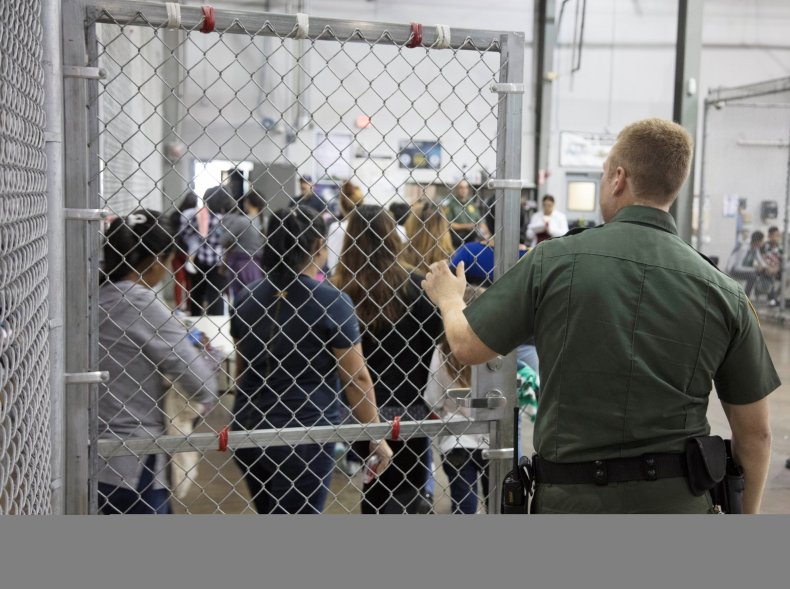 Iranian Supreme Leader Ayatollah Ali Khamenei also took the opportunity to throw some jabs at Trump. In comments published on his official website and reported by Reuters, Khamenei said, "The Americans separate the children from the immigrant parents with complete maliciousness." He added that this "crime" was enough to make any person feel "exasperated."
American-Iranian journalist Borzou Daragahi tweeted, "Iran state TV no longer needs to broadcast slogans against America. Just shows handout pictures distributed by US [government] itself."
Iran's own human rights abuses haven't stopped its leaders from jumping at the chance to criticize Trump. Relations between Tehran and Washington are at a low point following Trump's withdrawal from the Obama administration's nuclear deal with Iran. Domestic embarrassment for the current administration gives Iranian leaders further ammunition with which to smear the U.S.
The immigration issue has become a major embarrassment for Trump's White House. The president caved to pressure on Wednesday and signed an executive order to end forced separation of children from parents detained on suspicion of trying to illegally enter the U.S.
Announcing his decision, Trump nonetheless vowed a continuation of the "zero tolerance" policy that has put him in this political bind. "We are keeping families together, and this will solve that problem," the president claimed. "At the same time, we are keeping a very powerful border, and it continues to be a zero tolerance. We have zero tolerance for people that enter our country illegally."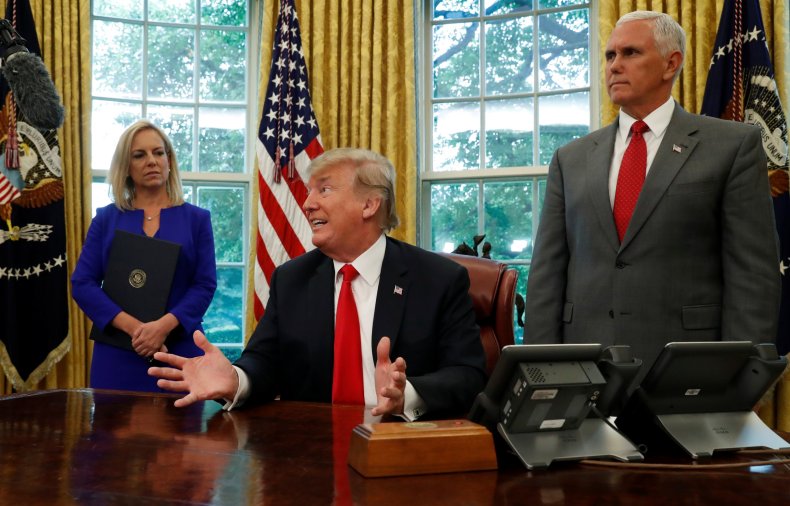 For now, families will be kept together and placed in the same detention facility until the parent or guardian goes to trial. Trump said this will be a temporary arrangement and called on Congress to pass new legislation to address the issue in the long term.
The president acknowledged that his order may face legal challenges. A 2015 court order dictated that the government could not keep migrant children in detention for more than 20 days. Trump has ordered Attorney General Jeff Sessions to ask a federal court to abolish this limit, NPR reported. If successful, this would allow authorities to detain families without limit.
The executive order did not address children who have already been separated from their parents. As many as 2,342 children are believed to have been taken into federal custody and sent to shelters and foster care programs all over the country.