Iran's Worst Fears in Afghanistan Are Coming True as ISIS Tests Red Line
With the United States' foreign policy focus set firmly on the war in Ukraine, the distant unrest left behind in Afghanistan has become a primary concern for Iran, as attacks against Shiite Muslims in the neighboring nation threaten to ignite sectarian tensions across the region.
An attack claimed Thursday by the Islamic State militant group's Khorasan outfit (ISIS-K) killed dozens of people at the Seh Dokan mosque in Mazar-e-Sharif. It marks the latest in a series of deadly acts targeting Afghanistan's Shiite Muslim religious minority, comprised mainly of ethnic Hazara, one of the largest ethnic groups in a country in which no single ethnic community forms a majority.
Just one day before the blast, another deadly explosion rocked the Abdul Rahim Shahid high school located in a primarily Shiite Hazara neighborhood in Kabul. Schoolchildren were among the dead.
While the unrest plaguing majority-Sunni Muslim Afghanistan since the Taliban's takeover last August has not targeted only Shiite Muslims, the attacks have had an outsized impact on the community, which had long faced discrimination and repression, even under the Washington-backed government that collapsed after the U.S. military withdrawal.
The attacks have also received special attention from Iran, home to the largest Shiite Muslim population in the world.
"Iran is deeply concerned about the sharp rise in the number of such terrorist activities in Afghanistan," the Iranian permanent mission to the United Nations told Newsweek in a statement. "Unfortunately, some extremist forces are embarking on racial and ethnic disparities in Afghanistan for their own narrow political objectives."
The mission said Tehran would continue to work toward fostering good ties with Taliban-led Kabul, but called on the Islamic Emirate to hold accountable those responsible for recent attacks.
"The Islamic Republic of Iran calls on the ruling establishment in Afghanistan to urgently identify and punish the perpetrators of these heinous crimes," the mission said. "As in the past, the Islamic Republic of Iran is utilizing all its potentials to establish best relations with Afghanistan and views peace and security in this neighboring country as imperative."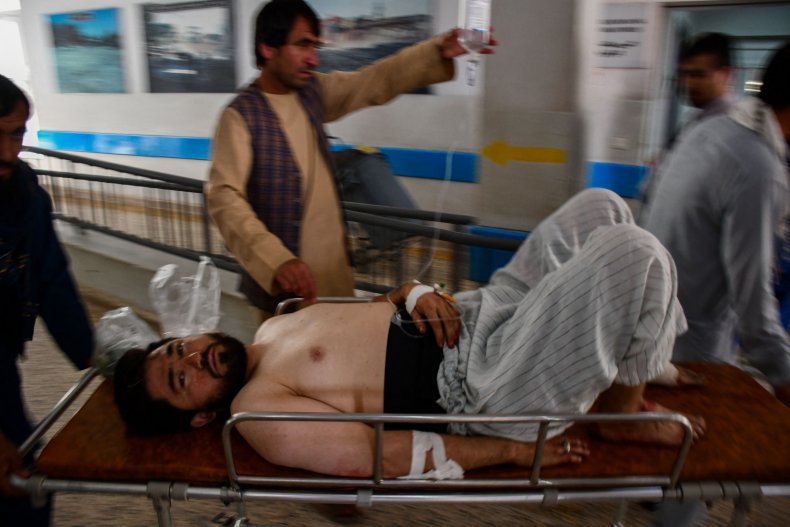 Such recent attacks evoke a difficult history between the two nations, especially in the northern Afghan city of Mazar-e-Sharif, where militants massacred up to 11 people, mostly Iranian diplomats at the city's consulate in 1998, under the first period of Taliban rule that lasted from 1994 to the U.S.-led intervention in 2001. The consulate, which remains open today, released a statement Thursday that "strongly condemned" the blast at the city's mosque earlier that same day.
A number of top officials, including Iranian President Ebrahim Raisi, have also weighed in on the recent spate of attacks, as did Foreign Ministry spokesperson Saeed Khatibzadeh, who described the "terrorist acts" as "repulsive," and noted they occurred as large crowds of worshippers gathered during the holy month of Ramadan.
The impact is felt most readily in Afghanistan, however, where the Taliban continues to struggle to assert control amid a lingering humanitarian crisis exacerbated by a lack of steady foreign aid.
"The last two days have been really painful for Afghans," Alhanafi Wardak, a prominent Taliban member, told Newsweek. "I must first say that these attacks were on the entire Afghan nation, here the pain and sorrow of all Afghans is shared. The Islamic Emirate is committed to preventing similar incidents and punishing the perpetrators."
But Wardak saw other actors behind the effort to stir unrest among communities in Afghanistan, saying that "the regional intelligence community, which also threatens our neighboring countries, is trying to use various means to create security concerns in Afghanistan, especially for the minorities, especially the Shiites."
"The fact is that this is not just an attack on Shiites, it is an attack on all Afghans," Wardak said. "As you know, our security forces were the target of a similar terrorist attack today. So our enemy is common."
As the deadly blast in Mazar-e-Sharif garnered international attention, ISIS claimed a separate attack that Taliban authorities said killed at least 11 more people in Kunduz, another northern Afghan city.
"Throughout Afghanistan, the Islamic Emirate's security and intelligence forces have been able to thwart similar terrorist groups," Wardak said, "and we will soon bring the perpetrators of such attacks to justice."
Shortly after, Wardak stated that Abdul Hamid Sangriar, "a key member of ISIS and former governor of Balkh province," had been arrested during a "special operation" in the Charbolak district of Balkh province, in which Mazar-e-Sharif is located.
As for Iran, Wardak said that the Taliban was prepared to coordinate with other nations in curbing the activities of militant groups "at the regional level," where "we are ready to work with our neighbors, not just Iran, to fulfill our responsibility to prevent the activities of terrorist groups."
But when it came to domestic affairs, he asserted that "the internal security of the country is our internal issue and the responsibility of our security forces."
"I assure you that similar incidents will be prevented soon," Wardak added. "The security situation in our country is better and more secure than in some of our neighbors."
Militant groups bearing jihadi and separatist ideologies have long exploited Afghanistan's instability to conduct cross-border activities. The issue has presented a common problem for a country located at the heart of Asia and borders China, Iran, Pakistan, Tajikistan, Turkmenistan and Uzbekistan.
These countries, along with Russia, have gathered representatives to discuss the issue on several occasions, most recently earlier this month in the Chinese city of Tunxi. And while all sides have emphasized a need to crack down on rogue entities in Afghanistan, at least one, the country with the closest ties to the Taliban, has taken matters into its own hands.
Pakistan conducted a rare series of airstrikes said to target the Tehrik-i-Taliban Pakistan (TPP), a separate group from the Afghan Taliban. While the Taliban currently leading the Islamic Emirate of Afghanistan have long enjoyed good ties with Islamabad, the TPP have conducted a decades-long insurgency in Pakistan, where the group is considered a terrorist organization.
Events in Afghanistan bear the risk of having internal reverberations in Iran as well, and vice versa. While Iran has hosted up to one million Afghan refugees, second perhaps only to Pakistan, reports have persisted over the years of discrimination in their host nation, and frictions have emerged between the populations of the two countries after a series of high-profile incidents this month.
A rare stabbing attack at the Imam Reza holy shrine shrine in Iran's Mashhad was reported to have killed two people earlier this month, and while no direct connection between the foreign attacker and Afghanistan was established, Iranian Interior Minister Ahmad Vahidi took an opportunity after the attack to assuage rising tempers, saying "the enemy tries to take advantage of the ethnic and religious differences between friendly nations, but it will fail to achieve its objective."
He referred at the time to Iran and Afghanistan as "a united nation with common civilizational roots and backgrounds."
But the incident occurred amid a flurry of videos that emerged across social media showing the purported mistreatment of Afghan refugees by Iranians, including physical abuse and armed threats. Such footage garnered a strong reaction in Afghanistan, where the Taliban was forced to provide security to angry protests in front of the Iranian diplomatic institutions in the country.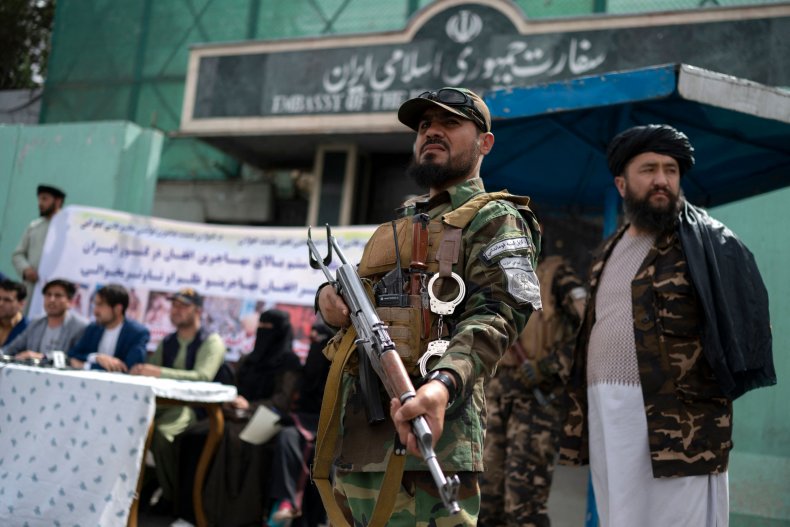 With tensions high in both camps, Iran continues to express concerns over insecurity in Afghanistan. Afifeh Abedi, a foreign policy analyst at the Tehran-based Center for Strategic Research told Newsweek that "Iran considers various social, political, bilateral, regional and international dimensions of the terrorist attacks in Afghanistan."
"However, crimes in Afghanistan have hurt Iranian public sentiment, putting pressure on Tehran to take a tough stance against the Taliban," she added. "I think Iran has a pragmatic policy toward the Taliban. These incidents may lead to increase formal cooperation between Tehran and Kabul."
In the interest of safeguarding Shiite Muslim populations against ISIS, often referred to by opponents by its Arabic-language acronym Daesh, Iran has previously adopted an interventionist approach in Iraq and Syria, largely through the use of allied militias, including a largely Afghan Hazara group called the Fatemiyoun.
But Abedi said that the situation in Afghanistan "is more diverse" as "Iran needs to consider more complex considerations" with the Taliban in control there. These include taking "more security measures at the common borders" and developing "social, political and security relations with the Taliban to ensure the security of Afghanistan."
Echoing the Taliban's Wardak, she said Iran would continue "its regional efforts to establish peace and stability in Afghanistan." But she warned this cooperation would only erode should the attacks on Shiite Muslims continue.
"The killing of Afghan Shiites first and foremost leads to the destruction of the Taliban's position as a government," Abedi said. "As a result, the Taliban must take more responsibility."
Also echoing Wardak, however, Iranian senior military and security analyst Hossein Dalirian said Tehran too saw external interference fueling the recent wave of attacks, specifically naming U.S. and United Kingdom-tied private military groups allegedly "providing financial and intelligence assistance to certain opposition groups in Afghanistan in efforts to prop up these groups and push the country into a sectarian-religious war."
"I do believe that such a war, in the first place, would shed the blood of hundreds of innocent people in Afghanistan," Dalirian told Newsweek, "and in the second place, would buttress Daesh in the country, which could play havoc with the entire region as well as the U.S. and Europe."
One such foreign group named by Dalirian, the U.S.-based ACADEMI private military company, formerly known as Blackwater and now part of the Constellis security conglomerate, was reached by Newsweek for comment.
Despite regional frictions, however, Tehran continues to engage with Kabul and even form new agreements in various fields. In the past months since the Taliban took control of Afghanistan, Dalirian noted that "Iran has made diplomatic efforts to promote and expand security for different religious sects in Afghanistan, particularly the Shias," and "has also consulted Taliban officials to materialize this."
And he too felt Iran would not intervene, though he warned there would be only so much violence and instability Tehran would tolerate.
"The Islamic Republic of Iran has no intention to directly or indirectly interfere in other countries' internal affairs," Dalirian said. "But certainly, Afghan Shias' life, as well as security, is its red line, and no one can and should cross this red line."