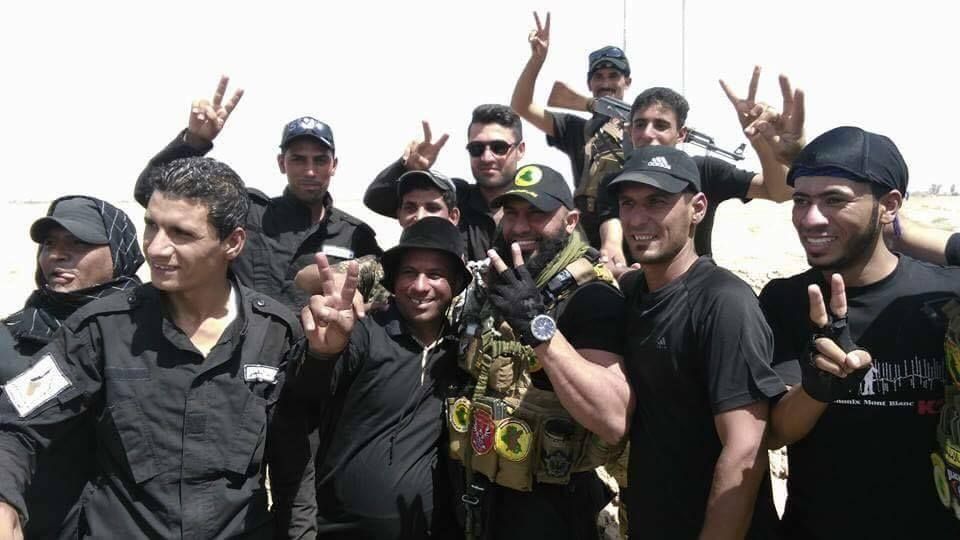 Ayyub Faleh Hassan al-Rubaie's reputation for ruthless revenge attacks against members of the Islamic State militant group (ISIS) has earned him international attention and the nickname "Archangel of Death." He goes after his victims with an ax and sword. Once, he set an ISIS fighter's corpse on fire. When he was accused of mutilating the body, he assured his loyal supporters he had confessed his sins to his imam under instructions to "never do such a thing again."
Now the Iraqi militiaman widely known in Iraq as Abu Azrael (meaning "Father of Azrael," the Islamic and Jewish "angel of death") is looking across the border into Syria. After recently dislodging ISIS from several northwestern Iraqi villages in the region, the celebrity warrior told Newsweek he wants to continue defending his homeland from the Sunni militant group by any means necessary.
Related: War in Iraq: Iran allies battle ISIS to secure border with Syria and Unite forces
The effort is significant beyond the global attention focused on Abu Azrael's superhero persona. The border operation could help create an extensive route of support from Damascus to Baghdad against ISIS's self-proclaimed caliphate, which has significantly diminished throughout Iraq and Syria in recent years.
"We have not entered into Syrian territory, but we are still on the Syrian-Iraqi border and we're closing in on Daesh, inflicting bitter losses," Abu Azrael said via Twitter, using the Arabic-language acronym for ISIS. "We will defend the oppressed people of all sects, protect the country from criminals, help the displaced and return them to their areas."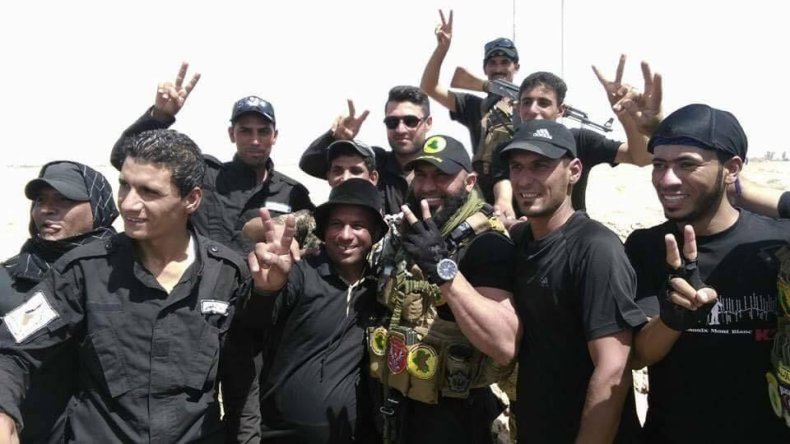 The Iraqi militiaman first made headlines in 2015, when he drew comparisons to Sylvester Stallone's iconic Hollywood Vietnam War action hero, John Rambo. His massive, muscular frame often stands out from his fellow fighters' in Kata'ib al-Imam Ali, a majority-Shiite Muslim militia operating under the banner of the Iran-backed Popular Mobilization Forces (PMF). The militia operates under a joint command with the Iraqi military and is considered a semiofficial branch of the state's armed forces.
In one of the most recent instances of Abu Azrael's warpath against ISIS, he claimed in a clip posted late last month on social media to have "burned" the nearby jihadist-occupied village of al-Adnaniyah in Iraq. Abu Azrael and his comrades in Kata'ib al-Imam Ali said they were operating near the Sinjar mountains west of Mosul where the Iraqi military, Kurdish forces and a U.S.-led international coalition have advanced against the final jihadist positions in what was once ISIS's largest city of control. In the video, one of Abu Azrael's fellow militiamen vowed to finish the Islamic holy month of Ramadan in Syria, suggesting the Iraqi militias were preparing to cross the border.
The remark drew a negative response from U.S.-backed forces in Syria. The territory immediately across the border from Kata'ib al-Imam Ali's positions is controlled by the Syrian Democratic Forces, a U.S.-backed coalition consisting mostly of Kurds, but including Arabs and other ethnic minorities battling ISIS. The SDF is currently storming ISIS's de facto capital of Raqqa with heavy support by the U.S., which remains wary of Iranian influence in the Middle East. While the PMF and Kurds have allied in the fight against ISIS in Iraq, SDF spokesperson Tilal Silo said late last month that the group would not allow the Iran-backed PMF in its territory in Syria.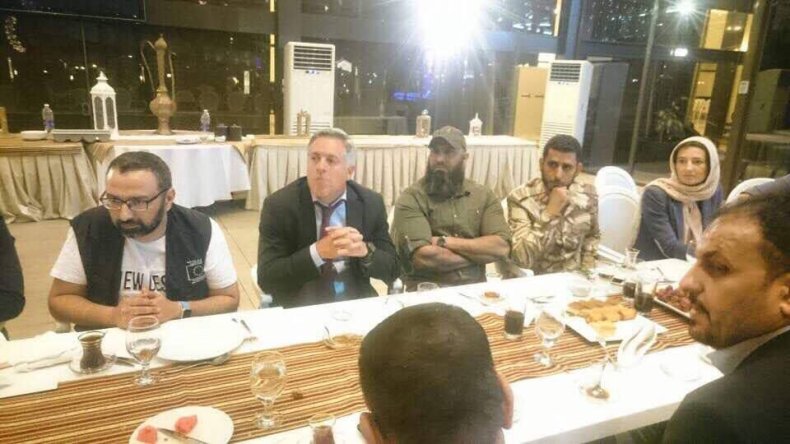 "If Hashd forces attempt to enter our areas, our forces will fight them," Silo told Kurdistan24 news outlet, referring to the PMF's Arabic-language name: Al-Hashd Al-Shaabi.
Reports had emerged in recent days claiming PMF forces had already crossed into Syria and had begun digging trenches in preparation for battle. Across the border, they could link up with anti-ISIS campaigns run by the Syrian army and its allies. But PMF spokesperson Ahmad al-Asadi later denied the rumors, saying that "official Iraqi armed forces do not have a presence outside of Iraqi territory," according to Kurdistan24.
In its three years of fighting, the PMF played a major role in reversing territorial gains in Iraq made by ISIS, which once claimed up to 45 percent of the nation. After the ultraconservative Sunni Muslim group conducted mass executions, incarcerations and implemented other forms of harsh oppression against locals, Abu Azrael was one of more than 100,000 militia fighters to take up arms and force the militants out of key cities, leaving only Mosul and pockets of influence elsewhere. Abu Azrael, a father of five, was noticed online for going above and beyond his call of duty, killing ISIS militants not only with bullets, but by ax and sword, as well. He has reportedly trained in Tae Kwon Do.
Social media footage also drew Abu Azrael heavy criticism last year, however, when he was pictured burning the corpse of an ISIS fighter. He later apologized for the act, which could amount to a war crime. The incident highlighted concerns by Iraq's Sunni Muslim population of retribution acts by Shiite Muslim militias and the Iraqi army. Stories of such atrocities have already begun to emerge, but Abu Azrael assured that ISIS fighters were his and his comrades' only target. He said such reports of sectarian tensions had been exaggerated and propagated by "external factors" promoting a harsh, intolerant brand of Islam similar to that of ISIS and aimed at distorting the PMF's mission.
"We do not pose any threat to any peaceful entity," Abu Azrael said. "We are Kata'ib al-Imam Ali and other resistance factions of the Iraqi army, and our main target is Daesh and no one else. I don't believe anyone wants Daesh in the country."
"As for those who criticize Al-Hashd Al-Shaabi, this is his personal opinion or what is published by some media about the Hashd containing lies and fake news, so some people believe it," he added.
Both fame and infamy, however, have not stopped Abu Azrael from pursuing his mission to pulverize ISIS "into flour," as he often says. After ISIS is defeated, Abu Azrael said Kata'ib al-Imam Ali, which also reportedly includes some Sunni Muslims and Yazidis, will work with all communities toward preventing the resurgence of jihadist groups in the country.
"After the liberation of Iraq [from ISIS militants], we will ensure that they never return." Abu Azrael told Newsweek before regrouping with his men to pray. "I hope the world has witnessed their crimes against our people and will support us."