Iraq Condemns Biden's 'Unacceptable' Strikes, Discusses U.S. Military Withdrawal
Iraq has condemned air strikes ordered by President Joe Biden against suspected Iran-backed militias along the country's border with Syria, emphasizing that discussions were underway with the United States and had advanced to facilitate the withdrawal of U.S. forces from the country.
In a statement sent to Newsweek, Iraqi Prime Minister Mustafa al-Kadhimi's office said Monday that Baghdad's National Security Council held an emergency meeting in the wake of Sunday's U.S. targeting of Iraq and Syrian territories on the basis of claims that armed groups backed by Iran used the sites to launch drone attacks against U.S. forces.
"The Ministerial Council for National Security expressed its strong condemnation and censure of the American bombing that targeted a site on our border with Syria," the statement said, "stressing that this attack represents a flagrant violation of Iraqi sovereignty, which is rejected by all international laws and covenants."
The council explained that it "is studying resorting to all available legal options to prevent the recurrence of such attacks that violate Iraq's airspace and territory, in addition to conducting a comprehensive investigation into the circumstances of the accident and its causes, and working to prevent it from recurring in the future."
The council also "affirmed that the government has continuous sessions of dialogue with the American side, which have reached advanced stages and to the level of discussing the logistical details of the withdrawal of combat forces from Iraq, the details of which will be announced later."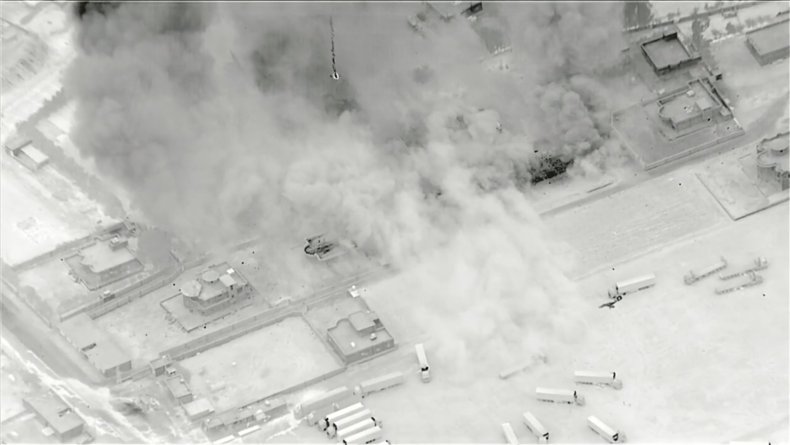 The emergency meeting discussed other developments in Iraq as well, including the recent targeting of the Salah al-Din Power Plant in Samarra in an operation claimed by the Islamic State militant group (ISIS). Ensuring the beleaguered jihadi organization's lasting defeat is the official U.S. mission in Iraq, but tensions have worsened between the U.S. and resistance-style factions aligned with Iran, which also fought ISIS and call for a timely U.S. military exit from the country.
While U.S. and Iraqi officials have discussed the prospect of a U.S. departure, no timeline has been set, raising frustrations, especially amid unilateral action from Washington.
Pentagon press secretary John Kirby announced Sunday in a statement that U.S. forces "conducted defensive precision air strikes against facilities used by Iran-backed militia groups in the Iraq-Syria border region."
"The targets were selected because these facilities are utilized by Iran-backed militias that are engaged in unmanned aerial vehicle (UAV) attacks against U.S. personnel and facilities in Iraq," Kirby said. "Specifically, the U.S. strikes targeted operational and weapons storage facilities at two locations in Syria and one location in Iraq, both of which lie close to the border between those countries."
He identified two of the groups targeted as Kataib Hezbollah and Kataib Sayyid al-Shuhada, two Iraqi factions operation as part of the pro-Iran "Axis of Resistance" and previously targeted by Biden in February strikes conducted in Syria in response to a rocket attack that killed a contractor and injured another, as well as a U.S. soldier, in northern Iraq's Erbil.
Kirby said Sunday the latest strikes demonstrated how Biden "has been clear that he will act to protect U.S. personnel."
"Given the ongoing series of attacks by Iran-backed groups targeting U.S. interests in Iraq, the President directed further military action to disrupt and deter such attacks," Kirby said. "We are in Iraq at the invitation of the Government of Iraq for the sole purpose of assisting the Iraqi Security Forces in their efforts to defeat ISIS. The United States took necessary, appropriate, and deliberate action designed to limit the risk of escalation—but also to send a clear and unambiguous deterrent message."
He argued that the U.S. was justified in taking action under international law "pursuant to its right of self-defense," and, on the domestic level, cited the White House's Article II authority granted in the wake of 9/11 to pursue designated terrorist organizations.
But an array of Iraqi voices slammed the move as illegal.
Iraqi Defense Ministry spokesperson Yahya al-Rasool also condemned the U.S. strikes and asserted that "Iraq renews its refusal to be an arena for settling accounts, and clings to its right to sovereignty over its lands, and prevents it from being used as an arena for reactions and attacks."
"We call for calm and avoiding escalation in all its forms, stressing that Iraq will carry out the necessary investigations, procedures and contacts at various levels to prevent such violations," he added in a statement.
The Iraqi military's official Security Media Cell also railed against what it described as a "blatant and unacceptable violation of Iraqi sovereignty and Iraqi national security in accordance with all international conventions"
The Iraqi Foreign Ministry shared with Newsweek a similar message of condemnation in which it expressed "its total rejection of Iraq being a party to any conflict or confrontation to settle scores on its territory, which is an assault and a violation of national sovereignty and an explicit departure from international norms and covenants.
"We affirm our adherence to Iraq's sovereignty and unity and to rely on everything that would enhance that," it added, "through sustained coordination and communication with various parties and through diplomatic initiatives and endeavors that ensure the non-repetition of such rejected and condemned hostilities."
The statement also echoed others in committing to investigate the U.S. actions.
Also weighing in on the strikes in Iraq were the Popular Mobilization Forces, an Iraqi state-sponsored umbrella of mostly Shiite Muslim militia groups that includes the two groups that the Pentagon said it targeted on Sunday. The collective rose to power and popularity during the fight against ISIS but a number of its member organizations have been accused by Kadhimi of acting outside the law.
In a statement sent to Newsweek, the Popular Mobilization Forces identified four dead among their ranks as a result of U.S. strikes against three sites used by the 14th and 46th Brigades—associated with Kataib Sayyid al-Shuhada and Kataib Hezbollah, respectively—within Iraq's Al-Qaim district in Anbar province, roughly eight miles from the border with Syria.
Those killed, according to the organization, were were "performing their usual duty to prevent the infiltration of ISIS terrorist elements from Syria into Iraq as part of the official duty of the Popular Mobilization Forces under the Joint Operations Command," the combined war room of Iraqi and U.S.-led coalition forces. The slain fighters "were not involved in any activity against the foreign presence in Iraq, which the Popular Mobilization Authority had previously made clear its position repeatedly," the statement said.
The Popular Mobilization Forces also denied that the targeted locations included sites involving weapons storage or transfer, and added a warning to the U.S.
"While denouncing and condemning in the strongest terms this heinous attack on our forces, we extend our sincere condolences and sincere sympathy to the families of the dear martyrs, and affirm that we reserve the legal right to respond to these attacks and hold the perpetrators accountable on Iraqi soil," the Popular Mobilization Forces said. "We stress that this attack comes within the framework of weakening Iraq, its security forces and the Popular Mobilization Forces that America and the rest of the world witnessed in defeating terrorism and removing its danger and evil from the whole world. It also serves to strengthen terrorist groups."
Criticism of the U.S. actions was heard in Syria as well, where the official Syrian Arab News Agency cited an official stating the country "condemns the blatant American aggression on the Syrian-Iraqi border region and considers it a flagrant violation of the sanctity of Syrian and Iraqi lands."
In Tehran, Iranian Foreign Ministry spokesperson Saeed Khatibzadeh said the attack indicated that "the U.S. is still following a wrong path in the region."
"Unfortunately, what we see is that the U.S. administration continues with the failed American policies in the region not only on the issue of sanctions, but also on regional policies," he told reporters during a press briefing Monday, urging Biden to allow people of the region to make their own decisions rather than resorting to "emotional behaviors, creating crisis, living in tension, and leaving troubles for the people of the region."
"What the U.S. is doing is upsetting security in the region," Khatibzadeh added, "and it itself will be one of the victims of such insecurity."
Biden's predecessor, former President Donald Trump, began a drawdown of U.S. forces in Iraq after ISIS' stronghold over the country was dismantled. Worsening friction between Washington and Tehran intensified by the former's unilateral withdrawal from a nuclear deal involving Iran and major world powers and subsequent sanctions that have wreaked havoc on the Islamic Republic's trade ties.
The U.S. and Iraqi factions supportive of Iran began targeting one another in a wave of escalations that crested with the Trump administration's execution of a strike that killed Iran's Revolutionary Guard Quds Force commander Major General Qassem Soleimani at Baghdad International Airport in January of last year. His successor, Brigadier General Esmail Qaani, has vowed to double down on efforts to expel U.S. forces from the region.
The Biden administration has set out to reenter the nuclear deal but only if Iran agreed to come back into compliance with initial restrictions since suspended in response to non-compliance by the U.S. and Western parties. Negotiations to this end continue to play out in the Austrian capital of Vienna.
Iran has also invested in greater bilateral ties with Iraq and Syria, where President Bashar al-Assad received Iranian Foreign Minister for Special Political Affairs Ali Asghar Khaji in Damascus on Monday.
"The meeting dealt with the strategic relations between the two countries, and the importance of the role played by the joint committees to enhance bilateral cooperation in all fields," according to a statement released by Assad's office, "especially at the economic level, to achieve the interests of the two friendly countries and peoples."
Unlike in Iraq, the U.S. military presence in Syria is not condoned by the central government in Damascus, which Washington has accused of human rights abuses. Syria, which is allied with Iran and Russia, has called for an immediate withdrawal of U.S. forces, viewing them as an occupying power.
A joint statement adopted Monday by the U.S. and 18 other countries, including Iraq, as well as representatives of the Arab League and European Union, reiterated international efforts to resolving the country's 10-year civil war.
"Reaffirming the unity and territorial integrity of Syria, we remain committed to continue working actively to reach a credible, sustainable, and inclusive political solution based on Resolution 2254," the statement said. "This is the only solution that will bring an end to Syria's decade long conflict and guarantee the security of the Syrian people and fulfill their aspirations."
U.S.-led coalition spokesperson Army Colonel Wayne Marotto later said that U.S. forces had come under fire from unspecified forces.
"At approx. 7:44 PM local time, U.S. Forces in Syria were attacked by multiple rockets," U.S.-led coalition spokesperson Army Colonel Wayne Marotto said in an initial statement Monday. "There are no injuries and damage is being assessed. We will provide updates when we have more information."
In a follow-up message, he said the U.S. military had retaliated.
"Update: U.S. Forces in Syria, while under multiple rocket attack, acted in self- defense and conducted counter-battery artillery fire at rocket launching positions," Marotto said.
Both statements were confirmed to Newsweek by the U.S.-led coalition.