Iraq Bombs ISIS 'Terrorist Death Machine' in Syria, Siding With U.S. Foes Russia and Iran
Updated | Iraq conducted rare airstrikes in neighboring Syria on Thursday, the same day it met with an alliance that may further threaten U.S. interests in the region.
On Thursday, the office of Iraqi Prime Minister Haider al-Abadi announced in a statement that "our heroic armed forces carried out deadly airstrikes on Thursday against positions of ISIS terrorist gangs in Syria by the Iraqi border." Iraq has mostly defeated the jihadis at home with outside help from a U.S.-led coalition and Iran, and the strikes come after Abadi said last week he may intervene against ISIS in Syria, where the U.S. and Iran were at odds over a seven-year civil war.
Related: Iran warns of new 'war' as it boosts ties with Syria, Iraq and Lebanon
"The strikes against ISIS gangs were conducted due to the risk posed by these gangs against Iraqi territory, and demonstrates the increased capabilities of our valiant armed forces in the pursuit and elimination of terrorism," Abadi's office said in a statement sent to Newsweek.
"Our heroic forces and fighters, in their pursuit of terrorist gangs, saved many lives and thwarted ISIS plans, dismantling its terrorist death machine. These strikes will help speed up the elimination of these gangs in the region after we eliminated them in Iraq," it added.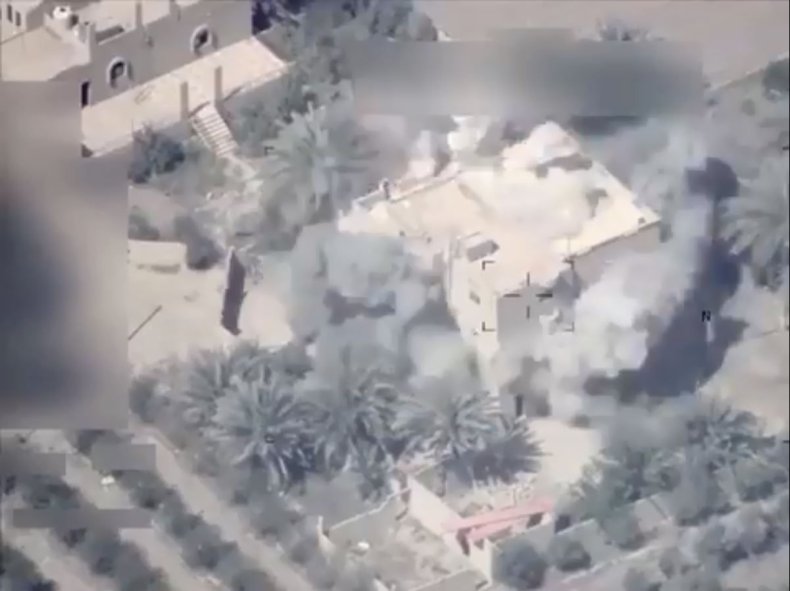 Iraqi Brigadier General Yahya Rasool told Al-Hadath, an affiliate of Saudi Arabia's Al Arabiya station, that the F-16 airstrikes targeted bomb-making factories near the eastern town of Al-Bukamal and were coordinated with the government of Syrian President Bashar al-Assad, an ally of Russia and Iran.
While the U.S. supports the Iraqi government in its battle against ISIS, it opposes the Syrian government, which has mostly overcome a 2011 uprising sponsored by the West, Turkey and Gulf Arab states thanks to Assad's Russian and Iranian backing. The U.S. has accused Assad of war crimes, including the use of chemical weapons in territories held by rebels and jihadis.
Despite its opposition to Assad, the U.S.-led coalition said it provided "intelligence support" for Thursday's operation in Iraq. U.S. Brigadier General Robert B. Sofge, deputy commanding general of operations, said in a statement that the "operation highlights the capabilities of Iraq's armed forces to aggressively pursue Daesh [Arabic-language acronym for ISIS] and to maintain their country's internal security."
The strike comes over a year after the U.S. launched cruise missiles against a Syrian air base last April and less then a week after it conducted an even larger strike coordinated with France and the U.K. against suspected chemical weapons facilities on Friday. Iraq was one of the few Arab states to oppose the trilateral strikes. Iraqi Foreign Minister Ibrahim al-Jaafari warned his acting U.S. counterpart, John Sullivan, on Sunday that such escalations could disrupt the "security and stability of the region" and give ISIS an opportunity to regain strength after its defeats in both countries. He urged the U.S. to "prioritize finding a political solution" to the conflict.
Iran also came out against the U.S.-led strikes and sent Iranian Defense Minister Amir Hatami to Baghdad Wednesday in a visit he said was geared toward "enhancing defense and military cooperation between Iran and Iraq." On Thursday, less than a week after the attacks in Syria, Hatami was seen meeting not only with his Iraqi counterpart Arfan al-Hayali but representatives of Russia and Syria as well.
The "Quadrilateral Information Exchange Center" was established in Baghdad in 2015 as an anti-ISIS joint operations room between Iraq, Iran, Russia and Syria. While Russia has not conducted military operations in Iraq, it has boosted political and defense ties. Iran has sent troops, including the elite Revolutionary Guard, to both Iraq and Syria, and helped to mobilize a mostly Shiite Muslim army of paramilitary groups, including Hezbollah, to fight ISIS in the neighboring Arab countries. These forces have demanded the departure of the U.S. military from both nations.
Washington gained an ally in Baghdad after the U.S. invaded and overthrew the government of Iraqi President Saddam Hussein in 2003, a move that spurred a Sunni Muslim insurgency against the new Shiite Muslim-dominated government and U.S. troops. Many of these jihadi forces, including Al-Qaeda in Iraq, formed the Islamic State of Iraq, which evolved into ISIS after taking advantage of an uprising against Syrian President Bashar al-Assad in Syria.
While fellow Baathist rulers Assad and Hussein were enemies in their day, the post-war Iraqi government grew closer to Syria, as well as to Iran, which fought a bloody war with Iraq under Hussein in the 1980s. When ISIS swarmed both Iraq and Syria in 2013 and 2014, Iraq sought both U.S. and Iranian support. As the Syrian government recovers the insurgent and jihadi rebellion, Assad and his allies have grown closer to Iraq. Iraqi forces have bombed ISIS positions in eastern Syria in the past and have deployed fighters to help the Syrian military and its allies take the last ISIS-held town, Al-Bukamal, in November.
The U.S. too has provided intelligence to the pro-Syrian government campaign, however, via a deconfliction line with Moscow. U.S.-led coalition spokesman Colonel Ryan Dillon told reporters Tuesday that if ISIS elements are spotted west of the Euphrates River, the designated border between the pro-Syrian government and U.S.-backed campaign against ISIS, then "we will tell the Russians, and we certainly hope that they will act on the information that we provided."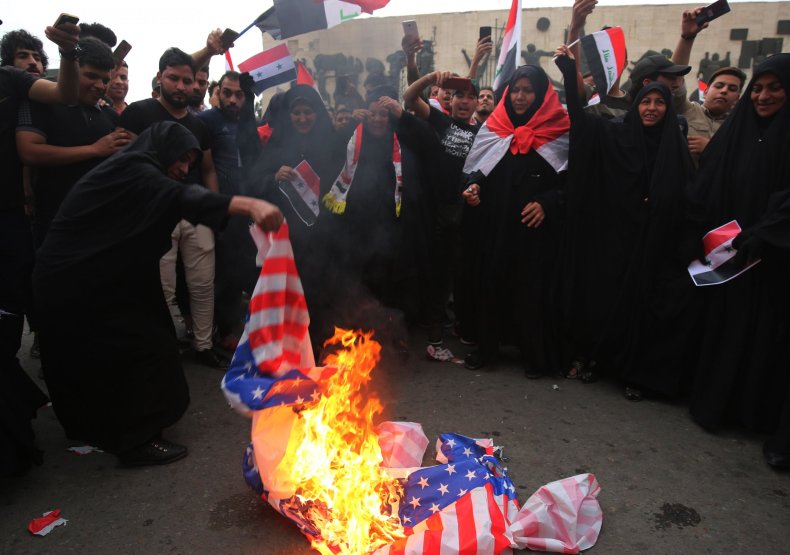 Dillon also said there has been no "significant gain of territory" for the Syrian Democratic Forces since a number of its Kurdish fighters fled U.S.-led coalition front lines against ISIS and struck a deal with Assad to fight their mutual foe, Turkey. He said the U.S.-led coalition continued to conduct airstrikes designed to target ISIS elements near Hajin, which is north of Al-Bukamal, and Al-Dashisha, which is along the Iraq-Syrian border. He noted modest ISIS gains against pro-Syrian government forces in eastern Syria.
Meanwhile, the Syrian military has gathered the pro-government National Defense Forces to take out the final ISIS pocket near the Yarmouk Camp south of Damascus. After the Syrian government declared the eastern and northern capital outskirts free of rebel control, state-run newspaper Al-Watan reported that Damascus gave ISIS fighters 48 hours to evacuate the area before military operations begin.
This article has been updated to include a quote reflecting the position of the U.S.-led coalition in Iraq.