Iraq's New War: Kurdish Leader Barzani May Step Down, A Potential Blow to His Ruling Family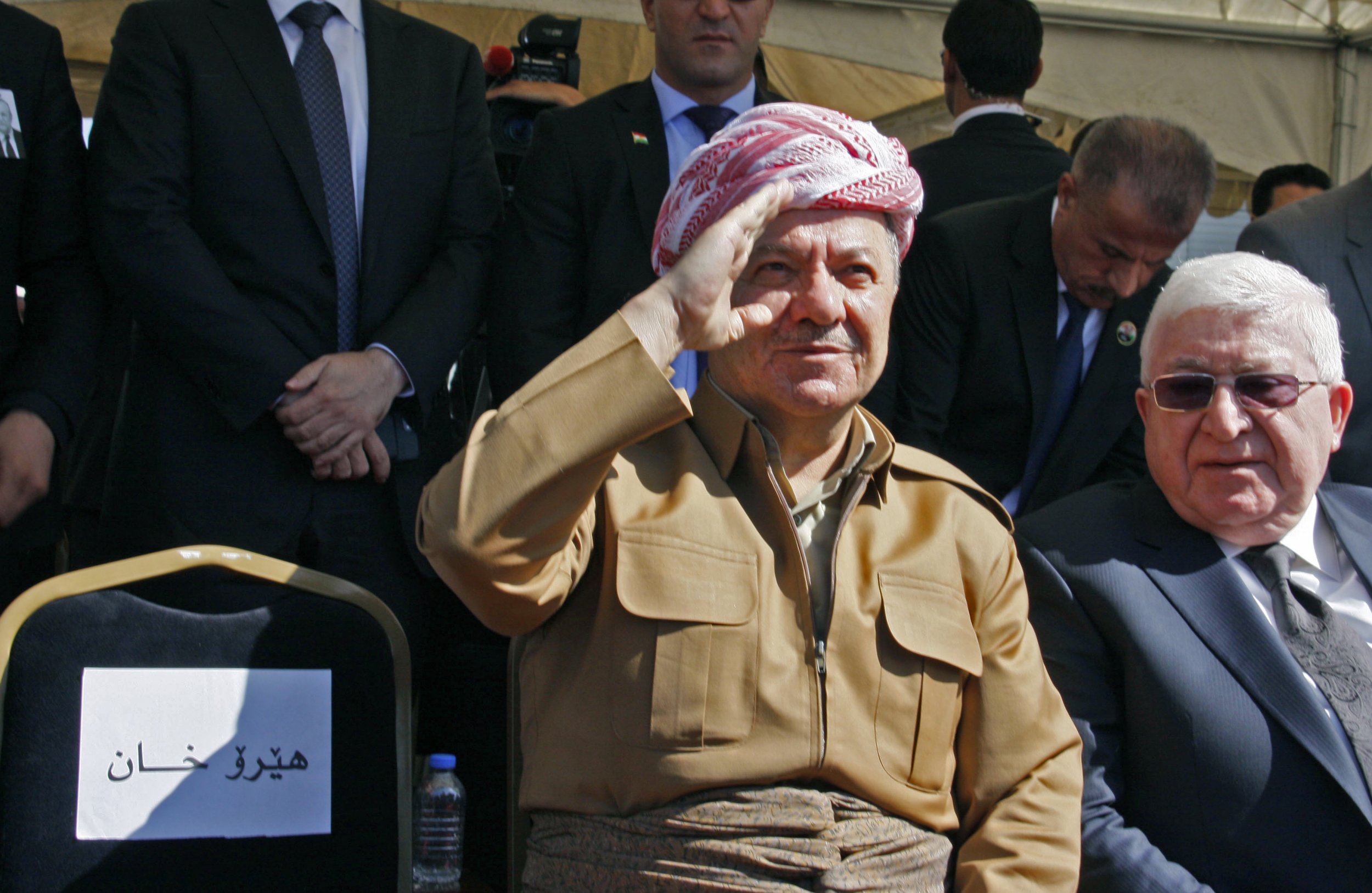 Updated | Longtime Iraqi Kurdish leader Massoud Barzani has been president of the northern autonomous region since 2005 and has seen his family-dominated Kurdistan Democratic Party (KDP) only grow in influence since. Last month, he led a controversial vote that, at least nominally, achieved the long-sought independence for Iraqi Kurds. This week, however, he's offered to freeze the historic referendum's results and reports indicate he may announce he's stepping down at any moment.
Barzani's bid for statehood may have produced nearly 93 percent in favor of breaking off from Iraq's central government, but the referendum's overwhelming opposition from Baghdad and nearly every regional actor abroad has led to a series of failures for the newly proclaimed state and its political leadership. The KDP was immediately threatened with military action by Iraq and pro-government troops and their allies, including mostly Shiite Muslim militias backed by Iran, have easily retaken a number of towns and oil-rich regions claimed by the country's Arab majority.
Related: Next Middle East War? Kurdish Referendum Brings Hope And Fears of New Conflict to Iraq
With perhaps less to show for his official independence efforts now than when he began, Barzani appears poised to decline his eight-month extension of power, effectively dissolving his position and handing power to other Barzani family members, but also strengthening the hand of opposition parties.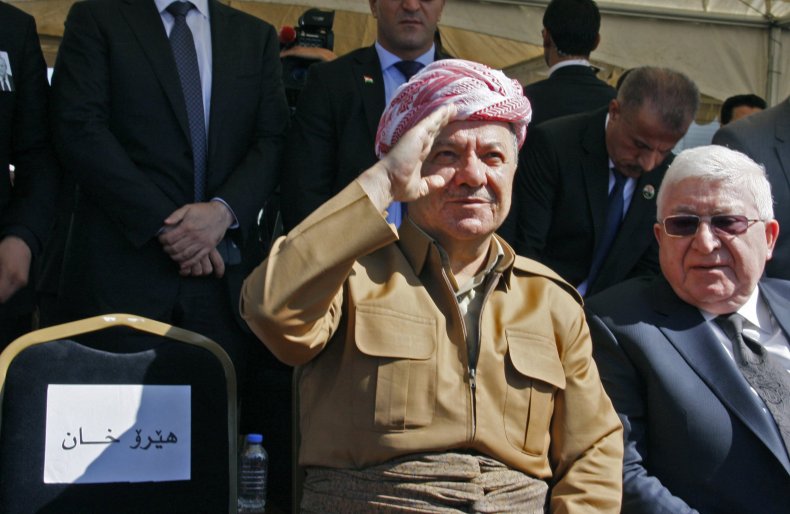 "It seems that Barzani admits the defeat of the referendum, and he has realized that Iraq, Iran, Turkey, and even the EU and U.S. are not happy with him. Having him in the presidency position will not resolve any issues," Kamal Chomani, a fellow at the Washington-based Tahrir Insitute for Middle East Policy, told Newsweek.
Kurdish fighters recently teamed up with U.S.-backed Iraqi troops and Iran-backed militias to fight the Islamic State militant group (ISIS), but have since suffered a series of devastating blows from their former allies. In a matter of days, Iraqi forces marched through the oil-rich province of Kirkuk with little resistance as Kurdish forces either fled or were withdrawn by Barzani's political rivals.
Middle East affairs analyst Abdalla Hawez also told Newsweek that Barzani's position was set to either be suspended or dissolved. He said Barzani's de facto replacement would be his nephew, Iraqi Kurdish Prime Minister Nechirvan Barzani, but that the biggest loser would be the president's son, Masrour Barzani. Masrour Barzani, who serves as head of the Kurdish Regional Security Council, reportedly played a major role in organizing the referendum, the results of which his father offered to freeze Wednesday in hopes of pursuing dialogue with Iraqi Prime Minister Haider al-Abadi. Abadi has refused Barzani's deal and has called for nothing less than total annulment of the vote's outcome.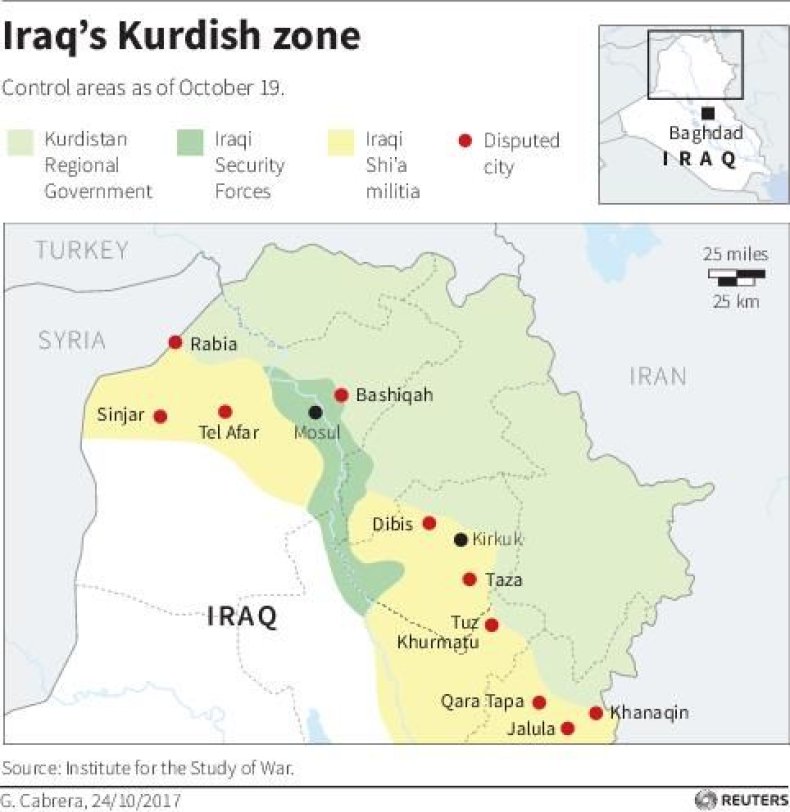 The political shake-up would likely hurt the already controversial legacy of the KDP. Barzani took the helm of the party after his father's death in exile in 1979 and joined his rival, future Iraqi President Jalal Talabani, in splitting control of what would become the Kurdish Regional Government in northern Iraq after the U.S. defeated Iraqi forces in the First Persian Gulf War.
This alliance was short-lived and Barzani sought the aid of Iraqi leader Saddam Hussein, a staunch opponent of Kurdish nationalism, when fighting broke out between the KDP and Talabani's Patriotic Union of Kurdistan (PUK) in the 1990s. After Hussein was overthrown by a second U.S. invasion in 2003, however, the KDP and PUK established a strategic agreement in 2007 through which the two would form a coalition government to rule an increasingly autonomous Iraqi Kurdistan.
The tumultuous aftermath of post-ISIS Iraq has once again split the two ruling factions, and given further momentum to a third: the Gorran Movement. The Gorran (Change) Movement, led by Omar Said Ali, split off from the PUK in 2009 and has styled itself as an alternative to the two establishment parties. The government's referendum blunders, loss of crucial territory and decision Tuesday to postpone elections has fueled the Gorran Movement's calls for Barzani to resign.
Iraqi Kurds' less-than-friendly neighbors, Turkey and Iran, have also rejected Barzani's attempts to retain power, including his offers to make peace with Baghdad. While both Turkey and Iran, who host their own restive Kurdish minorities, oppose efforts to establish a historic Kurdistan anywhere, the latter has reportedly established closer ties with the Gorran Movement in an effort to undermine Barzani and his government.
"We also heard from reliable sources that Mr. Barzani plans to transfer his powers to some institutions in the region before resigning. Unfortunately this region and Kurdish politics is so weird that you may see the exact opposite of what one would predict or hope," Gorran Movement spokesperson Horsh Haji told Newsweek.
"Therefore I must say that if Mr. Barzani transfers his power to the other institutions, makes a public apology for what he did regarding his miscalculations about the consequences of the referendum and steps down he will do a big thing for himself and the Kurdish cause," he added.
"But if he doesn't do that, he will lose many things."
Officials in the West also appear willing to overlook Barzani's assistance in fighting both Hussein and ISIS in order to please Abadi by pressuring Barzani to resign, The Wall Street Journal reported Wednesday.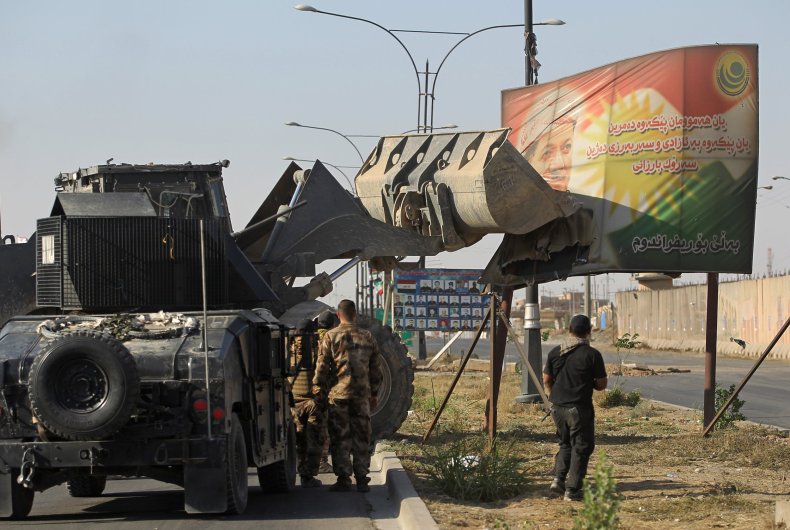 Until now, Barzani's resignation remains entirely unconfirmed, however, and the Kurdish leader may choose to again defy international pressure and risk riding a wave of political backlash rather than throwing in the towel. The KDP's many supporters continue to back their party leader and president, blaming lack of global support for the independence referendum's failures.
Kurdish media outlet NRT News highlighted Thursday the flood of leaks suggesting Barzani would step down during an upcoming parliamentary session, but noted that Iraqi Kurdish government officials were still publicly denying the veracity of these reports.
This article has been updated to include new commentary from Gorran Movement spokesperson Shorsh Haji.