In Iraq, One Man's Battle for Global Recognition of the Biggest Shawarma Ever Made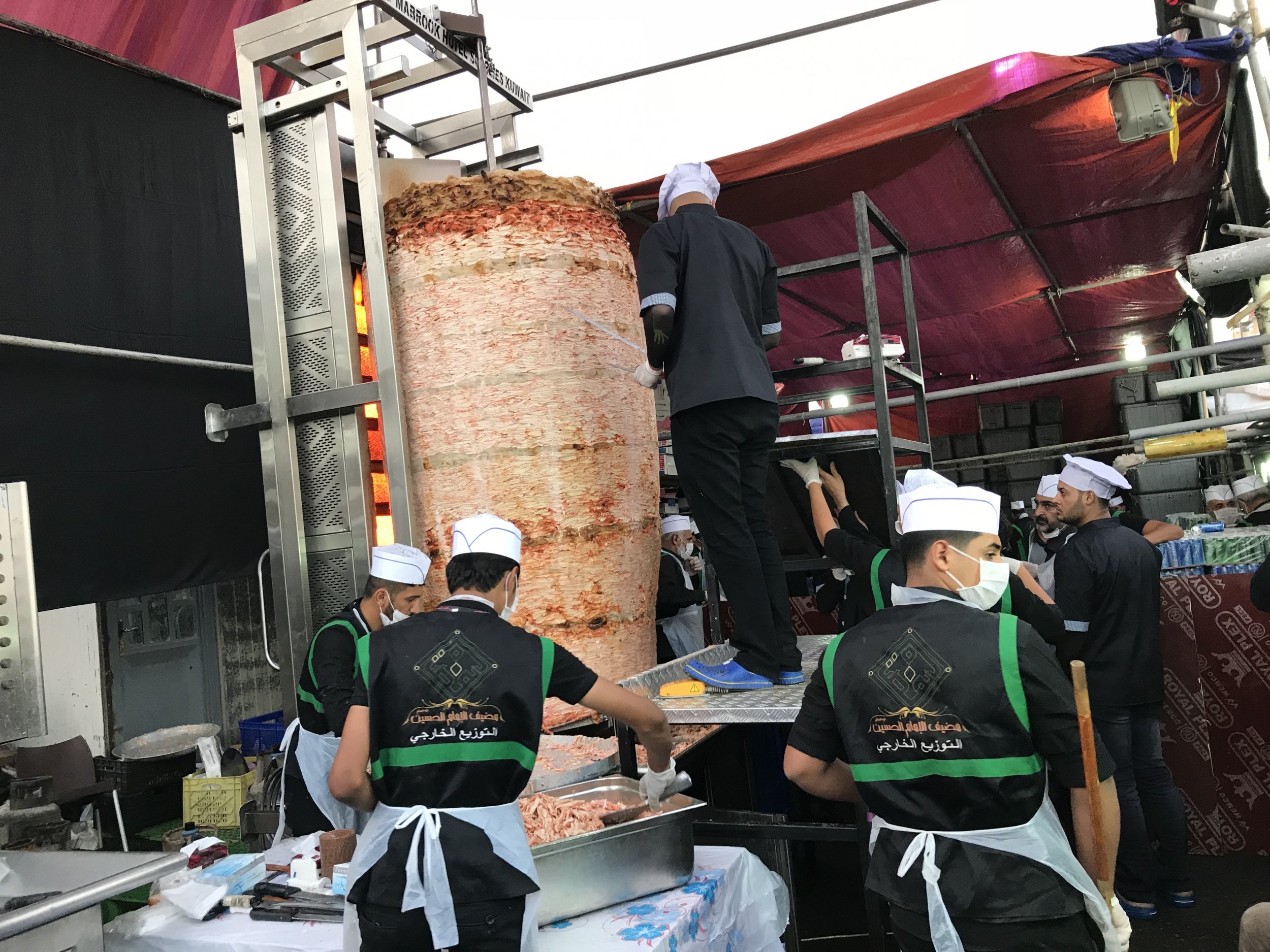 Last year in the city of Vereeniging, South Africa, volunteers erected a 25ft tall tower of cupcakes. In Guangzhou, China, 1,069 robots danced to electronic music. And in Karbala, Iraq, a cook made a shawarma that weighed three tons.
The cupcake tower and dancing robots joined 2,000 other feats that became reconized as Guinness World Records—sadly for Adnan Tartan, the jury is still out on his giant shawarma.
Not that Tartan cares what Guinness thinks of his creation. In 2016, he cooked a shawarma that weighed two-and-a-half tons, and at the end of 2017—during Iraq's religious Arbaeen festival—he went one better, shooting for three. He may not have made it into the record book two years ago, but 40,000 Iraqi Shiite pilgrims voted with their feet when they chowed down on his shawarma a year later in southern Iraq.
Related: After ISIS defeat, millions of Shiite Muslims make world's largest pilgrimage in Iraq
Qamar Hasan, an IT consultant from Maryland, on the other hand wanted the Iraqi cook to get the credit he deserves. A pilgrim himself, he travelled some 6,100 miles to attend the Shiite commemoration in November and is determined to get the Karbala shawarma included among the Guinness World Records.
It hasn't been easy. While the first requirement—based on weight—was straightforward (the shawarma weighed in at an impressive 3.1 tons), Guinness requires the presence of an "authority within weights and measures, such as a surveyor" to witness the preparation. The only possibility was a surveyor from the only representative of the big four accountancy firms in Iraq, Deloitte.
Based in Erbil, the capital of Iraqi Kurdistan, the Deloitte employee would not only have had to travel 300 miles south, but pass through areas where the Iraqi army was engaged in clashes with the Kurdish Peshmerga. Little surprise, then, that Deloitte declined the offer.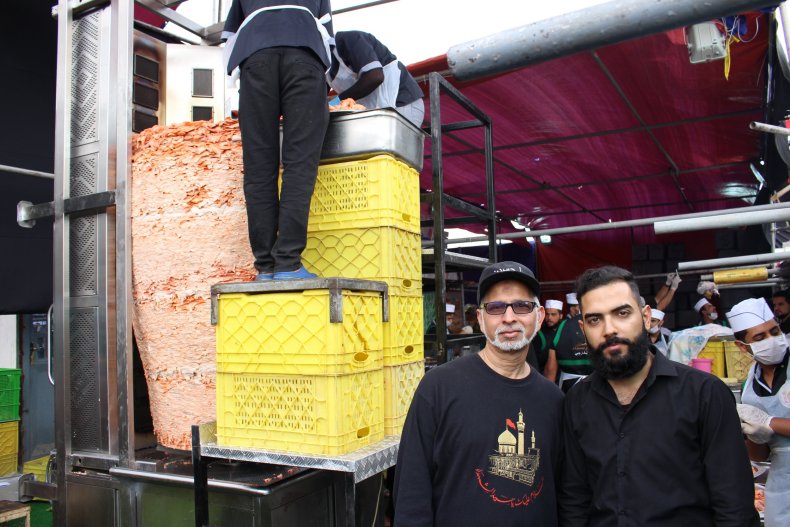 Then there was the requirement for a witness from "a local hygiene body." Hasan was told that the Ministry of Health in Baghdad was not willing to send a representative, and instead had to corral the manager from a local dairy and poultry company.
Hasan and the rest of the Karbala shawarma team argue that they have fulfilled the Guinness guidelines as best they can. All of the chicken placed on the spit had been meticulously weighed, while video evidence of the record attempt was gathered by a local religious television station. The round-the-clock presence of the cameras meant that at night the kitchen was illuminated in a white glow, like a movie set.
The current record for the world's biggest shawarma is held by the Dubai Shopping Festival, where that weighed in at 1.85 tons of boneless chicken was cooked. Unlike in Karbala, Dubai did not have to worry about verification—the Guinness World Records' Middle East office is based there.
As for Guinness, a representative was sympathetic, but said that the record keepers are sticklers for the guidelines: "We want anyone and everyone who is interested to take part in record breaking," she said. "But we cannot tailor the rules."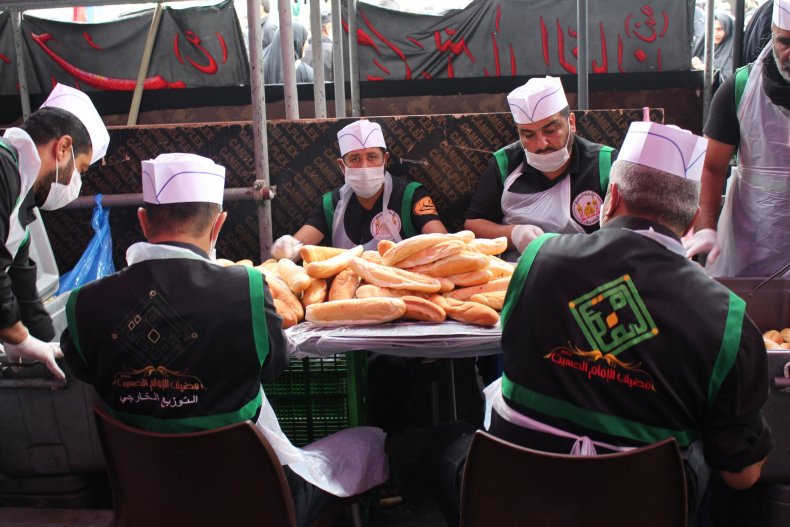 For the time being, Hasan and the organizers of Arbaeen may have to be content with trying to get their festival into the record books for its other sizable feats. In previous years, Hasan has tried to get Arbaeen recognized as the world's largest peaceful gathering, for example, but ran into similar issues when it came to verifying numbers.
"Everything in Karbala at this time is a world record: The amount of water that is distributed, the amount of fruit, the number of tents mounted. But all of these things have to be quantifiable," he said.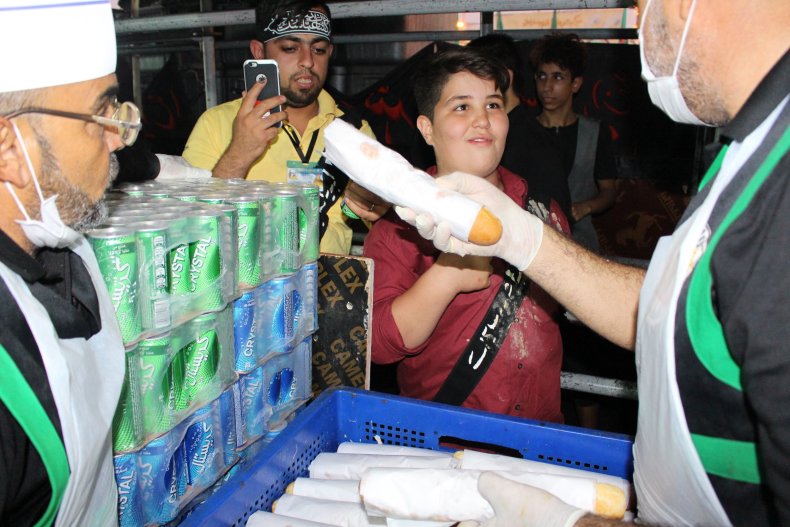 In the tent in Karbala, few hungry pilgrims were concerned about recognition—instead they focused on making sure they got a serving of shawarma before it went cold.
Hundreds of men, women and children had queued for up to an hour for their chicken sandwich, garnished in a traditional manner with a smattering of cabbage and tomatoes. As the hungry pilgrims stream through the maze of iron fences marking out the meandering line to the kitchen they were served at lightning speed. The initially giant shawarma continued to cook for a night and a day, slowly diminishing to nothing.
Hasan al-Jaburi, a Karbala local, and Aaqil, from Najaf, were pleased to get their hands on it. "In addition to its large size, it is a surprise that it tastes so good," Aaqil says.
Whether or not Guinness recognizes the record, by the goals Adnan Tartan set himself he can rest easy. He wanted to feed as many people as he could and cook a delicious meal. And later this year he'll cook one just as big, if not bigger.
Callum Paton traveled to Iraq courtesy of the Shrine Al-Ataba Al-Husayniya in Iraq.