Iraqis Retake Christian Region Outside Mosul From ISIS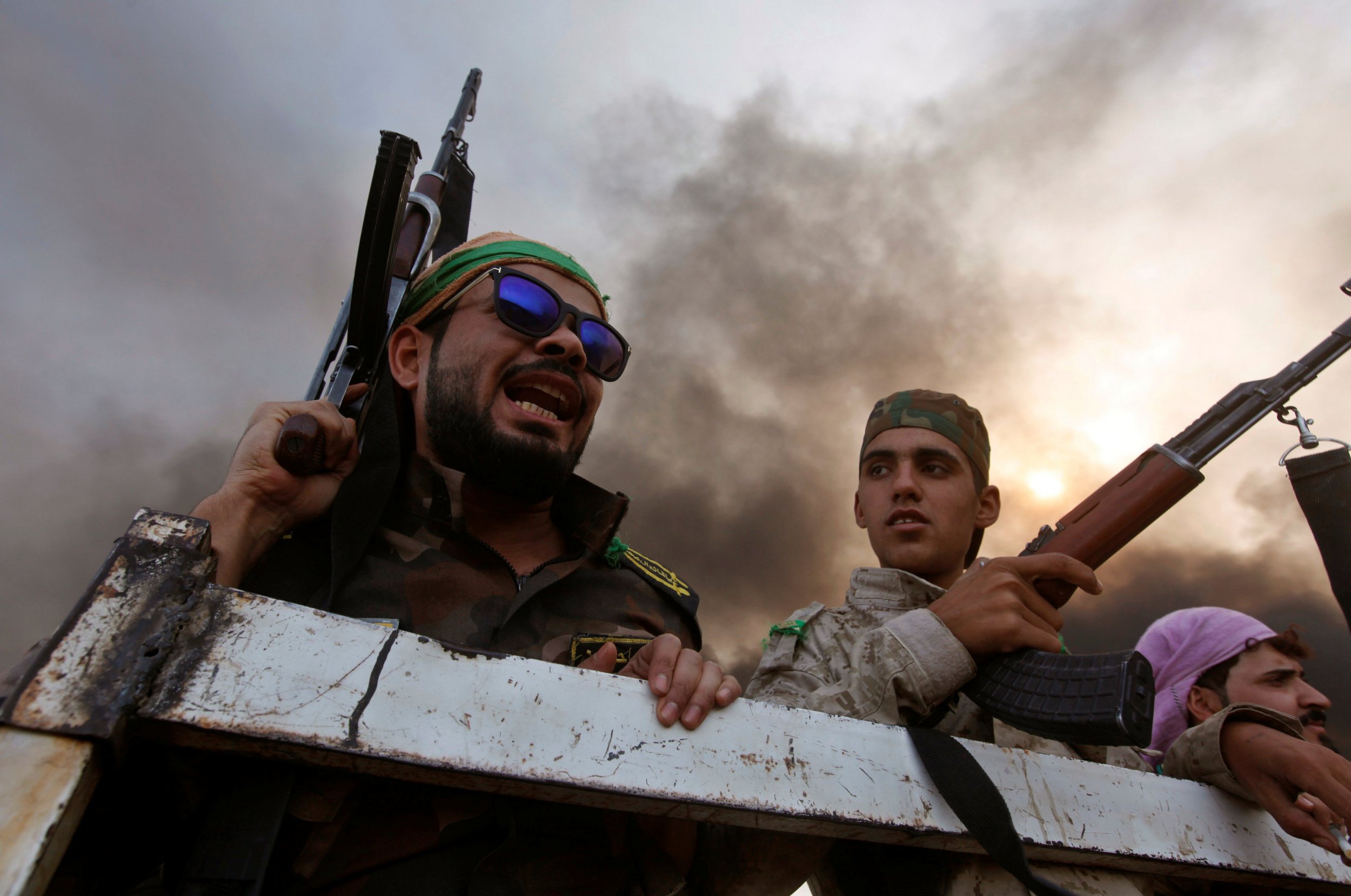 Iraqi army troops on Saturday stormed into a Christian region that has been under Islamic State militant group (ISIS) control since 2014 as part of U.S.-backed operations to clear the entrances to Mosul, the militants' last major city stronghold in Iraq.
The advance took place as U.S. Defense Secretary Ash Carter arrived on a visit to Baghdad to meet Prime Minister Haider al-Abadi and assess the campaign that started on Monday with air and ground support from the U.S-led coalition.
A military statement said Iraqi units entered the center of Qaraqosh, a mainly Christian town about 20 kms (13 miles) southeast of Mosul, and were carrying out mop-up operations across the town.
Further action was under way to seize a neighboring Christian village, Karamless, also known as Karemlash in the Syriac language. The region's population fled in the summer of 2014, when Islamic State swept in.
Earlier this week, Iraqi special units also captured Bartella, a Christian village north of Qaraqosh.
A U.S. military official estimated there were fewer than a couple of hundred ISIS fighters in Qaraqosh.
"I've seen berms in Qaraqosh. I anticipate there'll be trenches, there'll be passageways between different buildings," the official added, speaking on condition of anonymity.
BIGGEST BATTLE SINCE 2003
The offensive on Mosul is expected to become the biggest battle fought in Iraq since the U.S.-led invasion in 2003.
The army is also trying to advance from the south and the east while Kurdish Peshmerga fighters are holding fronts in the east and north.
U.S. forces at Iraq's Qayyara West airfield, south of Mosul, put on protective masks after winds brought fumes from a nearby sulfur plant set alight by ISIS fighters, U.S. military officials said.
A Reuters reporter in Qayyara saw Iraqi soldiers wearing gas masks on top of their heads, ready to pull them down. A cloud of white smoke blanketed the region to the north, where the factory is located, mingling with black fumes from oil wells that the militants torched to cover their moves.
The Iraqi army's media office said about 50 villages had been taken from the militants since Monday in operations to prepare the main thrust into Mosul itself, where 5,000 to 6,000 ISIS fighters are dug in, according to Iraqi estimates.
ISIS also controls parts of Syria.
"It's the beginning of the campaign. We do feel positively about how things have started off, particularly with the complicated nature of this operation," said a U.S. official who briefed reporters ahead of Carter's trip to Baghdad.
Carter signaled during a visit to Ankara on Friday his support for a possible Turkish role in the campaign and said there was an agreement in principle between Baghdad and Ankara—potentially ending a source of tension.
Officials said the details on any Turkish participation still needed to be worked out.
OIL-RICH KIRKUK RETAKEN
Roughly 5,000 U.S. personnel are in Iraq. More than 100 of them are embedded with Iraqi and Kurdish Peshmerga forces involved with the Mosul offensive, advising commanders and helping ensure coalition air power hits the right targets.
U.S. Navy Chief Petty Officer Jason Finan was killed on Thursday by a roadside bomb in northern Iraq as he was accompanying Iraqi forces, in the first U.S. casualty of the Mosul campaign.
The militants retaliated to the advance of the Iraqi forces and the Kurdish fighters in Mosul by attacking on Friday Kirkuk, an oil city that lies east Hawija, a pocket they continue to control between Baghdad and Mosul.
Authorities in Kirkuk regained control of the city on Saturday and partially lifted a curfew declared after the militants stormed police stations and other buildings. The region's oil producing facilities were not damaged.
At least 50 people have been killed and 80 others wounded in clashes between security forces and the militants in Kirkuk, according to a hospital sources.
Four Iranian technicians doing maintenance work at a power station north of the city are among the dead, they said. The toll does not include the jihadists who were killed or who blew themselves up during the fighting.
Kurdish Peshmerga fighters took control of Kirkuk in 2014, after the Iraqi army withdrew from the region, fleeing an Islamic State advance through northern and western Iraq.
Kurdish leaders say they will never give up the ethnically mixed city, to which they, as well as Turkmen and Arabs, lay claim. Arabs complain that Kurds have since flooded to Kirkuk to tilt the demographic balance the other way.