Iraq Warns It Will 'Review Relationship' with U.S. Coalition After Strikes While Syria Condemns 'Bloody Aggression'
Iraq and Syria have both lashed out at a series of unsanctioned U.S. strikes that could potentially threaten longstanding ties between Washington and Baghdad.
Following an emergency meeting of Iraq's National Security Council, the office of Iraqi Prime Minister Adel Abdul-Mahdi issued a statement Monday condemning "sinful" U.S. attacks against Kataib Hezbollah, an Iran-backed Shiite Muslim militia operating under Iraq's state-sponsored Popular Mobilization Forces. The Pentagon has blamed Kataib Hezbollah for Thursday's rocket strikes that killed a U.S. military contractor and injured several U.S. and Iraqi personnel in Kirkuk amid heightened tensions between Washington and Tehran.
The Iraqi leader called the U.S. reaction "a violation of the sovereignty of Iraq and a grave violation of the rules of action of the coalition forces, including the American forces, to unilaterally carry out operations without the approval of the Iraqi government, not to mention that this process targeted Iraqi forces holding an important front on the border against the remnants of the ISIS terrorists."
Abdul-Mahdi said he would not allow Iraq to become a battleground between international forces and that the U.S. strikes "violated the goals and principles for which the international coalition is formed, pushing Iraq to review the relationship and the working security, political and legal context in a manner that preserves the sovereignty and security of the country, protecting the lives of its children and promoting common interests."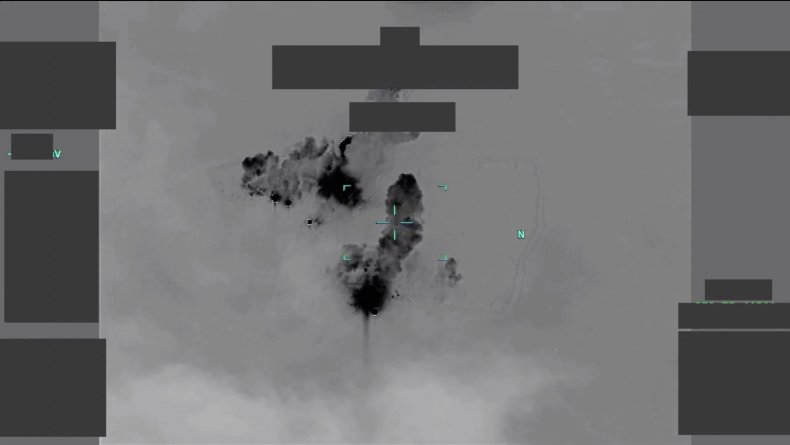 The U.S. backed Iraqi President Saddam Hussein in his 1980s war with Iran, but turned on him the following decade as he launched an invasion against Kuwait, expelling his forces and imposing intense sanctions on Iraq. The longtime leader was then toppled in a 2003 U.S.-led invasion that saw troops later battling rival Sunni and Shiite Muslim militias until withdrawing in 2011.
That same year, the U.S. offered support to an uprising in neighboring Syria, where Islamist forces began to make significant gains against the government. By 2014, the U.S. and Iran were both backing efforts to defeat the largest and most powerful jihadi group, ISIS, but remained at odds as they sought to advance opposing agendas in both countries.
Kataib Hezbollah was designated a terrorist organization by the State Department a decade ago, but the group was one of many to join the Popular Mobilization Forces that, like the U.S.-led international coalition, fought alongside Iraqi troops against ISIS. With the U.S. and Iran's common foe largely defeated and President Donald Trump having left a 2015 multilateral nuclear deal with Iran last year, tensions between Washington and Tehran have once again led to unrest across the Persian Gulf region, including in Iraq itself.
Unclaimed rocket attacks targeting military installations associated with U.S. presence in Iraq have become a semi-regular occurrence. After attacks against military facilities at Baghdad International Airport left a number of Iraqi personnel wounded, Secretary of State Mike Pompeo warned Iranian officials earlier this month that "any attacks by them, or their proxies of any identity, that harm Americans, our allies, or our interests will be answered with a decisive U.S. response."
The U.S. strikes, which the Popular Mobilization Forces said killed up to 25 fighters at the collective's 45th and 46th Brigades' positions, appeared to be a reflection of Pompeo's warning. Kataib Hezbollah has called on Iraqi troops and fellow militias to "open a new page" in expelling U.S. troops, a cause that has gained in popularity in recent months as Israel ,too, conducted strikes on Iran-backed militias in Iraq and Syria, whose government—which is backed by Iran and Russia—on Monday also came out against the recent U.S. operation.
"The American warplanes launched a bloody aggression on the Iraqi Popular Mobilization factions defending the sovereignty and independence of Iraq within the framework of the Iraqi state's decisions and its official institutions," the state-run Syrian Arab News Agency cited an official Syrian Foreign Ministry source as saying. "This brutish and cowardly attack resulted in the martyrdom and wounding of a large number of Iraqi citizens."
Unlike in Iraq, the U.S. does not support the government in Syria and has instead backed a mostly Kurdish group known as the Syrian Democratic Forces, which have established ties to Damascus and Moscow, as well as Washington.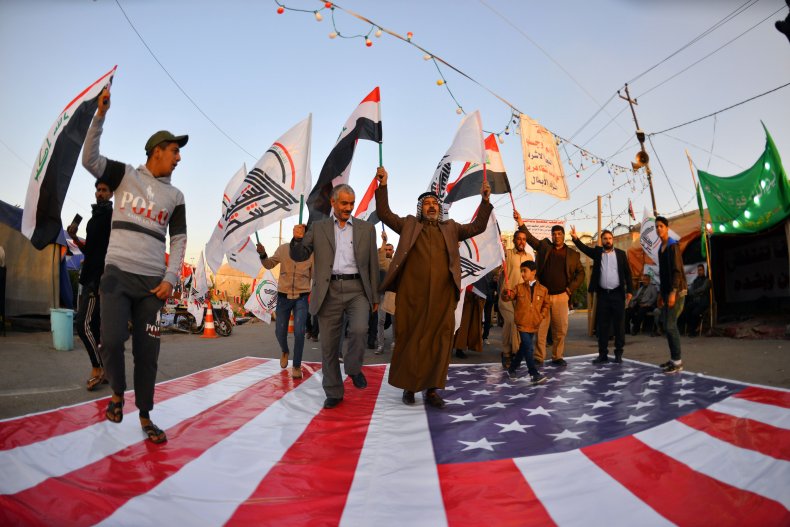 China and Russia also joined Iran in condemning the U.S. attack, as Tehran's top diplomat made back-to-back visits to Moscow and Beijing. Back in the Iranian capital, Iranian Foreign Ministry spokesperson Abbas Mousavi said the U.S. strikes "once again proved the U.S. is lying in its fight against the takfiri ISIS group, with the United States targeting positions of forces that have in recent years inflicted heavy blows on ISIS terrorists."
Pompeo defended the U.S. military move on Monday. Speaking to Fox and Friends, he said the operation was "a defensive action designed to protect American forces and American citizens in Iraq, and it was aimed also at deterring Iran."
"This was an Iranian-backed rogue militia acting to deny the Iraqi people their basic sovereignty. It's Qasem Soleimani, it's the ayatollah working to expand their terror campaign all around the world," he added, referring to the head of Iran's Revolutionary Guard Quds Force and Iranian supreme leader Ayatollah Ali Khamenei. "They took a strike at an American facility. President Trump's been pretty darn patient, and he's made clear at the same time that when Americans' lives were at risk we would respond, and that's what the Department of Defense did yesterday."
The U.S. and Iran remain in deadlock over engaging in diplomacy to defuse their worsening feud. Rouhani has said that he was open to engaging in talks over a new agreement with Washington, but only if the White House were to return to their original deal, something the Trump administration has so far refused to do until Tehran cut ties to foreign forces and gave up missile tests, among other demands.