Iraq Says U.S. Discusses Troop Withdrawal, Biden Administration Denies
The office of the Iraqi prime minister has said that President Joe Biden's Special Coordinator for the Middle East and North Africa Brett McGurk has discussed advancing the process of withdrawing U.S. troops from Iraq with the country's leadership, but a senior Biden administration official has denied the claim.
McGurk met Thursday with Iraqi Prime Minister Mustafa al-Kadhimi to discuss the relationship between Washington and Baghdad.
A statement shared with Newsweek by Kadhimi's office said that throughout the course of the discussions, "the mechanisms for withdrawing combat forces from Iraq and moving to a new phase of strategic cooperation that develops the relationship between the two countries and enhances Iraq's security and sovereignty were discussed."
But a senior administration official subsequently told Newsweek that "this was not true."
The Iraqi statement said that Kadhimi, McGurk and their respective delegations also "discussed coordination and joint cooperation in various fields, and preparations for holding the next round of strategic dialogue between Iraq and the United States of America," as well as "expanding cooperation in the economic, cultural and trade fields."
Unlike in Afghanistan, where Biden has set an August 31 deadline, the White House has not announced a timeline for a U.S. military exit from Iraq, with which the Biden administration is preparing to soon hold a strategic dialogue.
Iraq's parliament voted last year to expel foreign forces in the wake of the slaying of Iranian Revolutionary Guard Quds Force commander Major General Qassem Soleimani and Iraqi Popular Mobilization Forces deputy chief Abu Mahdi al-Muhandis at Baghdad International Airport in January 2020, an operation ordered by former President Donald Trump.
The Biden administration has sought to reemphasize the relationship between Washington and Baghdad, established after the 2003 U.S.-led invasion that ousted longtime leader Saddam Hussein and forged in the common fight against Sunni Muslim militant groups such as Al-Qaeda and the Islamic State militant group (ISIS).
Iran has also joined this fight, but tensions with the U.S. were exacerbated even before Soleimani's death by Trump's decision to leave a 2015 nuclear deal between Iran, the U.S. and other world powers, and implement tough sanctions against the Islamic Republic.
Iraq, for its part, has officially opposed U.S. efforts to use the country to target Iran and Iraqi militias supportive of its regionwide "Axis of Resistance." These paramilitary forces have meanwhile stepped up their campaign to oust U.S. troops, launching attacks against U.S. positions with increasing frequency.
Last month, Biden ordered strikes along both sides of the Iraq-Syrian border against what the Pentagon described as facilities "utilized by Iran-backed militias that are engaged in unmanned aerial vehicle (UAV) attacks against U.S. personnel and facilities in Iraq." The action drew the ire of both Iraqi and Iranian officials, who have also emphasized their own bilateral relationship in recent days.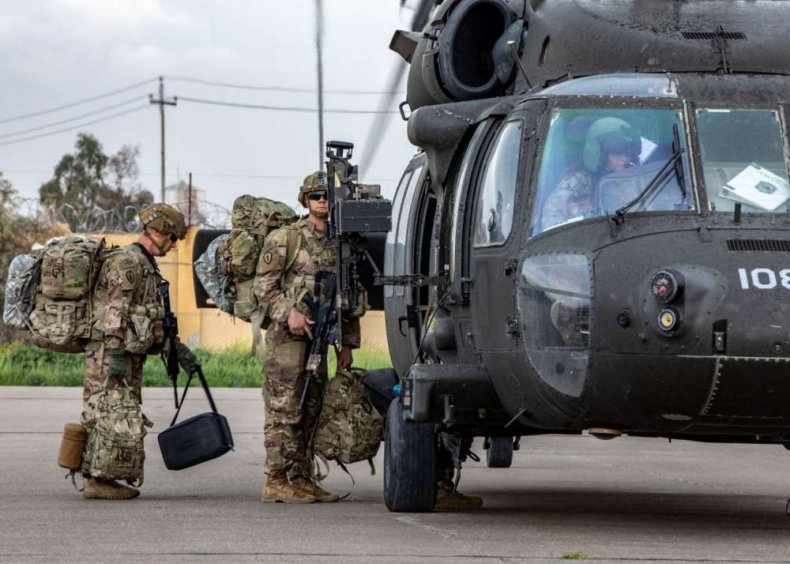 A day before McGurk's meeting with Kadhimi, Iranian Intelligence Minister Mahmoud Alawi met with Iraqi President Barham Salih in Baghdad, where the Iranian spy chief also visited memorials to Soleimani and Muhandis.
According to a readout shared Wednesday by the Iranian government, the two sides "discussed bilateral relations between the two neighboring countries and their importance for the two friendly nations" and "stressed the need to strengthen Iran-Iraq relations in all areas."
Alawi further emphasized "the importance of strong relations between the two countries and the nation, Iran's support for security and stability in Iraq, strengthening cooperation, coordination in the fight against terrorism and extremism, and the establishment of peace in the region."
A readout by Saleh's office confirmed the contents of their talks and echoed the need for more robust ties between the two neighbors.
"A capable, secure and stable Iraq having full sovereignty and balanced relations with its Arabic and Islamic environment is a factor for stability, peace and agreement in the region as it is a point of cooperation and inclusion, rather than division, for all regional states," Salih was quoted as saying.
The Iraqi president also had positive words to share with McGurk during their own meeting the following day.
"President Salih and Mr. McGurk discussed their countries' bilateral relations, with focus on how to enhance and strengthen these ties in politics, security related-matters," the Iraqi readout said. "They agreed how important it was to further develop their trade and cultural cooperation, and where there could be further dialogue on strategic issues of common interest. Sovereignty of each state must be respected, the both sides agreed."
Salih listed the areas in which he hoped Washington and Baghdad could expand their ties, while emphasizing the need to maintain Iraq's sovereignty.
"A secure and stable Iraq that enjoys full sovereignty is an imperative need in the world today for bringing about peace and stability in the region," Salih said, "while noting that there should be more regional and international efforts and cooperation in order to address the challenges presented by the terrorism, confront the climate change as well as how to encourage environmental sustainability and protecting the environment."
No mention reference was made, however, to the withdrawal of U.S. troops from Iraq, most of which serve in a training and advisory capacity for the country's security forces.
Such a U.S. military presence also exists in neighboring Syria without a clear timetable for withdrawal. The Pentagon's mission in this country, however, is not coordinated with the central government in Damascus, a close ally of Tehran with which Washington also has no formal relations.
Syrian President Bashar al-Assad also spoke Thursday with Iraqi counterpart Salih, according to a readout provided by the former's office.
Throughout a telephone call, the two sides "discussed bilateral relations between the two brotherly countries, the issue of combating terrorism, and the existing coordination and cooperation between Syria and Iraq to eliminate this danger threatening the two countries."
Specifically, they were said to have discussed their successful routing of ISIS along their border and "the importance of this joint cooperation in terms of consolidating the positive results" of this campaign. Assad and Barham also called for intensifying collaboration.
"Talks also took place during the call about ways to strengthen and develop bilateral relations," Assad's office said, "and it was agreed to intensify joint efforts to raise the level of cooperation in all fields that achieve the interests of the two brotherly countries and peoples."
This is a developing news story. More information will be added as it becomes available.