Iraq Seeks Path to Avoid New War with Plan for U.S. 'Combat' Mission to End
Iraq is pursuing a path to avoid yet another major civil conflict amid tensions over the ongoing U.S. military presence in the country. Baghdad wants an end to the U.S. combat mission, while retaining U.S. personnel for the training and advisory efforts already in place, Newsweek has learned from an array of experts from both Iraq and the U.S.
But the anticipated plan is already being met with reservations both by those uncertain of Iraq's ability to tackle threats such as those posed by the Islamic State militant group (ISIS) without hands-on U.S. backing, and those who demand a total U.S. military exit from the country.
As the fourth session of the U.S.-Iraq Strategic Dialogue takes place in Washington, the second under U.S. President Joe Biden, attention is fixed on the future of the U.S. military presence in Iraq, especially as U.S. troops leave Afghanistan.
Prior to his meeting with Secretary of State Antony Blinken, Iraqi Foreign Minister Fuad Hussein suggested in an interview with Voice of America that his delegation "will discuss that American fighting forces are not necessary in Iraq at this stage."
He emphasized this point.
"In my opinion, we will reach an agreement on Friday and then it will be announced that (American) fighting force—I am talking about the fighting forces—will not remain in Iraq," the top Iraqi diplomat said. "But how they will not remain and when they exit is related to a timeline agreed on by both sides, as well as technical matters and other issues related to the security of the forces."
Senior Biden administration officials confirmed as much that same day, and said details would likely be made known in a joint communique issued after Biden's talks Monday with Iraqi Prime Minister Mustafa al-Kadhimi.
"As this evolution continues, and as we formally end the combat mission and make clear that there are no American forces with a combat role in the country," one of the officials told reporters, "Iraq has requested, and we very much agree, that they need continued training; support with logistics, intelligence, advisory capacity building—all of which will continue."
The U.S. military's assistance remains a key part of the Iraqi strategy toward keeping ISIS at bay. But the presence of roughly 2,500 U.S. troops remains deeply controversial among certain factions within Iraq, many with ties to Iran, and some of which have targeted U.S. forces with rocket attacks in an effort to force their departure.
The U.S. has responded with airstrikes in both Syria and Iraq, drawing condemnation even from Kadhimi and threats of further, more severe retaliation from groups determined to act outside of the state's orders.
Now, a shift in the U.S. mission may prove an off-ramp for Kadhimi.
One widely followed Iraqi researcher, who asked not to be named due to the ongoing volatility of the country's security situation, said the partial-exit strategy by Kadhimi had three goals.
"First, the demise of the armed factions' excuse to resist the 'occupation,' in addition to greatly embarrassing them" should they continue to hit out at U.S. troops now with a longer-term mandate to stay," the researcher told Newsweek. "Second, to satisfy the Iranian party that wants to end the American presence in Iraq," and "Third, implementing the parliament's decision to withdraw foreign forces, even though it is not obligated to do so."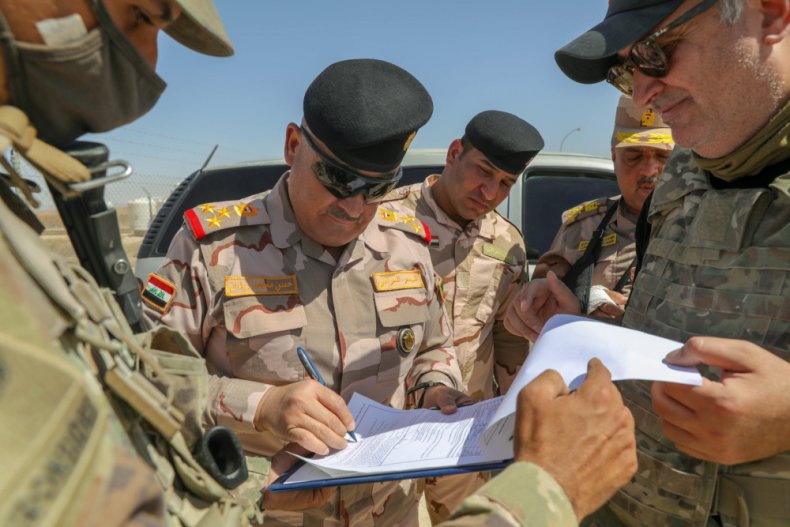 The decision came last year in the wake of an explosive development in U.S.-Iraq relations with former President Donald Trump's order to kill Iranian Revolutionary Guard Quds Force commander Major General Qassem Soleimani in a January 2020 strike at Baghdad International Airport. That attack also killed Abu Mahdi al-Muhandis, deputy commander of Iraq's Popular Mobilization Forces, a collective of militias that rose up to fight ISIS and has been inducted into the state's security forces, though powerful factions continue to operate independently.
Some of these factions, including Kataib Hezbollah and Asaib Ahl al-Haq, have been designated terrorist organizations by the State Department and are among the most vocal in demanding the exit of U.S. troops, who have faced rocket attacks at an increased apce.
While sporadic rocket attacks have occurred with some regularity since at least 2019, when an airstrike widely attributed to Israel struck Iraqi militias suspected of transporting weapons to Syria on behalf of Iran, the researcher told Newsweek that Soleimani's killing was "the biggest mistake of the United States."
The researcher said the move "gave justification for the resistance factions close to Iran to strike the American forces, even by using lethal force from drones and primitive rockets, and to impose a siege on the logistical support convoys."
But the full wrath of these militias has not yet been released, the researcher said, citing conversations with leaders.
"They did and still do not want to inflict losses on the American forces," the researcher said, "because they gained a great ability to use advanced missiles, which they did not use until now. They did not use long-range drones that carry more explosives, such as those used in the attack on the 'Aramco' platforms in Abqaiq, eastern Saudi Arabia."
Also looking back at the decision to kill Soleimani was Adam Silverman, who served as the Cultural Advisor to the U.S. Army 2nd Brigade Combat Team/1st Armored Division in Iraq in 2008, and has since held various roles advising the U.S. military, including a focus on sectarian divides in Iraq and the threat of ISIS.
He told Newsweek the current unrest that U.S. troops face from militias "a second order effect" from the slaying of the iconic, controversial Iranian military leader.
"Soleimani was certainly Iran's best strategist, and was one of the best in the region who was from the region," Silverman said. "He was bold when he needed to be and cautious when that was called for. And for all that he was clearly an ideologue, he was clear-eyed about his objectives and how to achieve them."
"Removing Suleimani may have removed Iran's most effective commander and strategist," he said. "[But] by doing so, it increased Iran's volatility, which increased the region's uncertainty."
Iraq's own militias now pose a potentially greater risk to the U.S. forces in Iraq than ISIS, which these Iraqi paramilitaries are actively fighting in a capacity far greater than the Pentagon's largely advisory and training role.
Silverman said deep questions remain for what comes next for the U.S. in Iraq, a question that also extends to Syria, where the Biden administration has said little of its plans for U.S. troops deployed without the permission of the country's central government in the midst of an ongoing civil war.
"I think the real key strategic question for U.S. policy makers focusing on Iraq and the Levant is the question of what does Iraq and the region look like post battlefield termination by the U.S.?" Silverman said.
For Silverman, what comes after combat is every bit as important as what happens during it.
"When we commit forces, how do we set the conditions to not just win the war, but to win the peace post-war?" Silverman said. "This has been a major issue in almost every major conflict we've found ourselves in."
There remains uncertainty about the exact definition of "combat" troops when it comes to the mission in Iraq. The State Department and Pentagon frequently contend that U.S. forces were purely training and advising, but Defense Secretary Lloyd Austin told reporters Sunday that "our troops are capable of doing multiple things."
"We task our combat troops, our troops that are capable of conducting combat operations, with training, advising, and assisting," Lloyd said.
A former CIA officer told Newsweek there's more to it than that, especially as long as Joint Special Operations Command was involved.
"If JSOC is still there, then combat troops are still there," the former CIA officer said. "If Special Forces or JSOC are still in the country participating in raids, then combat forces are still in the country."
A JSOC spokesperson declined Newsweek's request to comment, saying it does "not release information about force levels or missions of Special Operations Forces deployed to a geographic combatant commander's area of responsibility."
And this raises difficult questions about the exact mission of the U.S. military footprint in Iraq, a country in which the U.S. has intervened three times militarily in the past three decades, twice as invaders and once as a partner.
"The Biden administration needs to be clear about where U.S. forces are and their purpose, whether Iraq or Somalia," the former CIA official said, referring to recent strikes in the Horn of Africa nation. "Also, what is the effectiveness of these operations on reducing terrorist forces and rendering their capability to cause harm to U.S. interests or our allies?"
No consensus exists for these questions among Iraqis either. The closest thing to unity may be Kadhimi's approach, which seeks to guarantee ongoing U.S. cooperation while assuaging the anger of those who now consider the U.S. presence an occupation.
"I believe that Iraq needs support in the areas of training, armament, intelligence and advisory efforts, and does not need the presence of combat forces," Mohammed al-Shummary, a spokesperson for influential cleric Ammar al-Hakim and the head of his Hikma National Movement's Foreign Relations Office, told Newsweek.
Such a strategy would entail "the transition from military presence to security cooperation, and this matter will eliminate pretexts for attacks on those forces," he said, "and enhance Iraq's ability to safeguard its security, without the need for foreign presence on its soil, which is an exceptional situation that should end one day."
"I think that the Iraqi delegation in Washington will work in this direction," Hakim said.
But anything short of a total U.S. military exit is likely to be met with rejection by the Iraqi forces aligned with the "Axis of Resistance" and by Iran. Tehran has emphasized that the issues U.S. troops faced in Iraq were separate from bilateral friction between Iran and the U.S. and their beleaguered effort to revive the nuclear deal put together by President Obama in 2015 and then abandoned by former President Donald Trump in 2018.
"These are two separate and entirely unrelated issues," Shahrokh Nazemi, head of media at the Iranian permanent mission to the United Nations, told Newsweek. "Iraq is a sovereign country, and the situation in that country has nothing to do with the U.S. maximum pressure campaign against Iran."
Mahmoud al-Rubaie, spokesperson for Iraq's Sadiqoun political bloc, emphasized the Iraqi nature of the resistance against the U.S. in the country.
"The fact is that everyone should realize that the existence of the resistance is caused by the presence of the occupation," Rubaie told Newsweek, "and we seek to get rid of it by all ways and means in order to preserve the security, sovereignty and independence of our country, Iraq."
Members of Sadiqoun and the affiliated powerful Asaib Ahl al-Haq militia have issued a series of statements critical of the Iraqi delegation in Washington for appearing to acquiesce to the U.S. side, saying it is delaying any serious movement toward withdrawal.
Rubaie accused the U.S. of pursuing ulterior motives in Iraq such as seeking to preserve Israel's security, cutting off a Middle East node of China's Belt and Road Initiative and ensuring German investment rather than national development for Iraq's national electricity grid.
"These subversive goals confirm what we say that America and its failed policy in Iraq were the biggest cause of rampant corruption, devastation, poverty and unemployment and did not implement any project that would bring good to our people and our country," he said. "It has been working to implement the failed state project in Iraq since 2003 until now."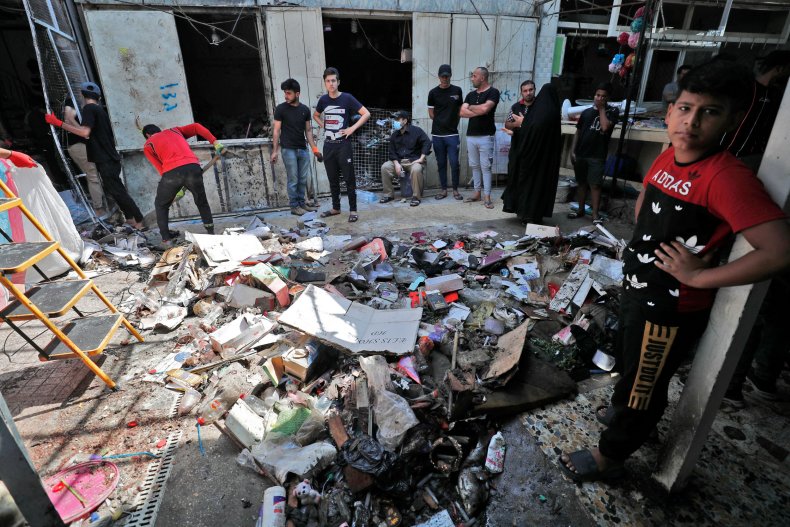 Some in Iraq were more concerned to see any serious shift in U.S. military policy there.
Sarkawt Shams, a member of parliament affiliated with the Hope alliance and a member of the Strategic Planning and U.S.-Iraq Friendship Committees, felt any timeline for U.S. withdrawal "will be a disaster because U.S. troops are providing huge support and relief for our armed forces in terms of military support and logistics."
Like Shummary, Shams felt Iraq still needed assistance in the fight against ISIS, and also highlighted the economic burden any major decline in U.S. support for the Iraqi military would have.
Rather than calling for any timely withdrawal, he said he supported "a timeline for improving the Iraqi defense system."
He did, however, also seek clarification regarding U.S. goals.
"I support a new agreement about the status of U.S. forces in Iraq with more transparency," Shams said. "We need to be sure of the mission of these forces and objectives. Are these forces promoting a U.S. interest in Iraq or an Iraqi interest or both? How do they want to accomplish that? Is there any guarantees that prevent U.S. forces and bases in Iraq to be used against Iran, such as an international guarantee?"
The ideal agreement, he said, is one in which "Iraq is seen as a valuable partner for the U.S. and it is respected as a sovereign state."
But others demanded more drastic measures to put an end to foreign military presence once and for all.
"I believe that all the foreign forces in Iraq are part of the crisis, not part of the solution," Iraqi journalist and activist Muntazer al-Zaidi, most famous worldwide for throwing a shoe at former President George W. Bush to protest his post-invasion policies during a December 2008 press conference in Baghdad.
"Iraq does not need foreign soldiers, especially American forces that have bad memories with the Iraqi people and with whom Iraq has bad memories, of violence, of killing, occupation," Zaidi said. "So I think they're not welcome and they don't play a big part in Iraq's war against ISIS. It is the Iraqis who played the bigger and most important part in this issue."
This Iraqi part includes a major role played by militias, including those attached to the Popular Mobilization Forces, who tout a frontline role in the ongoing fight against ISIS.
But as their non-state-sanctioned campaign against U.S. troops puts pressure on both Kadhimi and Biden, Zaidi said a withdrawal would alleviate the tensions and remove these fighters' justification for conducting operations outside the government's orders.
"If these forces left," he said, "we could, as a people and civil society, ask that these militias give up their weapons because the primary purpose for their existence has ended."