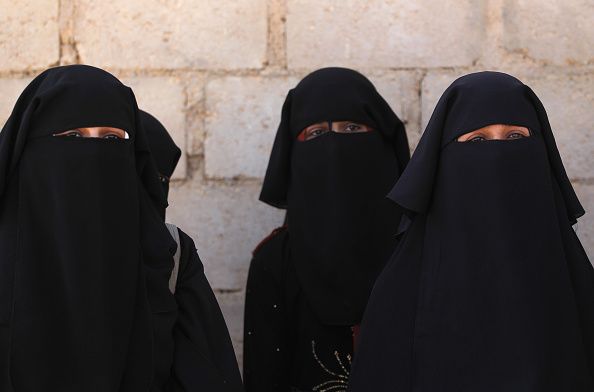 A court in Iraq sentenced 15 Turkish women to death by hanging on Sunday after they were found guilty of joining the Islamic State terrorist group as brides, according to reports.
The women confessed to marrying ISIS fighters and providing the group with aid, including logistical support and help carrying out terrorist attacks, according to the judge.
At least 500 women have been detained in Iraq on suspicion of being affiliated with the Islamic State, which Iraqi Security Forces defeated in December. More than 1,300 women and children surrendered to Kurdish peshmerga in August after government forces expelled the jihadist group from a city in northern Iraq. Another Turkish woman was given the death penalty last week.
Hundreds of these women are in the process of going to trial. In one high-profile case, a German teenager was sentenced to six years in an Iraqi prison after she was arrested for working with the Islamic State. She had escaped Germany to become an ISIS bride, and was only 16 years old when she was detained in Mosul—a city that had been decimated in the fighting between ISIS and Iraqi forces.
ISIS began recruiting women to join its ranks as wives ever since its establishment in Iraq in 2006. Hundreds of Western women are believed to have joined the group in recent years, including young girls and women from the United Kingdom, France and Belgium. Many of these women meet their future husbands online in pro-ISIS chat groups.
Most recently, at least 800 female ISIS recruits were detained in northern Syria. Members of the rights group Human Rights Watch said the women come from around 40 countries, including Australia, Canada, France, Tunisia, Yemen and Turkey.
Meanwhile, as ISIS suffers serious military defeats, the group has started encouraging the women in its ranks to join the battlefield.
In the October edition of its Arabic language newspaper, the group said women are obligated to wage physical jihad.
"Today, in the context of the war against the Islamic State, it has become necessary for female Muslims to fulfill their duties on all fronts in supporting the mujahideen in this battle," an article in the paper read.