Iraq President Slams Donald Trump for Saying Troops Will Remain in His Country to Spy on Iran
Iraq's President Barham Salih took issue with President Donald Trump after he said that American troops would remain in Iraq in order to monitor neighboring Iran.
"The troops…in Iraq are operating based on the agreement between the government of Iraq and the United States for the specific mission of combating terrorism," Salih said during a Monday interview with The Daily Beast in Baghdad. "Iraq's constitution does not allow our territory of our country to be used against our neighbors," he explained.
Taking aim at Trump and the U.S., Salih added: "Don't overburden Iraq with your own issues."
"Iran is our neighbor," the Iraqi leader said. "We don't want to be part of any axis, American or otherwise."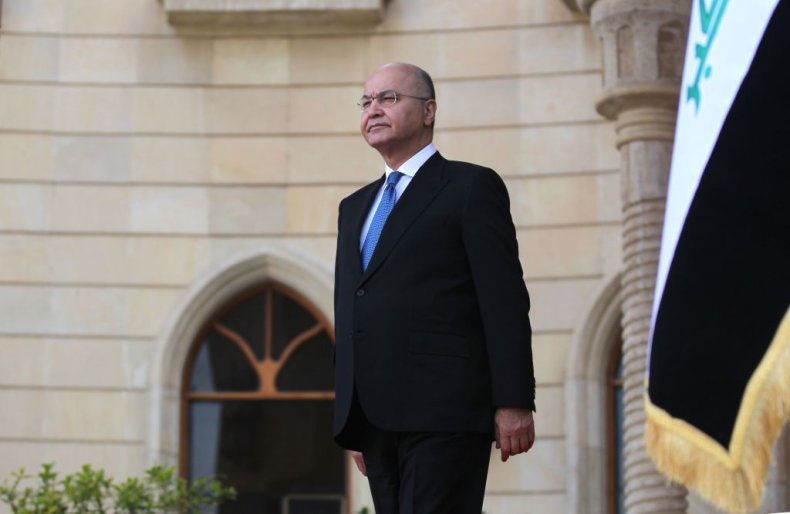 Salih's remarks came in response to Trump's Sunday interview with CBS News's Face the Nation, in which the president said U.S. troops would remain in Iraq indefinitely and would be used to surveil Iran and its activity in the region.
"We have an unbelievable and expensive military base built in Iraq. It's perfectly situated for looking at all over different parts of the troubled Middle East rather than pulling up," Trump said.
"And one of the reasons I want to keep it is because I want to be looking a little bit at Iran because Iran is a real problem," the president said. He also classified Iran as "the number one terrorist nation in the world."
According to The Daily Beast, anti-American Iraqi lawmakers, led by political leader Muqtada Sadr, were already planning to vote on a parliamentary measure that would call for the expulsion of U.S. forces. The political block claims it has nearly a third of the parliament's support.
Although Sadr, a militia leader and religious cleric, does not hold a formal political post in the government, his Sadrist movement is widely popular in the country. In 2003, he famously stated: "The little serpent has left and the great serpent has come." His "little serpent" reference was to Saddam Hussein, who was overthrown that year after the U.S. (or "the great serpent") invaded the country.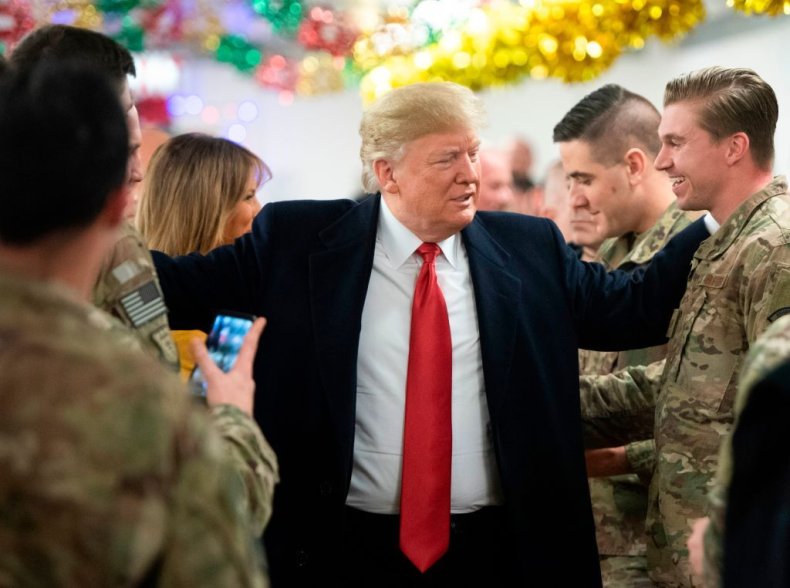 Trump has been a critic of the invasion of Iraq, but his Sunday comments suggested that he sees the perceived threat from Iran as justification to remain in the country for the foreseeable future. Last May, Trump withdrew from the 2015 Joint Comprehensive Plan of Action, known commonly as the Iran nuclear deal. Although the international community, and Trump's own intelligence chiefs, have said the deal has effectively curbed the Persian Gulf nation's nuclear ambitions, Trump has disagreed.
Last week, the president said his intelligence officials were "naive" and should "go back to school," after they told senators that Iran was not currently trying to create a nuclear weapon. On Sunday, he reiterated his opposition to their assessment, saying: "I'm going to just go by my own counsel."