As Iraq Teeters, Washington Plays Blame Game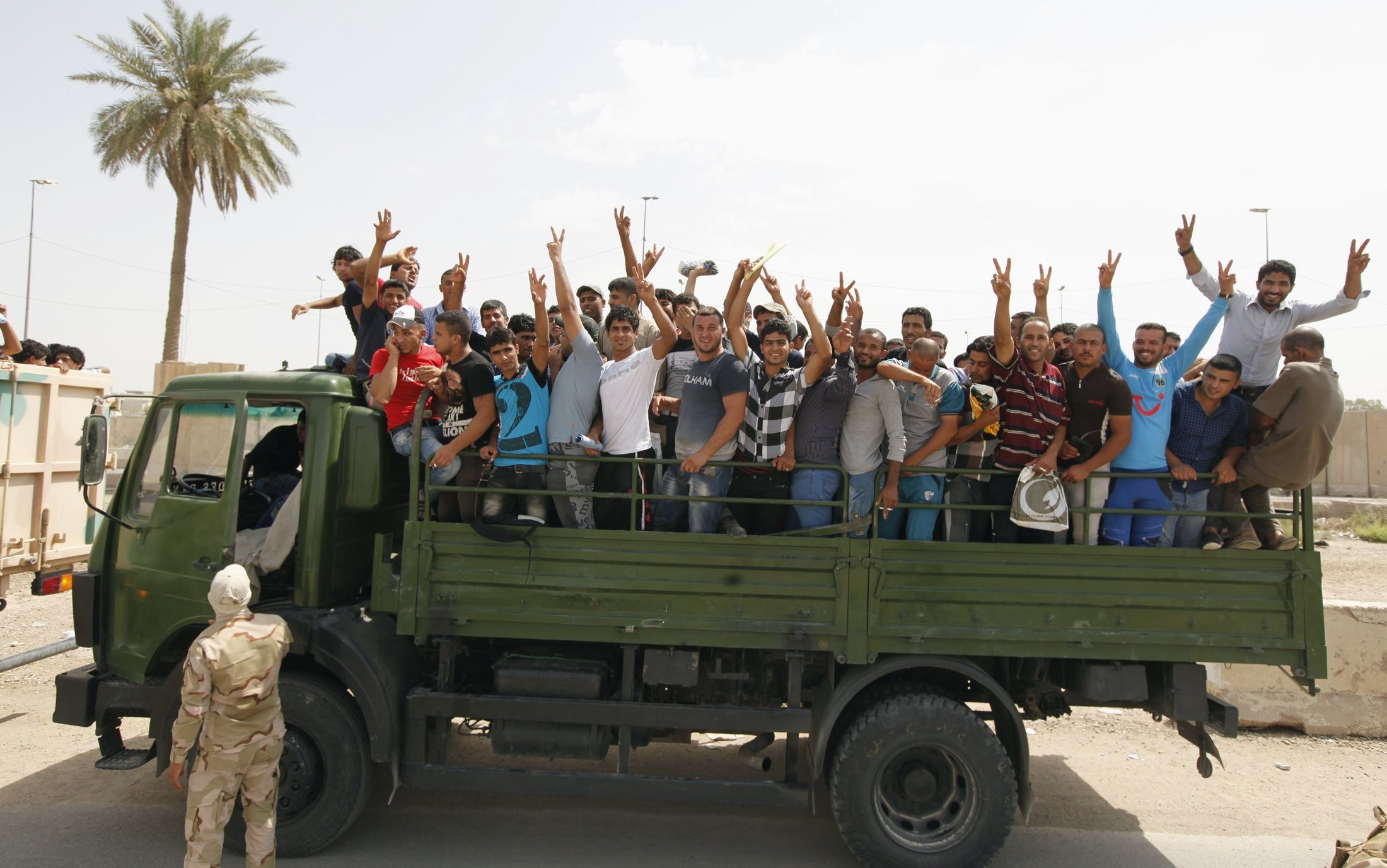 As Iraq descends deeper into turmoil with the advance of Al-Qaeda-inspired militants across large swaths of the north, Democrats are quick to remind Americans who they blame for the current crisis.
Hint: It's not a Democratic president.
As city after city in Iraq falls to the extremist group Islamic State of Iraq and al-Sham (known as ISIS or ISIL), the United States could be drawn back into Iraq just three years after President Barack Obama officially ended the war there.
With Iraq back on America's radar, it's not just Obama's political legacy on the line. Renewed engagement in Iraq reminds voters, looking ahead to 2016, of then-Senator Hillary Clinton's vote for the war. Perhaps more damaging for the GOP, it was the brother of their strongest potential candidate for the presidency, Jeb Bush, who started the Iraq War.
As the United States contemplates airstrikes and other forms of intervention to stop the Sunni militants' advance, Democrats are making this very point: This is George W. Bush's war.
At her weekly press briefing Thursday, in a rare, long-winded response to a question about the situation in Iraq, House Minority Leader Nancy Pelosi, D-California, went out of her way to remind reporters that the Iraq War was Bush's war.
"If you want to talk about Iraq and the opposition they have always had to our military engagement there, we have to go back to 2003—or go back to 2002, in the fall of 2002, when the Bush administration misrepresented the facts to the American people, took us into a war on a false premise that they knew not to be true, told the American people the war would pay for itself, would be over soon, we would be greeted by rose petals, that we had to go in there, according to Condoleezza Rice, because the smoking gun might be a nuclear plume," Pelosi said.
She was just getting warmed up. She ran through the history leading up to the invasion, noting that there was no intelligence to suggest Iraq had nuclear weapons, suggesting that the U.S. should have focused on a swift conclusion to the war in Afghanistan rather than "diverting our attention" with a new war, and remembering that the day she got the call that the U.S. would invade Iraq was March 19, the Feast of St. Joseph.
"I think this represents the failed policies that took us down this path 10 years ago," Pelosi said. "So pardon me for going back. But before we go forward, we have to know what is going on."
Democrats in Congress are echoing Pelosi's message. "The current crisis in Iraq has its roots in an ill-conceived war that helped to fuel sectarian violence and an Iraqi government that has excluded minority populations from governing," Senator Barbara Boxer, D-California, a senior Democrat on the Senate Foreign Relations Committee, said in a statement late Thursday. "Some of the biggest GOP cheerleaders for the disastrous war in Iraq are now joining the blame-America-first crowd rather than working with our commander in chief to confront this crisis."
When The Washington Post's Fareed Zakaria penned an op-ed assigning much of the blame to Bush rather than Obama, Brad Woodhouse, the president of the Democratic super PAC American Bridge, sent the article out in an email blast to reporters Friday morning with the article's title in the subject line: "Who lost Iraq? The Iraqis did, with an assist from George W. Bush."
It's not just Democrats who have rushed to blame the other party for the crisis gripping Iraq. Republicans are placing the blame on Obama's approach to Iraq, Afghanistan and Syria.
"This growing threat to our national security interests is the cost of President Obama's decision to withdraw all of our troops from Iraq in 2011, against the advice of our commanders and regardless of conditions on the ground," Republican Senators John McCain of Arizona, Lindsey Graham of South Carolina, and Kelly Ayotte of New Hampshire—a trio that often takes a vocal stance against Obama's foreign policy choices—said in a statement this week after militants captured Mosul, Iraq's second-largest city.
"Unfortunately, the president is now making the same disastrous mistake in Afghanistan, increasing the risk that Al-Qaeda and its terrorist allies will return there, just as they are in Iraq," the three senators said.
For his part, Obama is staying out of the partisan fray. In remarks on the situation Friday, Obama assured Americans with little appetite for engagement in Iraq that the U.S. will not send troops to Iraq and is instead looking into a range of other options to support Iraq's security forces.
The only blame he seemed to assign was to the Iraqi government, led by Prime Minister Nouri al-Maliki.
"Over the past decade, Americans troops have made extraordinary sacrifices to give Iraqis an opportunity to claim their own future," Obama said. "Unfortunately, Iraq's leaders have been unable to overcome, too often, the mistrust and sectarian differences that have long been simmering there. And that's created vulnerabilities within the Iraqi government as well as their security forces."