Iraq, U.S. Shift From Combat Mission to Coalition Assistance Ahead of Dec. 31 Deadline
The U.S. and Iraq will begin transitioning out of a combat mission and into an advisory mission.
The final round of talks were built around changing the current combat mission—which aimed to target extremists in the Islamic State militant group (ISIS)—into an advisory role. According to Iraqi national security adviser Qassim al-Araji, they will assist with advice and training for Iraqi Security Force members.
"Many brave men and women gave their lives to ensure Daesh [ISIS' Arabic acronym] never returns, and as we complete our combat role, we will remain here to advise, assist and enable," coalition commander Major General John Brennan said. "Daesh is down, but not out."
The U.S. will still assist Iraqi forces by providing weapons, equipment and intelligence for multiple reasons, many of which were not disclosed. However, they will be used to conduct strikes on ISIS targets.
The move follows through on a joint U.S.-Iraqi statement released in April. That statement said that such a transition would allow combat forces to be removed from Iraq over time. U.S. troops helped support Iraq and Syria against ISIS forces in recent years. The combat mission has not engaged in any fights since early 2020.
It is currently unknown when the official start of the mission's role as advisors will begin. Newsweek reached out to the U.S. Pentagon for comment but has not received a response.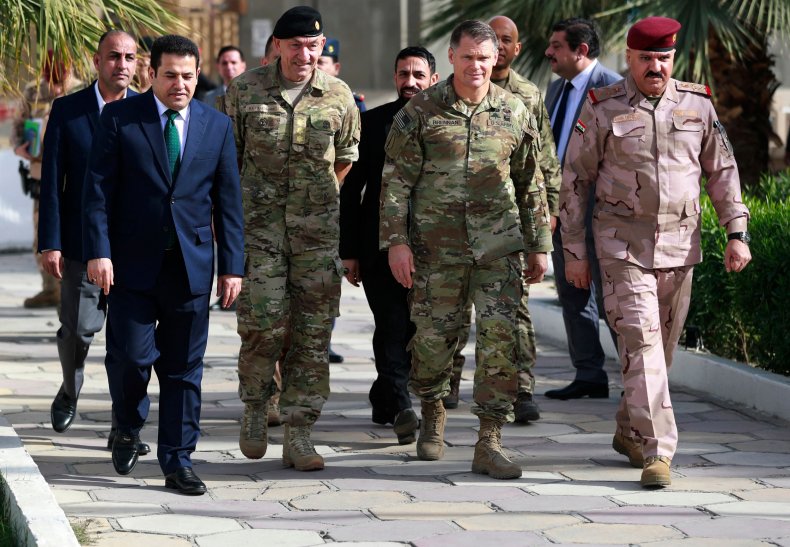 The announcement reaffirms a July decision by the Biden administration to end the U.S. combat mission in Iraq by December 31. There are roughly 2,500 U.S. troops remaining in Iraq. It is unclear how many will remain in the next phase of coalition assistance.
The coalition said Thursday it was prepared to end the combat mission before the set deadline, said Iraqi Kurdish peshmerga Brigadier General Hazhar Ismail, who attended the meeting in Baghdad.
"They said we are ready starting from today," he said.
Since early 2020, the main U.S. focus has been assisting Iraqi forces, not fighting on their behalf.
Iraq has witnessed an uptick in ISIS attacks lately across a stretch of disputed northern territory that has long served as a hotbed for militant activity.
ISIS swept Syria across the border in 2014 to capture large swaths of Iraqi territory, prompting the U.S. to send troops back to Iraq that year.
The Associated Press contributed to this report.