A Capitol rioter who made headlines for his outbursts in court is standing by his comments as being a defense of himself and others who have been accused of participating in the insurrection.
Landon Copeland, an Iraq War veteran, was arrested on April 29 and charged with assaulting a police officer at the January 6 Capitol riot. Angry about a proposed psychological evaluation, he told a courtroom at a May hearing, "f*** all of you," part of an outburst that prompted his attorney to question his competence to participate in the hearing.
Copeland told WRC-TV's Scott MacFarlane he interrupted the court proceedings in an attempt to defend himself and other defendants against the accusations they face. While he stood by his decision to speak out during the hearing, he acknowledged to MacFarlane that it likely made life more difficult for himself.
During the May 6 hearing, Copeland expressed his disapproval for "70 percent of my income going to the government," according to the Daily Beast, and told the court "you people f***** this up." When a judge put him in a separate Zoom room so he couldn't interrupt the proceedings, he yelled: "I want to talk in open court you motherf******!"
At the time his lawyer, Heather Shaner, told Judge Robin Meriweather his client was in a "crisis" and that he didn't believe Copeland was being "intentionally belligerent." Shaner added that he didn't think his client was "competent to proceed right now."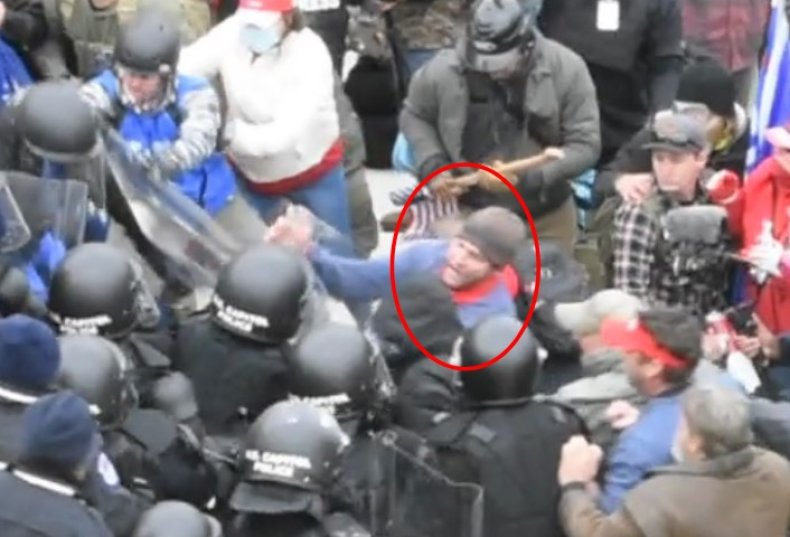 Copeland's accused of pushing another person into an officer, grabbing an officer's riot shield and pushing back against the police line, according to court filings. He is also accused of grabbing an officer's jacket and pushing the officer backward. After officers deployed pepper spray, Copeland allegedly pushed or threw a police barricade toward officers.
During an interview with the FBI, Copeland admitted to fighting with police officers and felt they were trying to "steal" individual members of the crowd.
One of hundreds of people who have been charged in the Capitol riot, Copeland told MacFarlane he doesn't think he committed a crime.
"I have the capability to where I could have hurt those other individuals, but I didn't hurt them. One of them pushed me. I pushed him back," Copeland said.
An ardent supporter of former President Donald Trump, Copeland told the FBI that he went to Washington, D.C., for a rally, but visited monuments and historic sites instead of the Trump rally.
Although he's facing federal charges for his alleged participation in the riot, Copeland told MacFarlane he doesn't "regret" being there.
"The idea was to confront our lawmakers," he said. "The idea was to try and have a voice and try and, you know, speak for people and just be like, you know, we're not getting what we want from our lawmakers."