Iraq Voices Anger Over Strikes to U.S. Allies, Says Don't Use Nation to Attack Syria, Iran
Iraqi Prime Minister Mustafa al-Kadhimi has voiced anger to the NATO military alliance over U.S. military strikes conducted within his country and neighboring Syria against suspected Iran-backed militias.
Kadhimi met Wednesday with NATO Secretary-General Jens Stoltenberg in Brussels, expressing frustration over the recent attacks. He urged the coalition not to use Iraq to take on neighboring Syria and Iran.
The Pentagon said U.S. forces conducted airstrikes Sunday along both sides of the Iraqi-Syrian border that they said were targeted "against facilities used by Iran-backed militia groups" allegedly used to launch "unmanned aerial vehicle (UAV) attacks against U.S. personnel and facilities in Iraq."
In his comments to NATO, the Iraqi leader "indicated the importance of developing relations between Iraq and NATO for the interests of the Iraqi people and the stability of the region and the world, as he stressed the importance of Iraq not being an arena for settling conflicts, or a springboard for aggression against any of its neighbors," according to a readout shared with Newsweek by Kadhimi's office.
The remarks follow condemnation expressed by Iraq's National Security Council during an emergency session Monday, in which it called the U.S. strikes "a flagrant violation of Iraqi sovereignty, which is rejected by all international laws and covenants."
It also referenced advanced levels of discussions pertaining to the withdrawal of U.S. troops from the country, according to a separate readout shared with Newsweek by Kadhimi's office at the time.
The Iraqi government has invited foreign forces to support the country in its ongoing efforts to wipe out the Islamic State militant group (ISIS), but the group's military defeat was followed by new tensions between the U.S. and Iran, with calls for a timetable for the departure of U.S. and allied forces growing among Iraqi factions aligned with the pro-Iran "Axis of Resistance."
The latest U.S. strikes, which targeted Kataib Hezbollah and Kataib Sayyed al-Shuhada, have prompted warnings of reprisal from both militias and others, including the influential Asaib Ahl al-Haq.
Asaib Ahl al-Haq Secretary-General Qais al-Khazali told Kataib Sayyed al-Shuhada's official press office on Wednesday that "the resistance factions are fully prepared and ready, and we pledge to the families of the martyrs that we will respond in kind" to the U.S. attacks.
"The American occupying forces carry out repeated attacks, which is a recklessness that pushes us all to stand united against it," Khazali said.
"We will cleanse the land of Iraq from ISIS and their cowards, and from the American occupying forces," he added.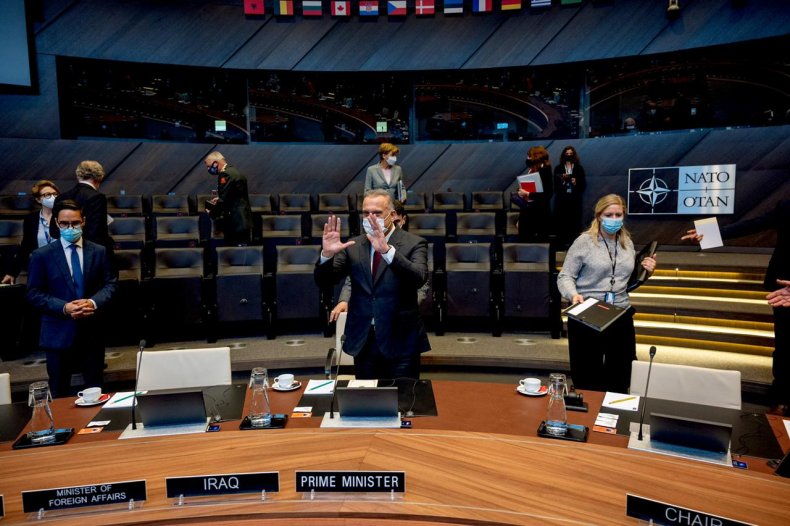 Iraq Relies on Longstanding NATO Relationship
Iraq's relationship with NATO began after the U.S.-led invasion ousted then-President Saddam Hussein in 2003, leading to the formation of a new government friendly to both Washington and Tehran. Both the U.S. and Iran, along with NATO, stepped up assistance to the Arab nation as it battled ISIS in the early-to-mid-2010s and Stoltenberg tweeted Wednesday that he looked "forward to continuing cooperating with the government & stepping up our support to #Iraq in their fight against terrorism."
While the U.S. continues to act in a military capacity in Iraq, NATO forces operate as part of a non-combat train and advise mission that the alliance agreed to expand in February. Kadhimi praised this collaboration in his remarks Wednesday.
But U.S.-Iran tensions since former President Donald Trump's 2018 withdrawal from a multilateral nuclear deal with Tehran and major world powers have complicated Iraq's fragile security landscape. The exit was opposed by all parties, including both China and Russia, as well as U.S. NATO allies France, Germany and the United Kingdom.

Tensions Between U.S. Forces and Militias Continue to Escalate
Under the previous administration, U.S. forces and Iraqi militias began a series of escalations, including rocket attacks and airstrikes that came to a head with the U.S. killing of Iran Revolutionary Guard Quds Force commander Major General Qassem Soleimani in January 2020.
His death was answered with an Iranian missile barrage against U.S. positions in Iraq and pledges to expel such enemy forces from the region. The issue has proved a serious challenge to Kadhimi, who has struggled to rein in the actions of certain militias he's deemed to be acting "outside of the law."
Despite a change in administration in Washington, certain Iraqi factions continue to conduct occasional rocket and drone attacks against U.S. troops. After the death of a U.S. contractor in February, President Joe Biden ordered airstrikes on the Syrian side of the border against Kataib Hezbollah and Kataib Sayyed al-Shuhada.
Those attacks were condemned by the Syrian government, as were the most recent round of strikes issued by Biden.
"The Syrian Arab Republic condemns the blatant U.S. aggression on the Syrian-Iraqi border region and considers it a flagrant violation of the sanctity of Syrian and Iraqi lands," the ministry said in a statement sent Monday to Newsweek by the country's mission to the United Nations.
"Syria renews its call to the U.S. administration to respect the unity of the land and people of Syria and Iraq and to stop these attacks on the independence of the two countries immediately," the statement read.
U.S. Military Acts Independently in Syria
Washington does not coordinate with Damascus as it does Baghdad due to diverging views on Syria's decade-long civil war in which President Bashar al-Assad has managed to regain much of the country with support from Iran and Russia. The U.S. mission, which once supported insurgents fighting to oust the Syrian leader, here too is mainly focused on fighting ISIS, while troops also support allied Syrian Democratic Forces secure the northeast, including oil and gas resources.
Later on Monday, U.S. forces came under rocket attack by yet unidentified forces and returned fire in eastern Syria, where Iran-backed fighters from Iraq, Syria and elsewhere also operate.
Nuclear Deal Talks Grind on in Vienna
As U.S.-Iran tensions continue to grapple Iraq and Syria, delegations from Washington and Tehran are pursuing indirect negotiations to coordinate the former's return to the nuclear deal in the Austrian capital of Vienna.
The Biden administration backs the agreement, but says Iran must also come back into compliance with initial levels of adherence to nuclear activity restrictions the Islamic Republic suspended in response to non-compliance by Western signatories.
After six rounds of discussions in Vienna, Secretary of State Antony Blinken told Italy's RAI TG1 program on Tuesday that the U.S. and Iran have "narrowed a lot of the differences that existed in terms of how to get back into the nuclear agreement, but we haven't resolved all of them."
"If Iran is willing to do what is necessary to come back into compliance with the nuclear agreement—an agreement that was working, that was working to contain Iran's dangerous nuclear program—we are fully prepared to do that," Blinken said. "But I think right now the decision is with Iran about whether it's serious about doing that."
And while Iranian Foreign Ministry spokesperson Saeed Khatibzadeh slammed the U.S. for being on "the wrong path" with its airstrikes in Iraq and Syria on Monday, Tehran has also said it remains committed to reviving the deal.
Iranian President Hassan Rouhani, whose successor Ebrahim Raisi has also committed to the deal as he prepares to take office in August, called on the Biden administration to live up to its campaign promise of rejoining the pact.
"If Biden procrastinates the implementation of the JCPOA in any way," Rouhani told a cabinet meeting Wednesday, "it has betrayed the vote of the American people."