Iraqi Forces Capture ISIS-Held Towns Around Mosul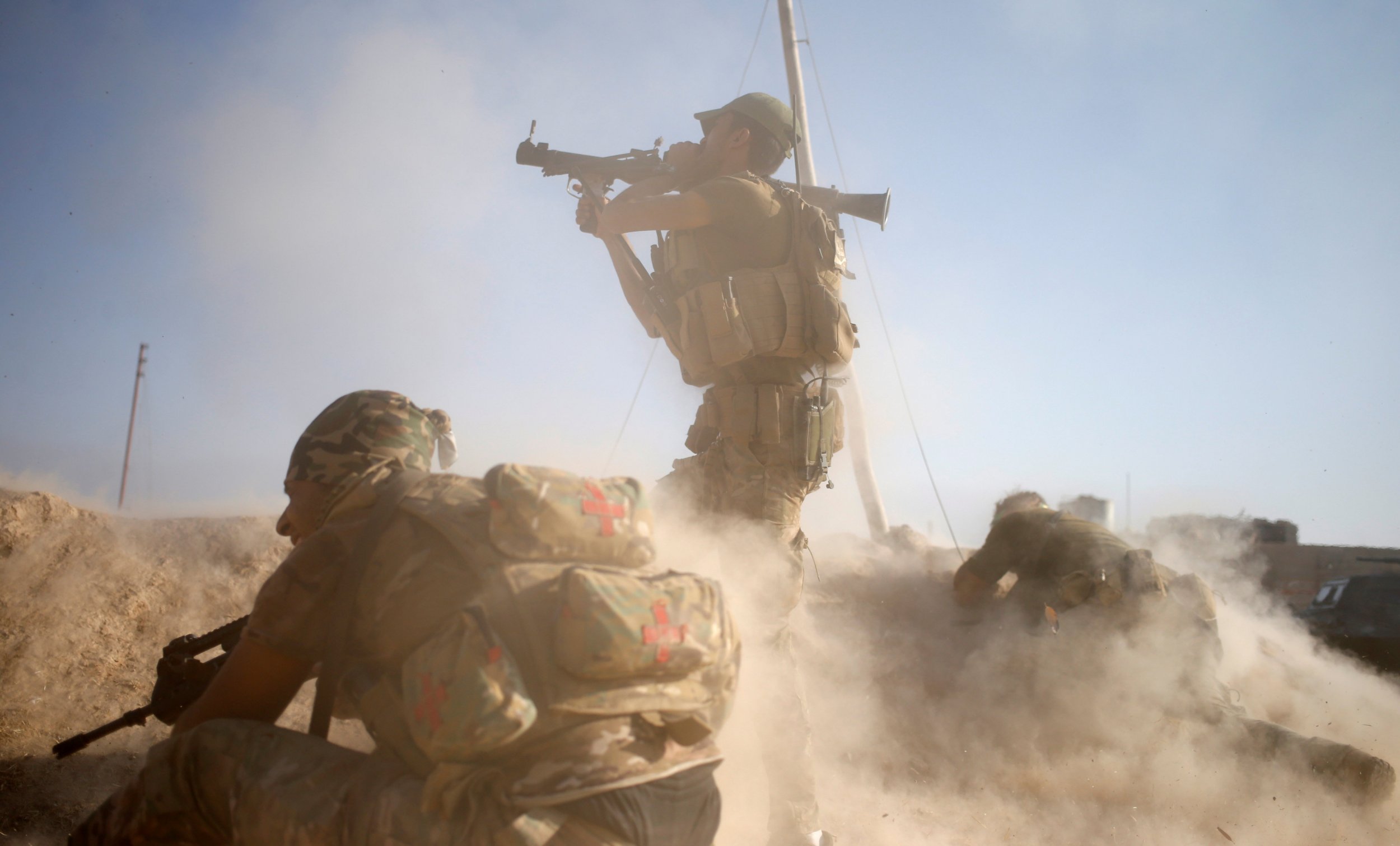 Iraqi troops and security forces edged closer to Mosul on two southern fronts on Sunday but a leader of the Shi'ite militias newly participating in the offensive warned that the battle for the Islamic State militant group's (ISIS) Iraq stronghold would be long and grueling.
A military statement said the army's Ninth Armoured Division raised the Iraqi flag in the village of Ali Rash, about 7 km (4 miles) southeast of Mosul, after recapturing it from the ultra-hardline Sunni Muslim militants. Further south, an Interior Ministry officer said security forces were advancing from the town of al-Shura, recaptured from ISIS on Saturday, along the Tigris river valley towards Mosul 30 km (20 miles) to the north.
The army and security forces, along with Kurdish peshmerga fighters, have been backed by U.S.-led air and ground support in their two-week-old campaign to crush ISIS in the largest city of its self-declared caliphate in Iraq and Syria. Their battle for Mosul, still home to 1.5 million residents, could be one of the toughest battles in a decade of turmoil since the 2003 overthrow of then-President Saddam Hussein, a Sunni Muslim, brought Iraq's majority Shi'ites to power.
On Saturday thousands of Iranian-backed Iraqi Shi'ite militia fighters, known as the Hashid Shaabi (Popular Mobilisation) forces, joined the Mosul offensive, launching a campaign to take territory to the west of the city. Their target is to seize the town of Tal Afar, 55 km (35 miles) west of Mosul, from ISIS. That would cut off any chance of the jihadists retreating into—or being reinforced from—their positions in neighboring Syria.
Iraqi troops and Kurdish peshmerga fighters are already driving ISIS fighters back on the southern, eastern and northeastern approaches to Mosul.
"There is cooperation between ...the army, federal police, Hashid and counter-terrorism (forces) and also the (local Sunni) tribes," said Hadi al-Amiri, head of the Badr Organisation, the most powerful group within the Popular Mobilisation forces.
Speaking in the village of Ain Nasir in the semi-arid land west of the Tigris, Amiri said the fight against ISIS insurgents holding Mosul, who have already launched waves of suicide car bombs, roadside bombs and sniper attacks to slow down the advancing forces, could be long and bloody.
"The battle of Mosul will not be a picnic. It needs time, it needs precision, it needs a deep breath," he said, wearing military fatigues and with his face wrapped in a white checked headscarf against the wind and sand.
"We are prepared for the battle of Mosul even if it lasts for months."
ISIS Reinforcing Tal Afar
The deployment of Shi'ite forces in northern Iraq, an ethnically mixed region where Sunni Muslims form a majority, could inflame sectarian tensions and has led to warnings from neighboring Turkey.
President Tayyip Erdogan said the town of Tal Afar, which the Shi'ite forces say they will recapture, is Turkmen—inhabited by people with strong cultural and historical links to Turkey—and said Ankara would act if the Popular Mobilisation forces "unleash terror" there.
Anticipating the offensive on Tal Afar, and highlighting its strategic importance, ISIS has also been reinforcing the town in the last 48 hours, an Iraqi security official said. He said two waves of reinforcements were sent including insurgents who had fought in neighboring Syria and had experience in using anti-tank missiles.
"Intelligence reports show that the Daesh (ISIS) groups have entered TOW missiles systems into Tal Afar. It's obvious they are making preparations for a long protracted battle," the official from the provincial military operation command center told Reuters.
His comments could not be independently verified but a resident of Mosul, speaking to Reuters by phone, said relatives in Tal Afar reported seeing increasing numbers of ISIS fighters in the town, some of them patrolling on motorbikes.
Since launching their advance towards Tal Afar on Saturday, the Popular Mobilisation forces have taken over several villages in an area about 60 km (40 miles) southeast of their final target.
Interior Ministry rapid response forces, who took control on Saturday of the town of al-Shura, about 30 km (20 miles) south of Mosul, advanced on Sunday a few km northeast and took three villages from Islamic State, an officer told Reuters.