Iraqi Leader Abadi Warns ISIS in Mosul to 'Surrender or Die'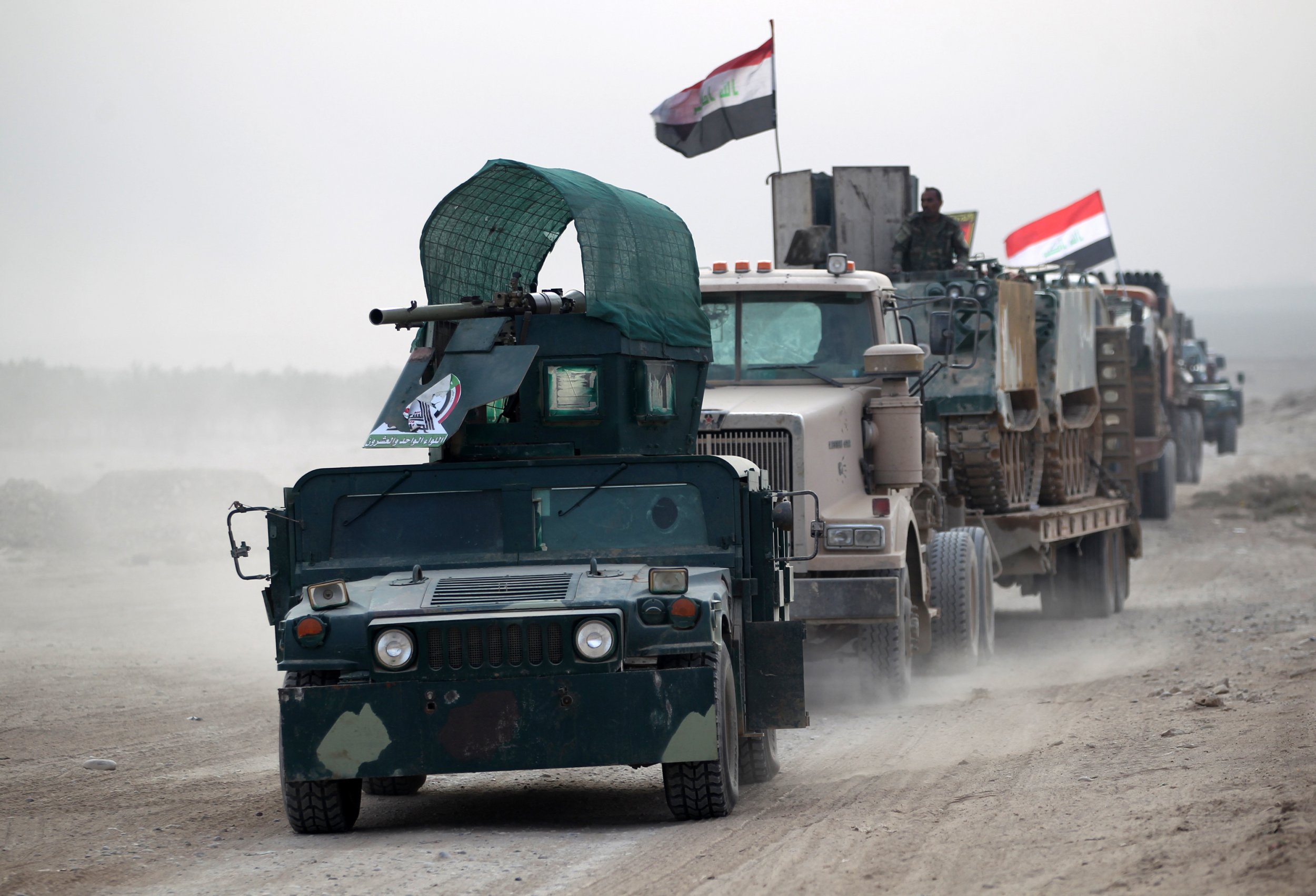 Iraqi Prime Minister Haider al-Abadi warned the Islamic State militant group (ISIS) on Tuesday to admit defeat or face death as U.S.-backed coalition forces continued to advance on the northern city of Mosul.
"They have no choice. Either they surrender or they die," the commander-in-chief of the Iraqi armed forces—dressed in combat fatigues—said on state TV.
"We will close in on Daesh from all angles and God willing we will cut the snake's head. They will have no way out and no way to escape."
Iraqi special forces advancing on Mosul from the east are now less than a mile from the city's eastern outskirts and began their assault on ISIS positions there on Tuesday, firing artillery and tank fire against the group's fighters in the eastern neighborhood of Gogjali.
During the two-week offensive, a coalition of Iraqi forces, Kurdish peshmerga, Sunni tribesman and Iranian-backed Shiite militias has attacked ISIS positions in the areas surrounding the city. ISIS has slowed the offensive with suicide car bombs, sniper fire and booby traps.
The U.S.-led coalition is supporting ground forces with airstrikes and military advisors. Their strategy is to encircle the city, preventing ISIS fighters from fleeing Mosul and heading toward Syria, and slowly defeating the group inside the city.
But progress of the advancing forces has been mixed on the different fronts, with the eastern front moving quicker than the southern front, where Iraqi forces remain some 20 miles from the city. Kurdish forces and Iraqi military units are moving in from the north, still behind the progress of the special forces; Shiite militias are attacking the western front to prevent ISIS's escape, but are not expected to enter Sunni-majority Mosul because of concerns over sectarian violence.
The battle for the Mosul is expected to take months, with U.S. officials estimating that thousands of ISIS fighters remain in the city despite ground forces and airstrikes killing hundreds since the offensive began two weeks ago. The remaining ISIS fighters are facing an anti-ISIS ground force of more than 40,000 personnel. But because of the more cramped urban environment, the fighting inside the city is likely to be more bloody than battles in the surrounding regions.