Iraqi President Barham Salih to 'Recalibrate' Relationship With U.S. Following Syrian Withdrawal
Iraqi President Barham Salih said his country needs to "recalibrate" its relationship with the U.S. following its withdrawal from Syria.
Salih said Iraq still valued its alliance with America, but stated that President Donald Trump's recent foreign policy decisions have strained the bonds of trust.
The Kurdish leader, who was once Prime Minister of the autonomous region of Kurdistan before taking on the presidency, made the comments to Axios on HBO during an interview in a former palace of Saddam Hussein.
"The staying power of the United States is being questioned in a very, very serious way," Salih said. "And allies of the United States are worried about the dependability of the United States."
With U.S. troops moving out of Syria and into Iraq, before being re-stationed in Saudi Arabia, Salih said Iraq may need to make alliances with other countries in the region to ensure his country's stability.
When asked if that could mean alliances with Russia and Iran, Salih said he would not rule that out.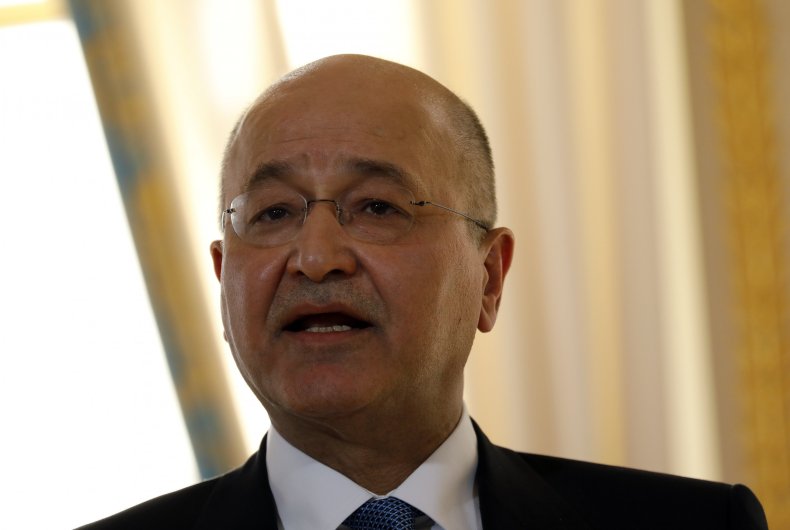 "Of course, many actors in this neighborhood," Salih said. "I'm not one of those, again, who goes and [says] to the Americans or the Russians: 'if you are not doing this for me, I'm gonna go the other way round.' [But] we need to think of our own priorities, and I've been very clear about it."
It follows on from similar statements by other senior Kurdish Iraqi officials who expressed an appetite for a closer relationship with Iran.
"We are waiting for the USA to change its attitude," Shirwan Mirza, an Iraqi Kurdish member of parliament affiliated with the Patriotic Union of Kurdistan (PUK), told Newsweek last week, adding that if it did not, "then we are obliged to look for another friend in this area."
Asked if this could include neighboring Iran, Mirza responded, "That is right."
Despite his comments on Iran, Salih also said he wants to consider both the U.S. and Iran as allies because his country could not afford to be stuck in a war between the two.
"Iran is a neighbor of ours. We have 1,400 kilometers [870 miles] of borders with Iran. And we cannot wish Iran ill. It's not in our interests," Salih said.
"The United States is an important ally, partner. We want this to continue and we definitely don't want our territory to be used," he said. "We should try and stop it because Iraq cannot sustain it, cannot survive it."
The comments from Salih follow a number of other frank messages to President Trump in which he stressed he would put his own country's interests first. Previously, he stated American troops were not welcome to stay.
Salih's comments came hours before the announcement of the death of Islamic State militant group (ISIS) leader Abu Bakr al-Baghdadi.
He said that progress against ISIS was significant, in further criticism of Trump's decision to withdraw troops from Syria, but said that such progress should not be taken for granted.
"We have had serious conversations about this with senior American officials. And I've been very clear. I don't mince my words," Salih said.
"The military defeat of ISIS is an important victory, but not incomplete [sic] and precarious too as well. It can easily unravel. And this is what I'm worried about."