Iraqi Troops Fight For Last ISIS-Held Town Before Mosul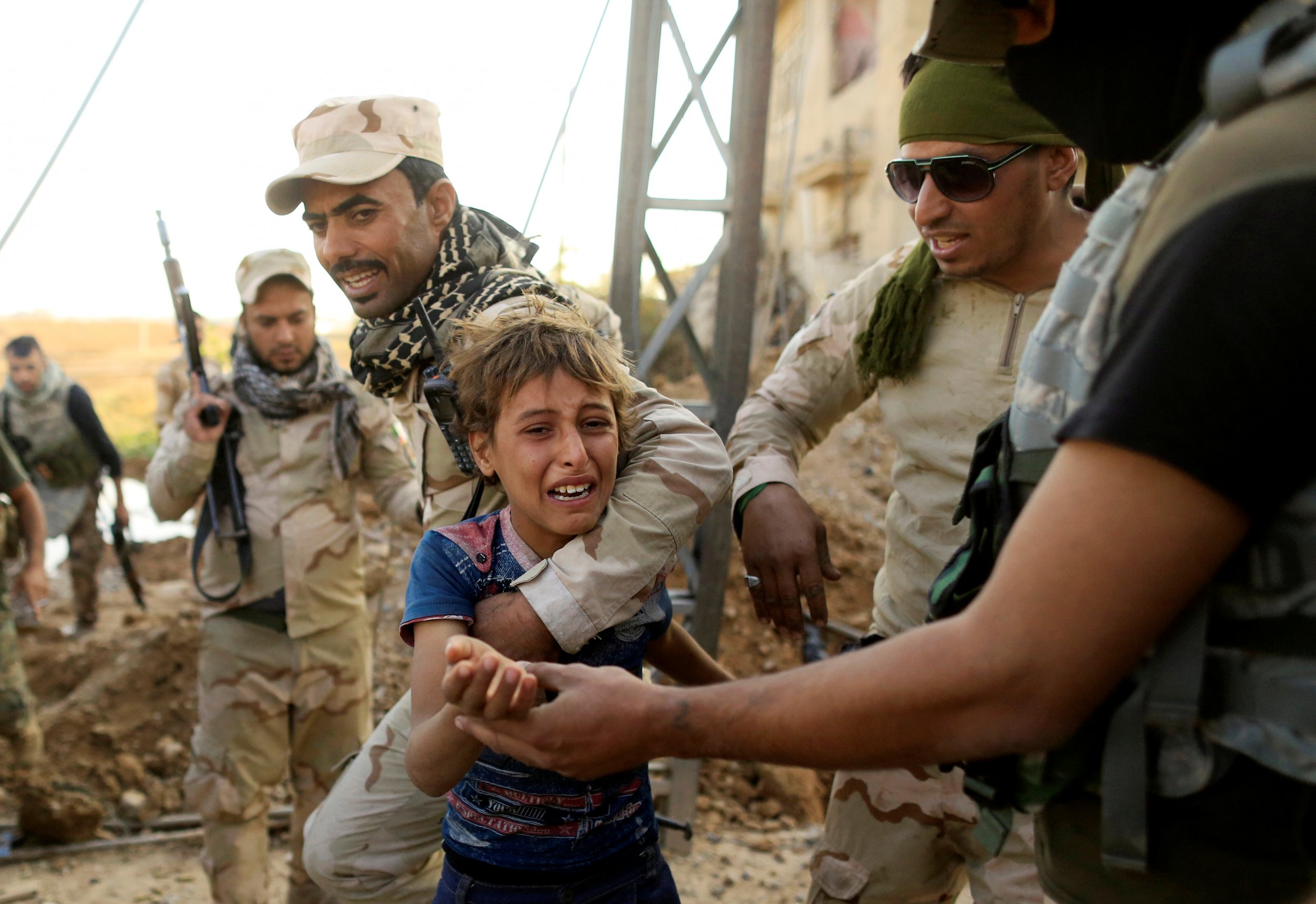 Iraqi troops advancing toward Mosul battled on Saturday for the last town left between them and the Islamic State militant group (ISIS) stronghold to the north, which is already under assault from special forces fighting inside the city's eastern districts.
Saturday's attack on Hammam al-Alil, about 15 km (10 miles) south of Mosul, targeted a force of at least 70 ISIS fighters in the Tigris river town, commander of the Mosul operations Major-General Najm al-Jabouri said.
Jabouri said the assault began around 10 a.m. (0700 GMT). Some militants had already tried to escape across the river, but others put up heavy resistance and the troops had thwarted three attempted suicide car bombings.
"(The battle) is very important—it's the last town for us before Mosul," Jabouri told reporters. Iraqi helicopters were supporting the army, he said, backed also by jets from a U.S.-led air coalition which had been hitting ISIS targets in the town for several days.
A military statement said security forces had raised the Iraqi flag over a government building in the town, but did not say whether it was fully under their control.
The army and accompanying security forces aim to push the southern front up to Mosul to join troops and special forces that broke into the city's east this week, taking six districts and carving out a foothold in the militants' Iraq bastion.
Recapturing Mosul would effectively crush the Iraqi half of a self-proclaimed caliphate declared by ISIS leader Abu Bakr al-Baghdadi from the pulpit of a Mosul mosque two years ago. His Islamist group also controls large parts of east Syria.
A Reuters correspondent in the village of Ali Rash, about 7 km (4 miles) southeast of Mosul, saw smoke rising from eastern districts of the city on Saturday. Air strikes, artillery and gunfire could be heard.
In Hammam al-Alil, the jihadists had taken hundreds of people as human shields, although Jabouri said it was not clear how many people were left in the town. Before ISIS swept in more than two years ago, Hammam al-Alil and outlying villages had a population of 65,000.
As well as forcing residents to remain as they came under attack in Hammam al-Alil, ISIS fighters retreating north in the last two weeks have forced thousands to march with them as cover from air strikes, villagers have told Reuters.
The United Nations said the militants transported 1,600 abducted civilians from Hammam al-Alil to the town of Tal Afar, west of Mosul, on Tuesday and took another 150 families from the town to Mosul the next day.
They told residents to hand over children, especially boys aged over nine, in an apparent recruitment drive for child soldiers, U.N. human rights spokeswoman Ravina Shamdasani said.
Jabouri said a man he described as a senior ISIS figure, Ammar Salih Ahmed Abu Bakr, was killed by federal police—who are fighting with the army in Hammam al-Alil—as he tried to escape from Hammam al-Khalil by car.
Many of the remaining militants were non-Iraqis, he said. "There are at least 70 Daesh (ISIS) fighters in the town. The majority are foreign fighters, so they don't know where to go. They are just moving from place to place."