Iraqi Woman 'Beheaded, Cooked and Burned' ISIS Fighters After Family Massacre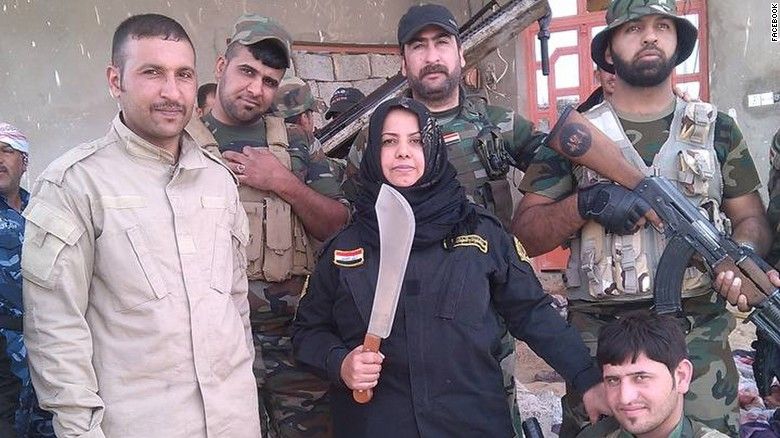 An Iraqi woman has claimed that she had beheaded, cooked the heads and burned the bodies of Islamic State militant group (ISIS) fighters in revenge for its killing of her husband, her three brothers and her father.
Wahida Mohamed, also known as Um Hanadi, leads a unit of tribal militiamen in the Shirqat area of Salahuddin province in northern Iraq, located 50 miles south of the ISIS-held city of Mosul, which Iraqi forces, backed by the U.S.-led coalition, are preparing to attack and liberate in October.
"I fought them. I beheaded them. I cooked their heads, I burned their bodies. This is all documented. You can see it on my Facebook page," she told CNN, which claimed it had seen photographs that supported her claims, with her holding a severed head as well as several heads in cooking pots.
Mohamed, who refers to herself as a "housewife," lists the motivation for such brutal killings of the ISIS members as their murder of her second husband, three brothers and her father, almost wiping out her entire family. The group also killed her sheep and dogs, she said.
Get your unlimited Newsweek trial >
Iraqi forces, helped by Mohamed's unit, liberated Shirqat from ISIS fighters last week but the gun-toting 39-year-old has been fighting ISIS and its previous incarnations, Al-Qaeda in Iraqi (AQI) and the Islamic State in Iraq (ISI), for years.
"I began fighting the terrorists in 2004, working with Iraqi security forces and the coalition," she said. "I received threats from the top leadership of ISIS, including from [ISIS's self-proclaimed caliph] Abu Bakr [al-Baghdadi] himself. I'm at the top of their most wanted list."
She lists six car bombs attacks outside her home in the Iraqi town by extremists linked to the group formerly aligned with Al-Qaeda since 2006. "Six times they tried to assassinate me," she said. "I have shrapnel in my head and legs, and my ribs were broken. But all that didn't stop me from fighting."
Iraqi Woman 'Beheaded, Cooked and Burned' ISIS Fighters After Family Massacre | World