Iraq's Yazidi New Year Marred by Memories of ISIS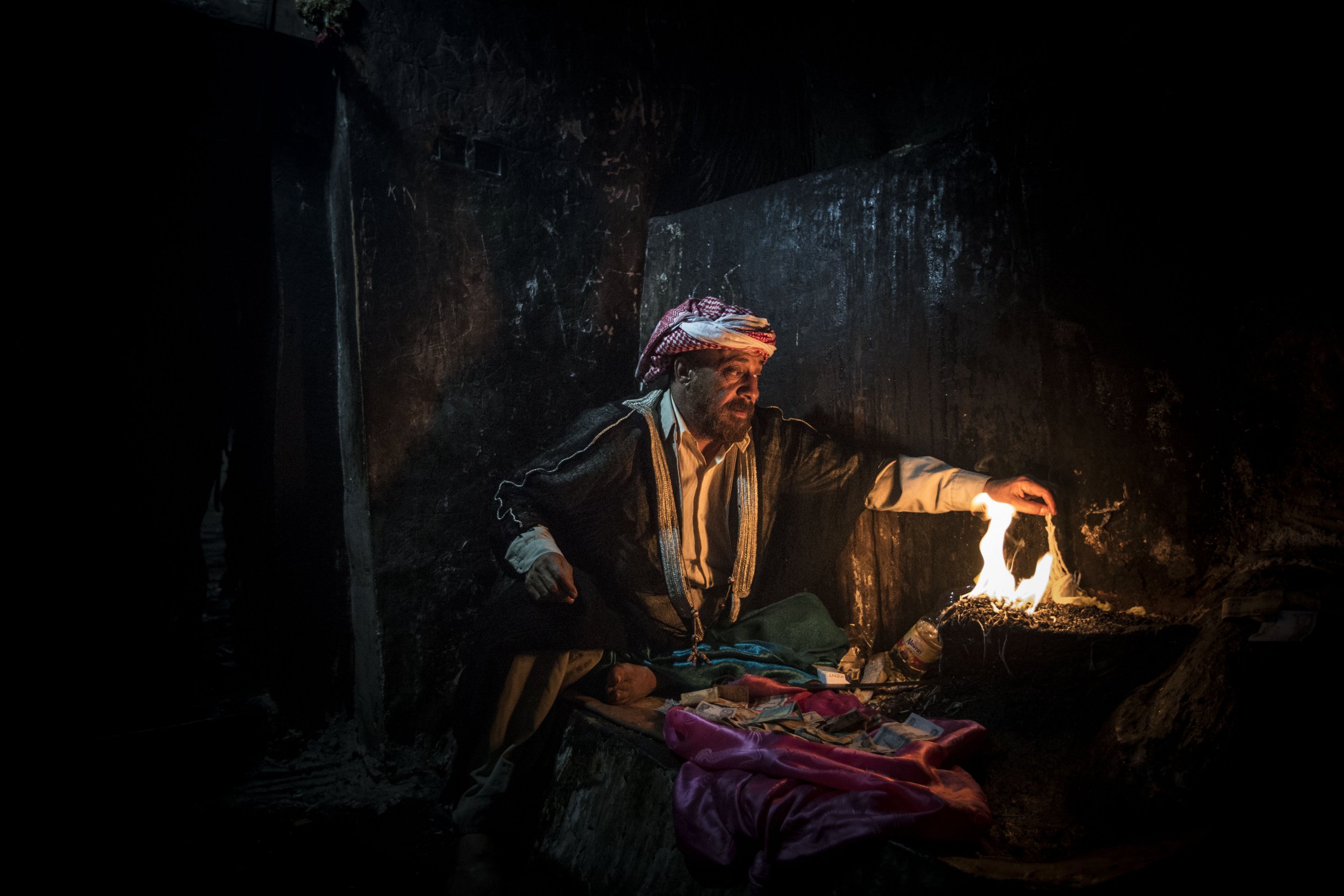 Staggering loss, unspeakable pain, and a scary, uncertain future. These are the sad truths Iraq's Yezidi minority brought to their annual holy day yesterday for a ritual that screamed of heartbreak and resilience, but never revenge.
"After all that has happened to us, we can only ask: 'Why?'," said Luqman Suliaman, spokesman for Lalish Temple where thousands of Yezidi pilgrims gathered to mourn their friends and family murdered by Islamic State and pray for those still enslaved and missing.
"What did we do?"
What the Islamic State did to the Yezidi over the past 10 months was an apocalypse: a genocidal hell-storm of murder, torture, slavery and rape. Confirmed stories circulate of Yezidi men executed and bulldozed into mass graves, of young girls used as sex slaves and passed between jihadis.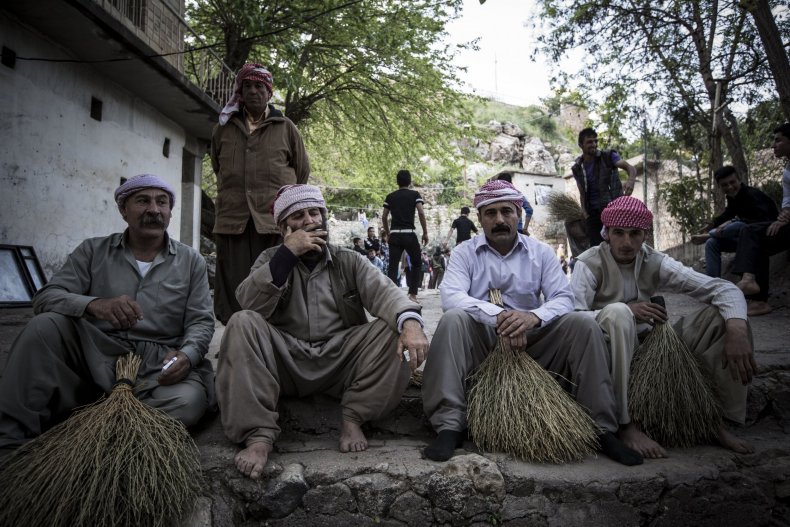 Stories going around at the festival were of an even darker evil. Yezidi of all ages told hushed tales of sadistic butchery: a young man said a group of small children were cooked and fed to their unknowing mothers; a soldier said 51 members of his tribe were killed in minutes, some lined up and shot, some beheaded.
Sadly, these stories are believable. If they aren't, they are hard evidence of Islamic State's unerring ability to instill fear.
"The psychological situation is very bad. Because so many things happened before their eyes, even the [Yezidi] who are now safe from Daesh are afraid of them," said Suliaman, using the Arabic acronym for Islamic State.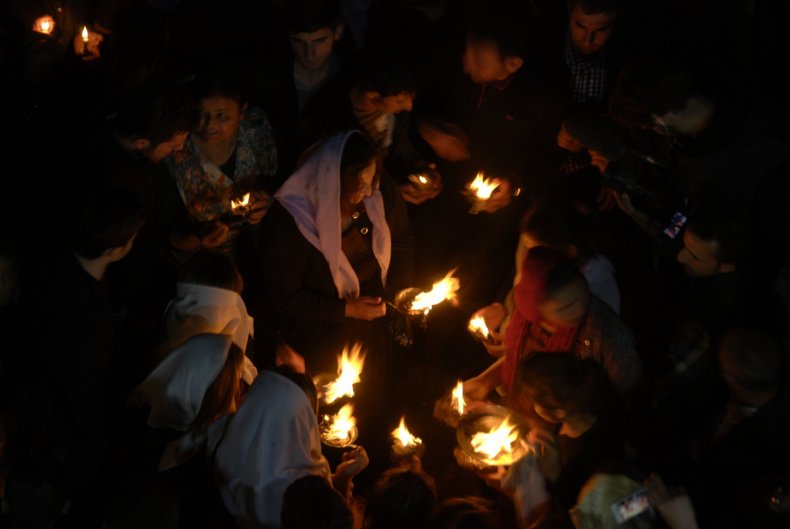 A local human rights group said that as of late March more than 5,300 Yezidi had been killed, abducted or were still missing. Their presence was everywhere in Lalish.
At this year's Red Wednesday, as the creation-day celebration is known, everyone had a story - the horror and suffering is an unspoken bond along tree-lined, stone streets of the 4,000-year-old village. For many, the tragedy is far from over.
The Office of the UN High Commissioner for Human Rights estimates that 3,000 people, mainly Yezidi women and girls, remain in Islamic State captivity.
"We came to pray for the kidnapped girls. We pray to God to save them and give them a better life," said Sami Rashed, a 22-year-old student from Sinjar, a town overrun by Islamic State last year and still disputed between the jihadis and Kurdish forces.
The nightmare of the missing women and girls was underscored by a Human Rights Watch (HRW) report released yesterday based on interviews with Yezidi women and girls who escaped Islamic State.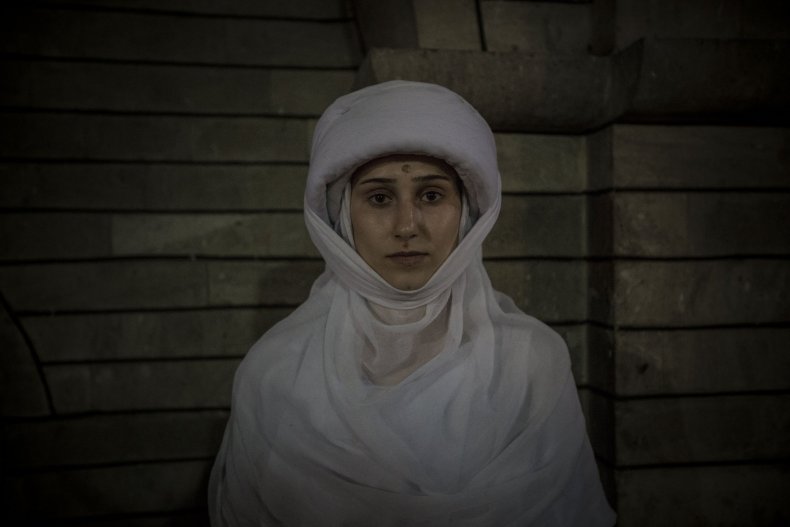 "ISIS forces have committed organised rape, sexual assault, and other horrific crimes against Yezidid women and girls," wrote Liesl Gerntholtz, women's rights director at Human Rights Watch.
In one case, a 12-year-old girl said she was abducted by Arab men from her own village and handed over to a series of seven Islamic State fighters who raped and traded her.
"Sometimes I was sold. Sometimes I was given as a gift. The last man was the most abusive; he used to tie my arms and legs," the victim told HRW.
If the worst has passed for the Yezidi, despite the ancestral towns and loved ones still held by Islamic State, the future is a source of worry as well.
As HRW's Gerntholtz said of the women: "Those fortunate enough to have escaped need to be treated for the unimaginable trauma they endured."
Suliaman was more pragmatic, pointing out that Islamic State destroyed homes, businesses, belongings, and livelihoods.
"The Yezidi lost everything they had worked for in 100 years, stolen in one hour."
Still, the Yezidi, who claim to be the oldest religion in the world, have been persecuted for centuries. And, while fear and frustration saturated this year's event, there was not a word of vengeance.
In less-brutal times, Red Wednesday is a time of feasting, repentance and ancient rituals set amid their sacred serrated pyramids. Worshippers take off their shoes to walk the hallowed temple grounds and perform fire-based prayer rites.
The 700,000 or so Yezidi are proud of their ancient faith, and their deity known as the Peacock Angel. They have lived in northern Iraq, following the same traditions for thousands of years.
As Suliaman sadly pointed out:
"We never did anything to anyone."