Irate Parent Punches School Security Guard Over Mask Mandate: Police
A parent with a reported history of protesting the mask mandate at his child's elementary school in Colorado was arrested last week after allegedly assaulting a campus security official, according to local media outlets.
The parent, identified by local reporters as Anthony Chavez, previously received a restraining order from Lowry Elementary School in Denver after an incident during which he allegedly protested the school's student mask mandate, court records obtained by the Denver-based news station KMGH-TV said. Chavez is among the many parents arrested across the U.S. since the start of the coronavirus pandemic in connection with allegations of assault attributed to protesting or violating precautions put in place to slow the spread of COVID-19.
Denver Public Schools, the district that is home to Lowry Elementary, requires that all students, staff members and visitors wear masks indoors while on school property, regardless of each individual's vaccination status.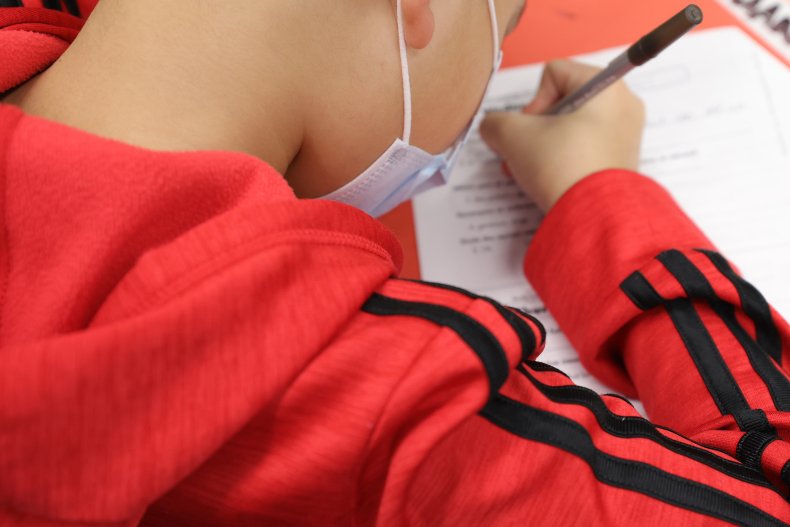 A Denver Police Department arrest report obtained by the Denver-based news station KCNC-TV listed January 27 as the date of Chavez's arrest. A probable cause report that Denver police shared with Newsweek said there was an earlier incident involving Chavez on January 12 in which he allegedly "was angry about his son being made to wear a mask related to COVID restrictions." The January 12 incident prompted the school to ban Chavez from being on campus.
Two weeks after that mid-January incident, Chavez allegedly returned to the campus to take his son to school and "walked toward the doors of the school thereby trespassing on school property," the probable cause statement said. When a school security official stepped in to block Chavez from continuing onto the campus, Chavez allegedly pushed the official and punched him on his forehead, the employee told police.
A Denver police officer noticed the security official had "a scrape and some blood" on his forehead, bloody knuckles and a cut knee after the incident on January 27, the probable cause statement said.
When reached for comment on Friday, a spokesperson for Denver Public Schools confirmed an individual with its Department of Safety team "was involved in a physical incident with a person at Lowry Elementary School" on January 27 during "the course of their duties."
"The DPS employee was treated for their injuries and released," the district said in a statement shared with Newsweek. "The Denver Police Department responded, arrested the person, and is handling the investigation."
Chavez "either knew or reasonably should have known" that the official, whose name has not been publicly released, worked for the school and "had the legal authority to restrict his access to the school," the probable cause statement said.
Chavez, whom police said was exposed to pepper spray during the incident, was arrested "without incident."
Jail records reviewed by KMGH-TV said Chavez was facing charges that included third-degree assault and violation of a restraining order.
The incident involving Chavez is one of many that have been reported during the current school year. In California, a teacher was hospitalized last August after the parent of an elementary school student allegedly assaulted them on the first day of school. Local police attributed the incident at the time to "a disturbance" over "COVID-19 procedures and facial maskings."
In Denver, district officials pointed to the U.S. Centers for Disease Control and Prevention's recommendations for universal mask use in schools, as well as the ability of vaccinated individuals to become infected with the virus, on the Denver Public Schools website.
The district described its mask requirement as providing "a strong safeguard to help ensure a full year of in-person learning and support for our scholars."
"These strong health procedures will also help improve conditions, which would allow us to relax restrictions in our schools," the district's guidance said. "But for now, we believe this mask requirement for all students and staff is the right thing to do for the health and safety of our community."
Updated 02/04/2022, 5:36 p.m. ET: This article has been updated to include additional information from the Denver Police Department.
Updated 2/04, 4:38 p.m. ET: This article has been updated to include a statement from Denver Public Schools.